Criminal killed in 'gunfight' with cops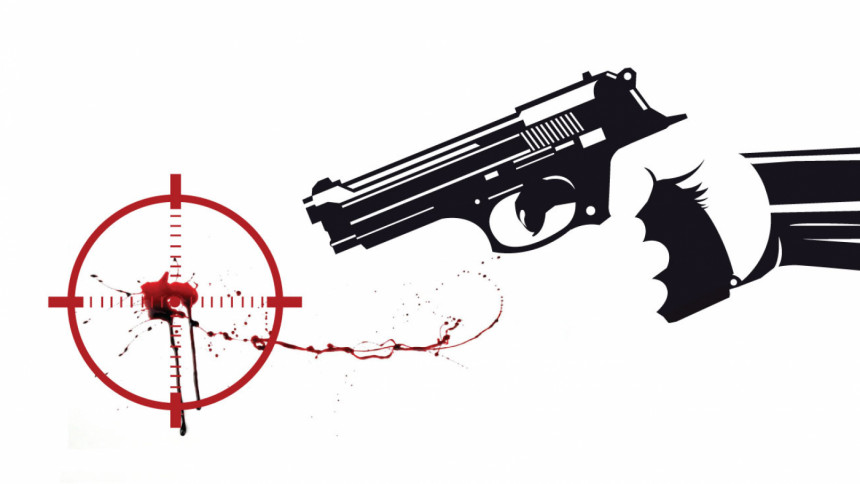 An alleged criminal was killed in a "gunfight" between police and his accomplices in Karar Beel area of Narail Sadar upazila early yesterday.
The deceased, 28-year-old Rumman Hossain Romeo, was accused in 13 cases for murder, robbery and other crimes, police said.
The bullet-hit body of an Awami League (AL) activist has meanwhile been found in Satkhira. Police claimed Maizuddin Ahmed Tulu, the 40-year-old AL activist, was killed in an internal fight of drug traders yesterday. 
On the "gunfight", Ilias Hossain, officer-in-charge (OC) of Narail Sadar police, said a team of law enforcers raided Karar Beel on information that a criminal group was hiding there.
Sensing the presence of police, the criminals opened fire on the team, forcing them to retaliate.
Rumman, son of Mizanur Rahman of Madhurgati village under Sadar upazila, was shot during the shooting, he added.
He was pronounced dead when he was rushed to Narail Sadar Hospital, the OC said.
Three policemen were also injured during the "gunfight' and were given primary treatment at the hospital, he added.
A foreign-made pistol, two round bullets and a magazine were recovered from the spot, he further said.
In Satkhira, the police recovered the AL activist's bullet-hit body from Sukdevpur More of Tentulia union under Tala upazila around 6:00am yesterday.
The body was riddled with bullets in the head, chest and leg, said Mehdi Rasel, OC of Tala police.
A motorcycle and a number of bottles of phensidyl were found near the body, he added.
He was a drug trader and the killing was the result of internal conflicts among the drug traders, the OC alleged.
Golam Morshed, vice-chairman of Sadar Upazila Parishad and joint secretary of Sadar unit AL, said Tulu was a dedicated AL activist and BNP-Jamaat men burned his house during the violence of 2013.
He was on bail in four to five drug related cases and went missing on Tuesday evening, Morshed added.