Covid widens disparity in education
WB report on Bangladesh says about the poor's limited access to distant learning tools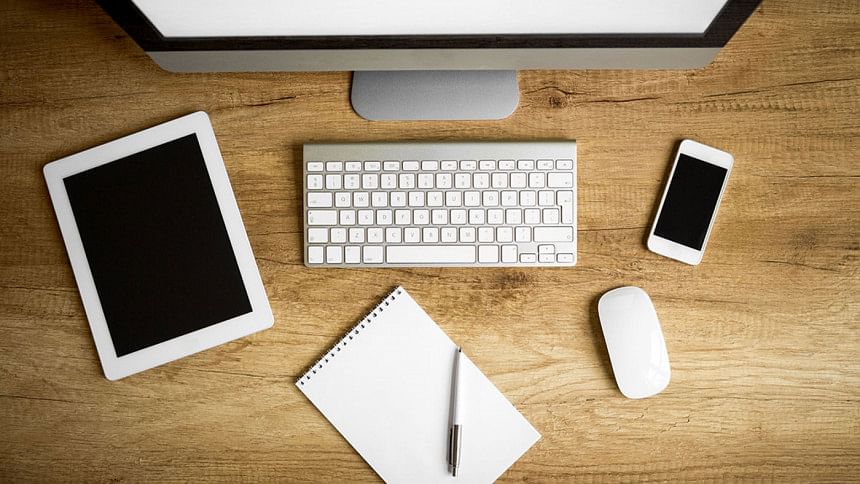 The coronavirus crisis has worsened education inequality between rich and poor in Bangladesh as a huge number of students from poor families are not able to access the distance learning adopted by the government, according to a World Bank working paper.
Only 9.2 percent of children aged between five and 15 years in the poorest households have access to televisions, one of the four remote learning mediums, as opposed to 91 percent of school-going children from the richest households, it said.
Some 59.7 percent of children belonging to the middle-income households have access to tele-broadcasting, said the paper that assessed the impact of school closures on student learning in Bangladesh.
Computers have the lowest penetration among these four mediums. In the richest and poorest quintiles, just 0.3 percent and 19.6 percent of the children have access to computers, showed the WB paper released last week.
It said though access to mobile phones remains high across all groups, a large share of the poorest households may not include internet connections.
The paper presents the results from a series of simulations that aim to capture the impacts that school closures in Bangladesh might have on the learning levels, enrolment and future earnings of children and students using a methodological tool developed by the Education Global Practice of the World Bank.
With the first Covid-19 cases detected in the country on March 8 last year, the government on March 17 closed educational institutions; the shutdown was extended in several phases till January 30.
The World Bank paper said nearly 38 million learners in Bangladesh have been affected by the largest disruption of education systems in history caused by the pandemic.
Private schools were quick to adopt online learning methods, offering lectures delivered via videoconferencing apps like Zoom and social media platforms like Facebook. Most students in urban areas have access to the internet.
However, a lack of infrastructure and uneven access to internet and devices such as a desktop computer, laptop, or smartphone for students in poor urban areas are vital obstacles to virtual learning.
To address the disruption, the government started broadcasting live and recorded lectures through Sangsad TV for secondary and primary students, and directed all schools, colleges and universities to hold online classes. The school authorities are working to continue imparting lessons remotely.
Now, the government is working to reopen educational institutions soon and instructed all schools and colleges to complete their reopening preparations by February 4.
MORE CHILDREN TO FALL INTO 'LEARNING POVERTY'
The World Bank paper noted that prolonged school closures threaten to erase education development gains achieved in recent decades, especially for girls and those from disadvantaged backgrounds.
"An estimated 35,200 additional children are expected to drop out from primary and secondary education."
It said the closures will result in a loss of between 0.5 and 0.9 years of learning-adjusted schooling for an average Bangladeshi student.
"We find that overall loss in learning for every child enrolled in school even in the most optimistic scenario is expected to be substantial and the economic implications of the learning losses are huge," read the paper.
Pre-pandemic estimates based on the World Bank's Human Capital Index 2020 show that a Bangladeshi child who starts school at age four can expect to complete on average 10.2 years of school by age 18, said the global lender.
Factoring in for quality, the Learning Adjusted School Years (LAYS) is reduced to an average of 6 years of schooling, it added.
LAYS is a metric of education that tracks both schooling completion and schooling quality. It has been used to rank the development of countries, especially as it relates to human capital.
The paper said the school closures are likely to push more children into "learning poverty".
Citing one of the WB's reports, the paper said pre-pandemic estimates show that 57 percent of Bangladeshi children could not read and understand a simple text by the end of primary school in 2017.
And the school closures will increase the share of children who do not attain the minimum reading proficiency at the end of primary school (Grade 5) by 18 percentage points to 76 percent, considering all children are affected equally by the closures, it said.
This results from a shock to the distribution of learning outcomes with a reduction of 0.7 years of quality adjusted learning (8.4 months out of a 10-month school year), the paper added.
IMPLICATIONS OF LEARNING LOSS
The WB paper said the pandemic is poised to translate into a substantial economic cost in the long run.
Quantifying the loss of learning in terms of labour market returns, an average Bangladeshi student will face a reduction between an optimistic and pessimistic range of $198 and $335 in yearly earnings once s/he enters the labour market, which represents between 4 percent and 6.8 percent of annual income, it said.
This is higher than the SAR average which ranges between $116 to $319 losses per student per year. Aggregated for all students in Bangladesh and projected 10 years into the future (when all graduates have entered the labour market), this would cost the Bangladesh economy between $67 billion and $114 billion in GDP at Net Present Value, the paper stated.
RECOMMENDATIONS
The working paper recommended making all four platforms functional through content development and delivery to reach as many students.
It however said digital content-based remote learning may not be a feasible option for children from the poorest families who generally do not have access to television, radio and internet.
"In these cases, other methods may be employed, including use of physical learning packages delivered to students' homes, mobile-based lessons or face to-face classes maintaining social distance and protocols, for small groups."
To make remote learning effective, more engagement between teachers and students, either in person maintaining physical distance, or virtually is also necessary, it suggested.
The paper underscored the need for identifying learning loss through formative assessment on literacy and numeracy competencies.
"It will be critical to train teachers on formative and summative assessments and remedial education to help students catch up on learning losses once schools reopen."
It said schools reopening must ensure that critical safety and health facilities and protocols are in place, and that school and local education administration's capacity to monitor and manage schools safely are enhanced.
The World Bank also said effective partnerships between government, non-government, private sector and civil society engaged in education service delivery is important now more than ever.