Control mosquito, prevent dengue
HC asks Dhaka city corporations to take effective steps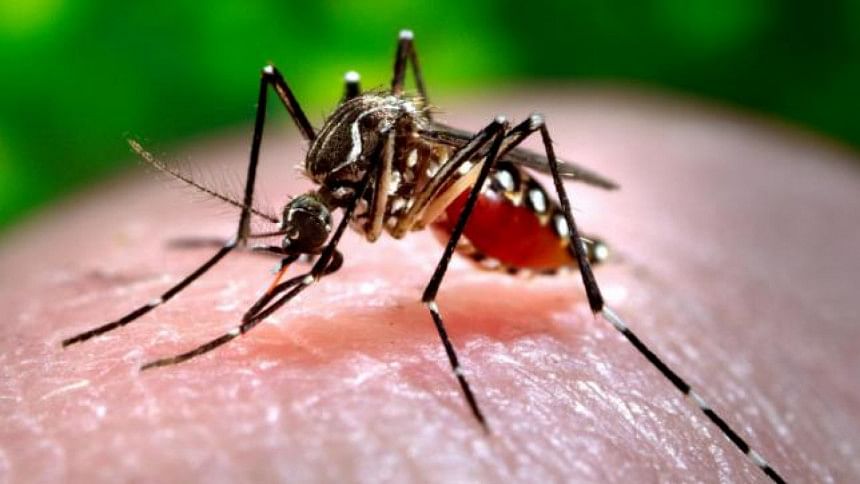 The High Court yesterday directed the two Dhaka city corporations to take effective steps to prevent the mosquito menace in the capital, and thus control the alarming spread of dengue fever.
The HC also asked the city authorities to submit separate compliance reports in two weeks and fixed July 17 for further hearing on this issue.
The mayors and chief executive officers of Dhaka North City Corporation (DNCC) and Dhaka South City Corporation (DSCC) have been asked to include the steps already taken to prevent the mosquito menace in their reports.
The High Court came up with the directive as the dengue situation in the country is getting worse this year. The number of people infected in May and June this year is more than five times higher compared with the same period last year.
According to a report of Directorate General of Health Services (DGHS), 193 people were infected with dengue in May and 1,671 more in June. However, the number was 52 in May and 295 in June last year.
Experts said climate change effects, intermittent rain, changing pattern of weather and lack of cleanliness were the main reasons for this increase in dengue cases.
The HC bench of justice FRM Nazmul Ahasan and Justice KM Kamrul Kader passed the order during hearing of a writ petition moved by Advocate Manzill Murshid on behalf of Human Rights and Peace for Bangladesh seeking its directive on the government to prevent air pollution in Dhaka.
During hearing Dhaka city corporations submitted two reports through their lawyer Advocate Nurunnahar Akter to the court, saying that they have taken many steps, including spraying medicines, forming ward-based committees and raising awareness for the prevention of mosquito menace and air pollution in the capital.
Advocate Manzill Murshid told the court that the dengue menace had taken a turn for the worse in the capital and many people, including the finance minister, have reportedly been affected.
So, effective steps are needed to be taken to prevent the spread of dengue, he argued.
Sanya Tahmina, line director (communicable disease control) of DGHS, said it is very important to destroy the source of Aedes mosquitoes to reduce the number of patients.
She said dengue fever in Bangladesh is now an endemic disease, meaning people will get infected with this disease throughout the year.
DSCC Chief Health Officer Brig Gen Sharif Ahmed and his counterpart in DNCC Brig Gen Md Mominur Rahman Mamun recently at a programme in health ministry said they were taking different steps, including building awareness among the people, and giving more emphasis on using larvicide and adulticide to keep dengue cases in check.
The number of recorded cases of dengue infection was 10,148 last year, the highest in the 18 years, according to the DGHS. The disease took 26 lives last year.
The country saw 93 deaths in 2000, the year dengue outbreak hit the country for the first time. A total of 5,551 people got infected that year.