Car crash kills 3 of a family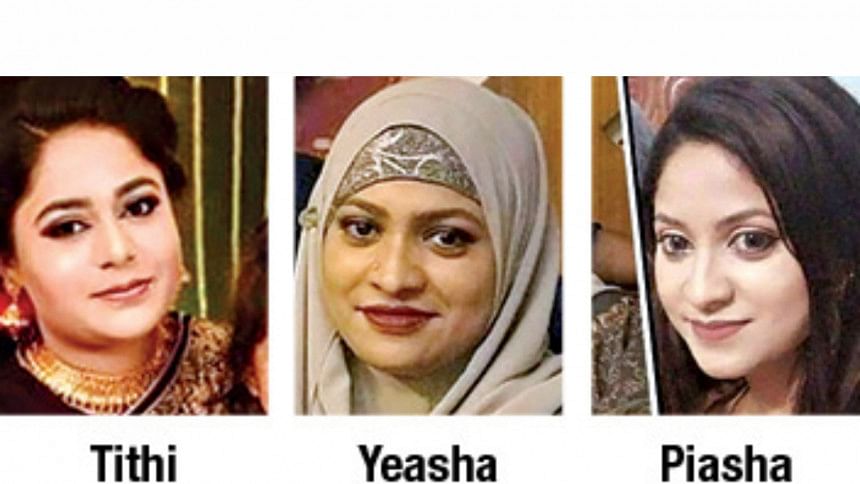 Three members of a family were killed and two others injured as a car carrying them hit a roadside electric pole in Jashore town early yesterday.
The dead were identified as Tanzila Yeasmin Yeasha, 28, her sister Tanima Yesmin Piasha, 25, and their sister-in-law Tithi, 32. 
The victims' uncle Shahinur Rahman said that Piasha, a fourth-year medical students, got married to Shafiqul Islam Jyoti, a businessman in the town, a year and a half ago. Piasha was scheduled to be formally handed over to Jyoti's family on January 25.
Police said the car, carrying seven passengers, hit an electric pole in Biman office area intersection around 1:45am, leaving all the passengers injured.
Locals rescued the victims and sent them to Jashore General Hospital where doctors declared Tanima, Tanzila and Tithi dead, while Tithi's son Monirul, 4, and their relative Ridoy, 30, were receiving treatment at the hospital, said Inspector of Jashore Kotwali police station Sheikh Tasmim Alam.
The bodies of the dead were sent to the hospital morgue for autopsy, he added.
The inspector said police arrested Jyoti, who was driving the car, at night on suspicion that the accident occurred due to negligent driving.  
Upon interrogation, Jyoti confessed that he was driving under the influence, he added.
"We are suspecting that the accident was caused due to drink driving. Jyoti is healthy and the car is in police custody."