Bringing hope to kids with special needs
Group of nine runs school at a Dinajpur village offering them free primary education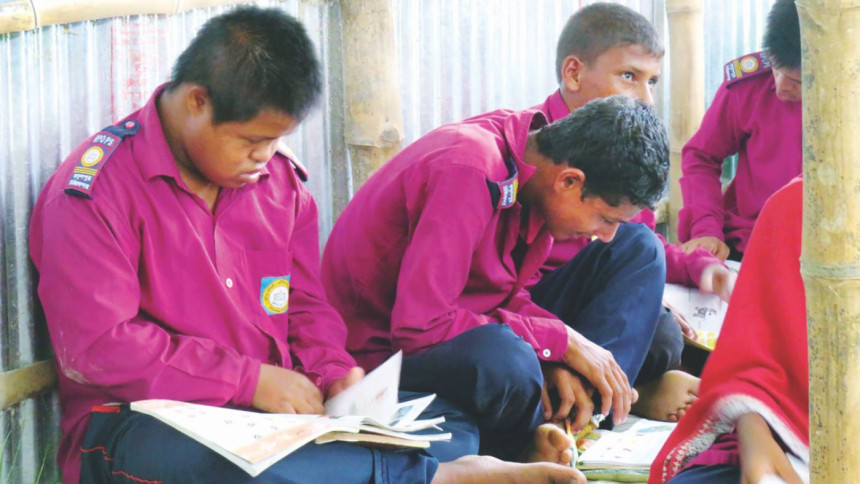 Children with special learning needs, along with their families, in Chirirbandar upazila of Dinajpur saw a glimmer of hope when a group of around nine individuals began an initiative to provide them with free primary education. That glimmer shone brighter and brighter as the project came to fruition.
The initiative was initially taken by 32-year-old Nur Mohammad, a resident of Rasulpur village in the upazila. After completing his Master's degree in Dinajpur, he took up teaching as a profession and got a job at a local high school.
Soon after, he quit and decided to use his teaching experience for a greater cause. That was when he came up with the idea of establishing what is now known as Rasulpur Protibondhi O Autistic Punarbasan Bidyalaya for children with special needs who come from poor families.
"Every child has the right to education; but there are some children who not only have different needs but also come from families with financial constraints," said Nur.
In 2016, he approached several individuals in the upazila to help kick-start their project. That is when Abul Hamid, a local farmer, donated a 15-decimal plot of land, while many other locals donated money which was used to purchase bricks, corrugated iron sheets and bamboo sticks to build the one-storied school.
With the support of these individuals, Nur was able to finally help their dream, of bringing a positive change for children with development disorder, turn into a reality.
The school is situated on Dinajpur-Parbatipur road and enrolls students from grades one to four. The school currently has a voluntary workforce of eight teachers, including two female teachers, said Nur, headmaster of the school. The teachers were the very individuals who helped Nur establish the school.
"They are all qualified to be teachers. The only lacking we have is the knowledge or training needed to deal with children with special needs," Nur said, adding, "We are however trying our best to arrange training for us in this regard."
The students learn three basic subjects- Bangla, English and Mathematics, while the school runs from 9:00am till 12:00pm, six days a week. This timing also allows the teachers to return to their other jobs for income, which is mostly farming.  Some rickshaw vans are also assigned to pick up and drop the children, and they are served snacks as well, like samosas or toast, during their break.
With security in mind, they kept the area enclosed with a bamboo fence, and kept a space open in front of the school for the students to play.
The school initially did not have too many students, Nur said, adding, "But as word got around, more parents began trusting us."
Milon Chandra Das, one of the teachers said there were now 220 special needs children who were students of Rasulpur Protibondhi O Autistic Punarbasan Bidyalaya.
First and second grade students use floor mats in the classroom, while third and fourth graders are provided with desks and benches. In addition, parents of students with severe autism are allowed to stay in the classroom to help their children whenever needed, whether for bathroom breaks or sudden behavioural changes.
"Many quality schools have been set-up in the village over the last decade. But no one had previously given any thought to the children with special needs," said Keshab Chandra Roy, a teacher of the school.
Rubel, a second grade student at the school, was born deaf. His father enrolled him into the school a year ago. The 10-year-old boy can now write in both Bangla and English. "My son being able to go to school was beyond my expectations!" Rubel's proud father said.
Apan Chandra Shil accompanies Nishika Shil, her seven-year-old daughter with autism, to the school every day. "Since enrollment, I have noticed a significant improvement in her behaviour," she said.
It takes a collective effort to help these children be accepted in society, who are often considered a "burden" on their families, said Abdul Hamid, a teacher, adding, "We hope to get some support from the government and other non-governmental organisations."
Looking forward to helping the glimmer of hope shine even brighter, Nur said, "Every month we raise funds to bear the school's expenses. However, we have applied to the Ministry of Social Welfare for registration last year and hope to hear from them soon."