Bangladesh now 10th worst-hit
3,187 more infected, 37 die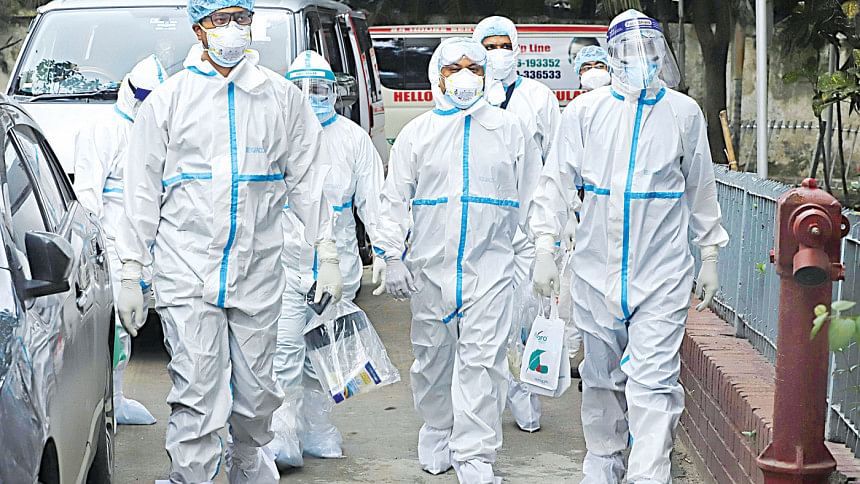 Bangladesh persistently remained on the 10th position on the global ranking of the worst coronavirus-hit countries for five consecutive days from June 6 due to its high number of new cases.
The country also ranked the 10th position in the ranking for its total number of cases in seven days from June 4, according to the World Health Organisation.
Between June 4 and 10, Bangladesh recorded 19,725 cases.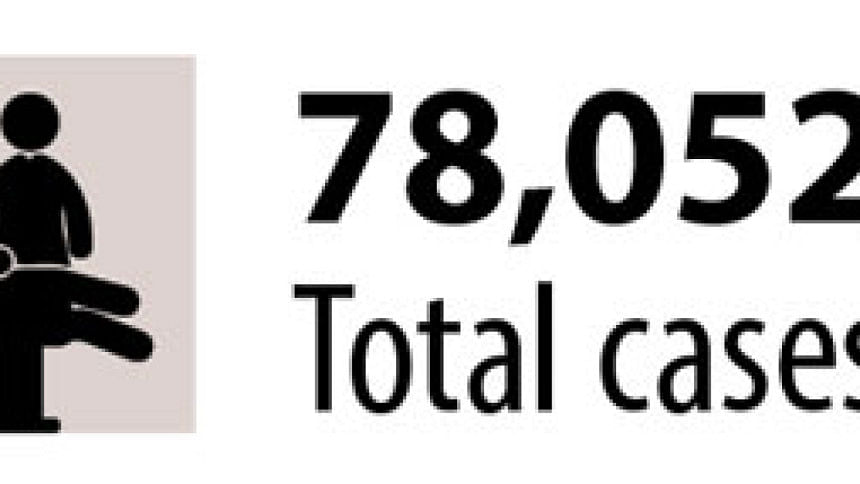 Other countries that had witnessed the highest number of cumulative cases in the seven days are: the US, Brazil, India, Russia, Chile, Pakistan, Peru, Mexico, and Saudi Arabia.
The Directorate General of Health Services yesterday said 3,187 more new cases were recorded.
Until yesterday, a total of 78,052 Covid-19 cases were recorded across the country.
Meanwhile, 37 more people died from coronavirus infections on a single day, said Prof Nasima Sultana, additional director general (administration) of DGHS, during a briefing.
Some 15,772 samples were tested in 55 labs across the country in the last 24 hours, she added.
A total of 1,049 people have so far died from the deadly virus in the country.
Meanwhile, 848 Covid-19 patients have recovered until yesterday, taking the total number of recoveries to 16,747 and the recovery rate to 21.46 percent, the DGHS official added.
Some 671 people were put under isolation in the last 24 hours, she said.
Among the dead, 30 were male and seven female, she said, adding that 20 were from Dhaka, seven from Chattogram, three from Sylhet, four from Rajshahi, two from Barishal and one was from Rangpur.
They were aged between 31 and 80, Prof Nasima added.
According to DGHS, the number of daily infections used to remain between 1,000 and 1,200 a month ago. From the last week of May, the number of cases started jumping over 2,000. Since June 9, the country has seen over 3,000 cases daily.
Data show Bangladesh constantly ranked the 10th position from June 6 in terms of detecting high number of new cases.
During the period, the Covid-19 case growth factor (daily new cases / new cases on the previous day) remained between 0.9 and 1.
According to WHO, the growth factor between 0 and 1 indicates a decline; when it is above 1 it signals an increase, and if is persistently above 1 this could signify exponential growth.
On April 3, the growth factor for Covid-19 cases in Bangladesh reached the highest 2.5; on 12 April, it was 2.3.
Since the beginning of May 2020, the growth factor has been within the range of 0.8–1.4, and on June 8 it was 1.0, reads the WHO Situation Report.