Amader Pathshala: Changing lives, quietly but surely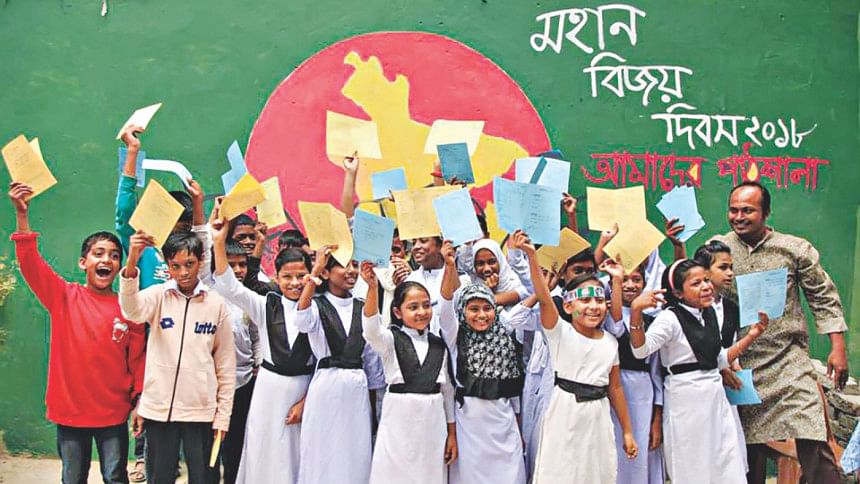 Amader Pathshala has been quietly changing lives of underprivileged children in the capital's Mirpur since the school was established over a decade ago.
Some good souls started the institution to provide education to children in a creative atmosphere at a low cost. The monthly fee is just Tk 50 while the admission fee is between Tk 50 and Tk 100.
"Even this low amount is not charged to those who might struggle to pay," said Abul Hasan Rubel, founder of the school. "The school offers education up to class-VIII and then helps the students get enrolled in other schools. We also provide students with free tuition in the evening."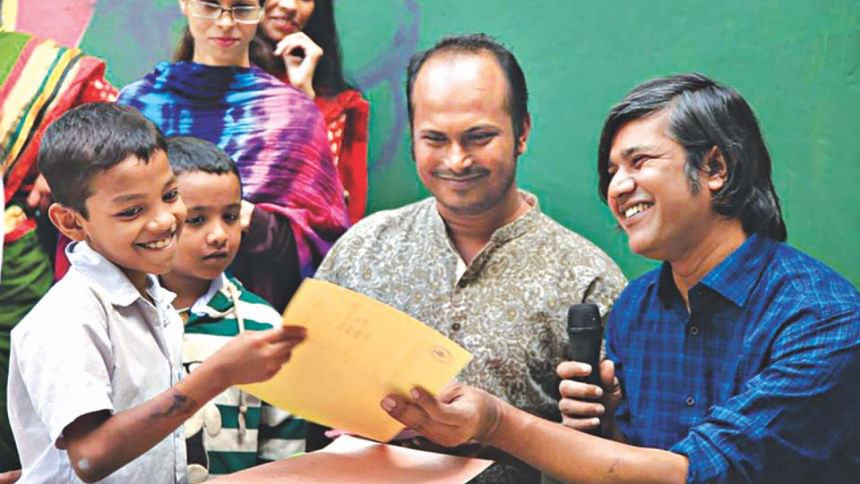 At present, the school has over 240 students, mostly children of day labourers and garment workers.
Its classrooms remind one that learning is supposed to be fun and that learning is not just memorising.
During a recent visit, this correspondent saw a solar panel model made of Styrofoam in a classroom to help students understand better how power is generated. Similar teaching materials were seen in all classrooms.  
"We encourage the underprivileged children to follow their dreams. They should not feel any less capable than the privileged ones," Rubel said.
Many of the alumni of this school are now thriving.
Two former students are now in Dhaka University. Four got admitted to different polytechnic colleges in Dhaka and the Narayanganj Fine Art Institute, said Ranojit Mojumder, a teacher of Amader Pathshala.
Momin Moktar Sabuj, one of the former students, is currently pursuing a bachelor's degree at the Faculty of Fine Arts, DU. Reminiscing his school days, Sabuj said, "Those were the best days of my life. On one 'cultural day' my drawing teacher noticed my interest.
"I come from a poor family. To study in Charukala seemed like a dream. But it became possible because of my teachers," said Sabuj.
He now takes the opportunity to give something back to the school. He teaches drawing voluntarily at the school.
Sabuj said the teachers of this school are so cooperative that they even take phone calls from students at late night. Students never felt the need to take private tuitions.
Ahmed Rohan Safin, an eighth grader whose father works for a cable tv service provider, said he wanted to become a scientist and his favourite subject was chemistry.
"My teachers give me innovative ideas like power generation through solar panel. They help me to solve different equations. These drive me towards my dream," he said.
Sheuli Begum, a garment worker, said her son had studied at Amader Pathshala and is now a first-year honours student at a college in Mirpur. Two of her daughters are studying in class-V and -VIII at the school, she said.
She said the school has teaching methods which are fun for the children. Besides, the school has a library, and gives emphasis on extra-curriculum activities.
"My daughters love the school as the teachers are very friendly and kind-hearted. Without their support, I could never bear the cost of my children's education," she said.
Regular field trips to heritage sites and places of culture and historic significance are also arranged.
A handful of well-wishers manage funds for the school, which has 11 teachers. Of them, three are involved in music, dance and art classes held on Saturdays. Most of them provide voluntarily services, said Rubel.
After graduating from Dhaka University, Rubel joined "Sultan Safa Pathshala", a school for underprivileged children in Dhaka's Banglamotor, as a volunteer teacher in 2002. But after a few years the school had to be closed due to fund crisis.
When Rubel was thinking about establishing Amader Pathshala, his friends Ranojit Mojumder, a graduate from Rajshahi University, and Sylhet Osmani Medical College student Kazi Muntasir Billah came forward to help.
In 2007, they set up the school at a rented house in Pallabi, obtaining permission from the directorate of primary education. The school has recently been moved to another rented building in the same area.
Asked why they were running the school instead of pursuing better jobs for themselves, Rubel said, "Who will shape the future of these hapless boys and girls if everyone runs after money?"