8 days in jail for crime he knew nothing about
Man implicated in false case over dowry; family fights to clear his name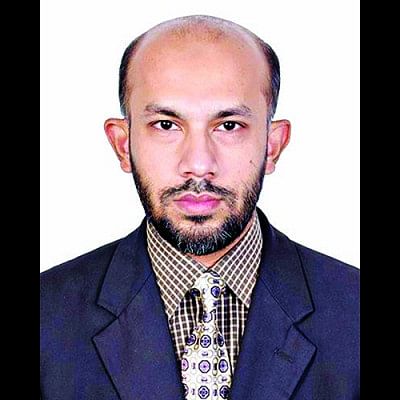 Suddenly one day, he came to know that he has a second wife. He was also told he even tortured that woman for her father's failure to pay him Tk 1 lakh in dowry.
Sazzadul Haque, executive director of Barishal-based Zam-Zam Nursing Institute, was in utter shock and disbelief when he was told these after Barishal Kotwali police arrested him on April 15 complying with an arrest warrant.
The next day, Sazzad was sent to jail where he languished for eight days for a crime he knew nothing about.
Sazzad's family collected the case copy and a marriage certificate submitted to the Women and Children Repression Prevention Tribunal-4 in Dhaka to reinforce the claims made in the case.
They soon realised that the marriage certificate was fake. This newspaper also found that the case was filed with fake supporting documents and perhaps by people pretending to be someone else.
"I am absolutely devastated. Despite being innocent, I had to be in jail for eight days. It is a huge humiliation," Sazzad said after getting out on bail.
The tribunal fixed May 23 for the next hearing. 
"The damage done to me, my wife, and my six-year-old son cannot be undone," said Sazzad, a master's student of English literature at Brac University. 
He pleaded that the authorities be more careful so that innocents like him do not land in jail this way.
Runa, 26, of Arshinagar in Dhaka's Keraniganj lodged the complaint with the tribunal on March 11 claiming that Sazzad married her in 2015, according to the case statement.
The complainant accused Sazzad of demanding Tk 1 lakh from her father as dowry and torturing her repeatedly for not getting the money. She also claimed that they have a one-year-old son.
The marriage certificate submitted to the court shows the marriage between Sazzad and Runa was registered on March 10, 2015. One Golam Kibria issued the certificate as the Kazi (marriage registrar) of capital's Lalmatia, Mohammadpur.
But no Golam Kibria served as the Kazi in the area in 2015, said Dipok Kumar Sarkar, the registrar of Dhaka district. 
Yusuf Chowdhury, the Kazi of Lalmatia, Mohammadpur, told The Daily Star that no one named Golam Kibria ever served there.
After going through records, he said no marriage was registered on March 10, 2015, and that the certificate was fake.
The copy of the case this newspaper obtained had the seal and signature of Runa's lawyer Md Khairul Amin.
Contacted, Khairul told this newspaper that he did not file any such case on that day. He also said someone might have illegally used his rubber stamp and forged his signature. He does not know Runa.
The Daily Star could not ascertain who actually stood as the complainant at court and who represented her.
According to the compliant, Runa is the daughter of Mujibur Rahman and Sahida Begum of House-5, Road-1, Block-B, Arshinagar, Keraniganj.
These correspondents visited Arshinagar recently and talked to at least 40 locals who said they were unaware of any Block-B in the area.
Some of them, however, pointed to a narrow road claiming it to be Road-1 but no one named Runa could be found in at least 20 houses on that road.
Supreme Court lawyer Manzill Murshid said the man (Sazzad) has the right to get compensation from the state since he is a victim of the "system of the state". Probe should be launched to identify the complainant and a criminal case should be filed against her.
Sazzad suspects one of his former business partners might be behind the filing of the false case.
He believes he is a victim of a conspiracy similar to the one that caused his father to suffer. An arrest warrant was issued by a Dhaka court in 2015 against his father Masudul Haque after one Baby Akter claiming to be his wife filed a dowry case with the court.
His father, however, managed to obtain a bail before being arrested.
The case was later proved false but Baby was never traced.