Women Terror Suspects
66pc radicalised by family members
Reveal findings of DMP's counter terror unit, analysing profiles of 41 suspects in last 2 yrs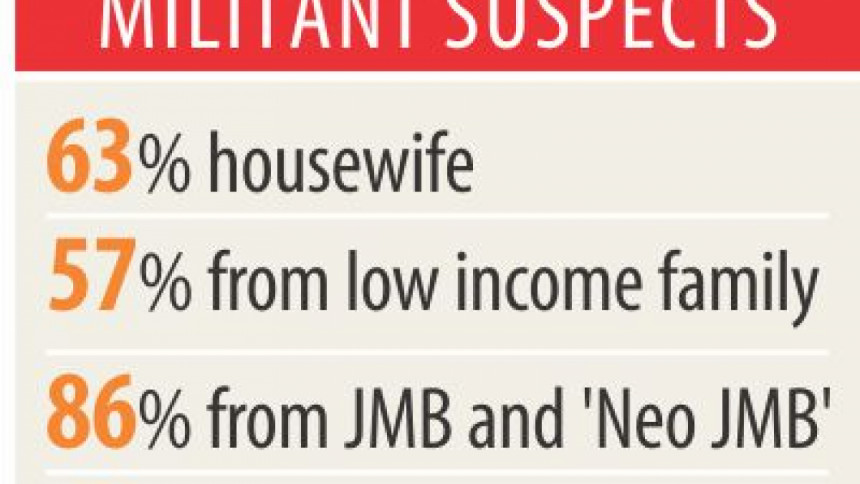 Over 66 percent of the female terror suspects in the country got involved in militancy being influenced by their family members, mostly their husbands, according to findings of the counter terrorism unit.
The case of their involvement increased after the "Neo JMB" emerged in 2014. About 63 percent of the suspects belong to the militant outfit, which is responsible for the July 1, 2016 Holey Artisan attack.
Around 42 percent of female terror suspects are either graduates or doing their graduation and master's courses. About 46 percent were influenced by their husbands to join violent extremism.
A Counter Terrorism and Transnational Crime Unit official came up with the findings, analysing the profiles of 41 female militant suspects arrested in the last couple of years.
At least 85 females have so far been arrested on terror charges and 11 other suspects were killed in different anti-militancy drives, Mahfuza Liza, a CTTC additional deputy commissioner, said while presenting her keynote paper at a conference yesterday.
Bangladesh Institute of Peace and Security Studies (BIPSS) organised the event on "Prevention of Violent Extremism from a Gender Perspective" at a city hotel.
The exact number of the women involved in terrorism is difficult to estimate as they usually remain out of suspicion, she said.
Though the role of females was largely limited to assisting the males, recruitment and terror financing, some females were found to be equipped with suicide vests during anti-militant drives, said the CTTC official. 
According to CTTC findings, more than half of the female suspects come from low-income families,  which is 57 percent of the total samples, while 26 percent are from affluent families.
Influence of family members, having a sense of belongingness and empowerment, ideological commitment, hope of reward in the afterlife, frustration and fear of uncertainty and revenge for loss of family members are the major causes of females joining militancy, CTTC officials found.
In the latest drive in a militant den in Narsingdi, suspected female militant Aklima was killed along with a male militant on October 16, while two other female militant suspects -- Khadija Parveen Meghna and Israt Jahan Mou -- holed up in another den and they surrendered to police the next day. 
In the programme, Lailufar Yasmin, deputy director of Bangladesh Institute of Law and International Affairs, Dhaka University Assistant Prof Umme Wara of criminology department, Ayesha Kabir, consulting editor (English section) of Prothom Alo, also presented separate keynote papers.
The Daily Star Associate Editor Brig Gen (retd) Shahedul Anam Khan, Switzerland Ambassador to Bangladesh René Holenstein and BIPSS President Maj Gen (retd) ANM Muniruzzaman also spoke on the occasion.
The speakers said family members, especially mothers, sisters and wives, could play a vital role in preventing violent extremism as they could notice early signs of radicalisation of their near ones.