500 meters of Kuakata beach goes into sea
Yaas damages 56km of embankment in Patuakhali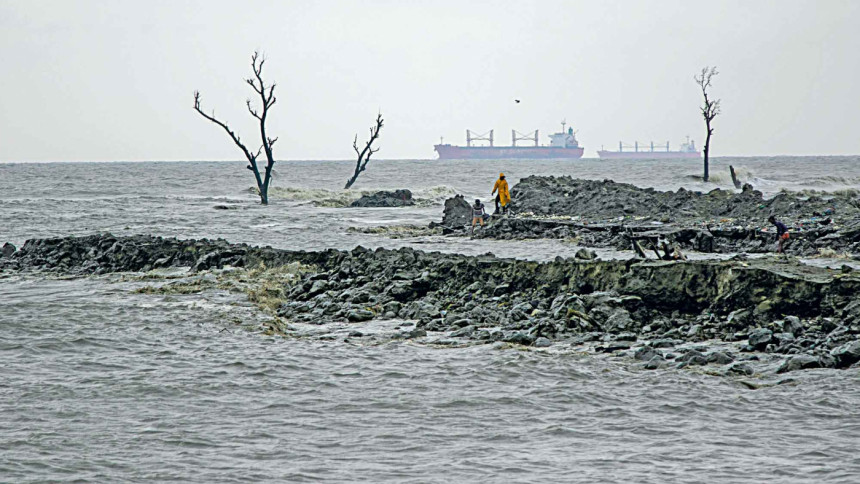 About 500 metres of Patuakhali's Kuakata beach, the lone tourist attraction of the district, was washed away due to the tidal surge caused by recent Cyclone Yaas.
Around 56 kilometres of the district's different flood control dykes have also been damaged. Water Development Board (WDB) said it would need Tk 53 crore to repair these dams.
Water was flowing 74 cm above the danger level in the main rivers like Andhar Manik, Ramnabat and Payra rivers on May 26. But the water started to recede, our Patuakhali correspondent said.
Mohammad Halim Salehee, executive engineer, Patuakhali WDB, said 56 km of different embankments, including seven km of the most vulnerable dam in Laluar in Kalapara upazila, have been damaged.
Three kilometre banks of different rivers were devoured by the sea while 1.5 km of the river bank protection has been destroyed, he said.
The higher authorities have been informed about the damages and necessary measures will be taken if a fund is allocated for the repair, he added.
Rangabali upazila, an isolated island, has no embankment for protecting its several chars including Char Anda, Chalitabunia and Nayar Char. As a result, these coastal areas are always inundated by tidal water.
Due to the effect of cyclone Yaas, the tidal water gushed in these areas and flooded the croplands, houses and roads, causing suffering to six lakh residents.
A hotel, built on the beach on the west side of Zero Point, has also collapsed. At least 20 fishermen's houses on the west side of the hotel have been flooded due to the tidal surge, said fisherman Sumon Sheikh.
At least 200 temporary shops in the Zero Point area have disappeared following the impact of "Yass".
In this regard, Mayor of Kuakata municipality Anwar Hossain said, the impact of cyclone "Yaas" was more than last year's cyclone Ampan.
Motaleb Sharif, general secretary of the Kuakata Hotel-Motel Owners Association, said the cyclone had damaged Kuakata tourist area.
Permanent barricades need to be built on an emergency basis to protect Kuakata from tidal surges, he said.
If it's damaged further, domestic and foreign tourists may lose their interest in visiting the spot, he added.
Patuakhali-4 lawmaker Mahibbur Rahman visited the devastated area of Kuakata yesterday afternoon. He said permanent measures were being taken to protect Kuakata from natural disasters.