3 killed in 'gunfights'
One of them picked up two days ago, family alleges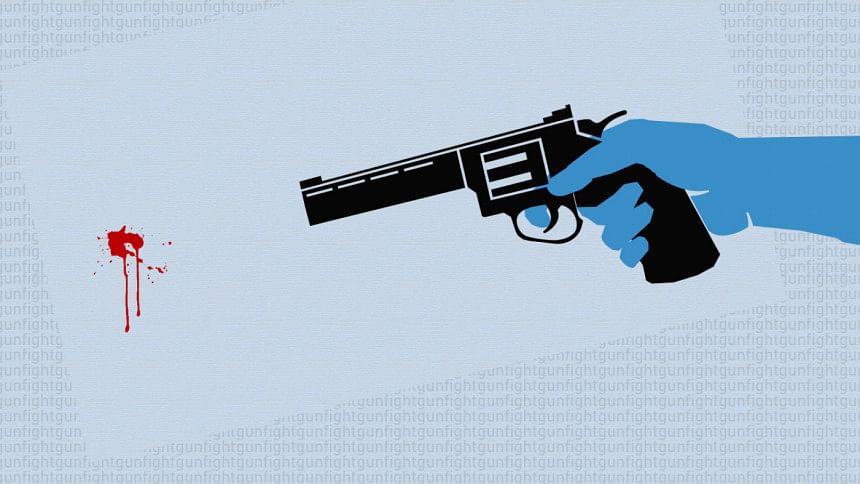 Two alleged Rohingya drug peddlers and a murder suspect were killed in two separate gunfights with members of Border Guard Bangladesh and police in Cox's Bazar and Mymensingh early yesterday.
In Cox's Bazar's Teknaf upazila, the dead were identified as Sarker, 22, from Kutupalong Rohingya camp; and Nur Alam, 30, from Muchni Rohingya camp.
A BGB-2 team conducted a raid at the Hoaikong Urubunia Katakhal area after a tip-off about a large amount of yaba being smuggled from there, said BGB-2 Deputy Commander Major Shariful Islam Jamaddar.
The BGB members signalled a boat to stop on the Naf River. But the smugglers ignored the signal and opened fire, triggering a gunfight, he claimed.
"Alam and Sarker were killed during the shootout," Maj Shariful said, adding that BGB members recovered the bodies and sent them to a local hospital for autopsy.
The BGB claimed to have recovered fifty-thousand yaba pills, a gun, three cartridges and two sharp weapons from the boat.
Meanwhile a man accused of murder was killed in a reported gunfight with the detective branch (DB) of police at the Chakua Daria intersection in Mymensingh's Gafargaon upazila early yesterday.
The incident took place nearly two days after he was allegedly picked up by plainclothes men.
The dead was identified as Ekhlas Uddin, 32, of Chakua village.
Ekhlas was the prime suspect in a case filed with Pagla Police Station in the upazila for stealing an auto-rickshaw after killing its driver, Sujon Mia, 20, on July 27.
Speaking to this correspondent, Ekhlas's father Nurul Islam, said Ekhlas was a ruling party activist and three young men, who he was familiar with, came to their house and asked him to go out with them.
Ekhlas then went to Sadua Marker Bazar on his motorbike around 3:00pm on Tuesday. 
"Around 4:00pm, we were informed that plainclothes men picked him up. His mobile phone was switched off since then," said Nurul. 
"I also asked the young men who took Ekhlas out about where he is but they could not say. Even the motorbike is yet to be recovered," he added.
Nurul further said that they searched for Ekhlas at Pagla Police Station, the DB office in Mymensingh and even at Mymensingh Central Jail on Wednesday but could not trace him. 
Police also denied picking him up.
The family then decided to lodge a general diary with local police station yesterday but around 4:00am, they heard the news of Ekhlas's death on television. 
Later, they came to MMCH morgue and identified the body, said the father.
Nurul also alleged, one of three men who came, named Liton, earlier attacked Ekhlas over rivalry one year ago and a case was filed with the local police station accusing five people where Liton was the prime suspect. 
"Because of the rivalry, Ekhlas might have been killed in a planned way," alleged Nurul, while demanding proper investigation into the killing.
Shah Kamal Akanda, officer-in-charge on Mymensingh DB, said Ekhlas went into hiding since the murder case was lodged in July.
Tipped off, a police team conducted a drive in the area around 1:30am to arrest Ekhlas. Sensing police presence, criminals opened fire at police, triggering a "gunfight", the OC claimed.
When other gang members fled the area, police found bullet-hit Ekhlas and rushed him to Mymensingh Medical College Hospital where doctors declared him dead around 3:00am, the OC added.
Police also claimed to have recovered a pistol with one round of bullets and 200 grams of heroin from the spot. 
Ekhlas was accused in six cases, including three for robbery, two for drugs while another for murder, filed with different police stations in Mymensingh, said officer-in-charge (Investigation) of Pagla Police Station Md Fayezur Rahman.
About the cases, Ekhlas's father said the cases were filed only to harass his son.
[Our Cox's Bazar and Mymensingh correspondents contributed to the report]