3 factors behind rawhide mess
Lack of market monitoring, syndication of tanners and merchants, cash crunch of merchants led to drastic fall in demand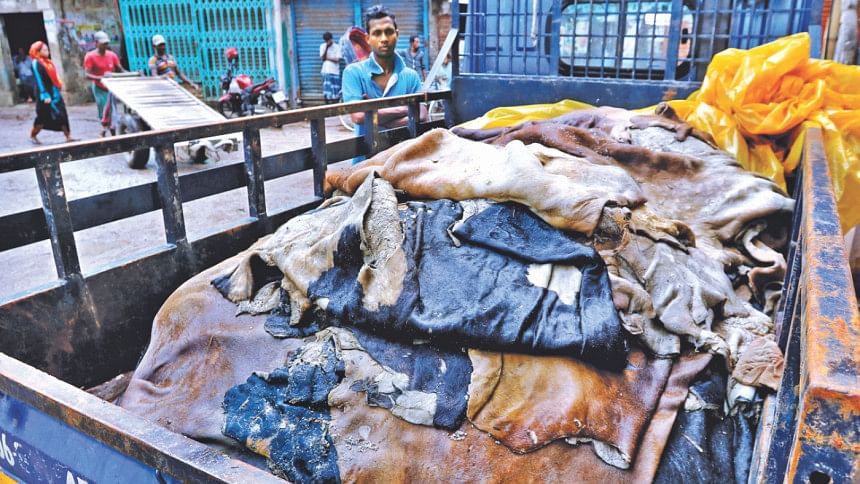 Some 35 percent of more than 1 crore pieces of rawhide were thrown away after this Eid, mainly due to slack market monitoring by the government, a syndication of some tanners and merchants, and merchants' lack of capital to buy rawhide, said sources in the sector.
With the damage put at nearly Tk 100 crore, tanners and merchants suggested fixing a minimum rate for unsalted rawhide to ensure better prices.
Before this Eid, the commerce ministry fixed the prices of salt-applied rawhide of cows and buffaloes at Tk 45-50 per square foot in the capital and Tk 35-40 elsewhere.
The price of rawhide of castrated goats was fixed at Tk 18-20 per square foot, while it was Tk 13-15 for that of uncastrated goats.
The rate was fixed for rawhide merchants and tanners. There was, however, no fixed rate for small traders who collect rawhide at the field level.
After the Eid, seasonal traders across the country threw away thousands of pieces of rawhide, failing to sell those due to a drastic fall in demand.
In such a situation, the government has decided to export rawhide.
On the slack monitoring by the government, Md Mofizul Islam, senior secretary to the commerce ministry, said there had been no such monitoring system in the rawhide market in the past. "So we could not predict such a situation," he said.
Mofizul, however, hoped that rawhide merchants would get fair prices as tanners agreed to buy hide from tomorrow.
About fixing a minimum rate at the field level, he said he would soon discuss the matter with other ministries, tanners and merchants.
Delwar Hossain, president of Bangladesh Hide and Skin Merchants' Association, said there was a lack of coordination among the government, merchants and tanners in handling rawhide.
Asked, he rejected a government allegation of price manipulation by a section of businessmen by creating a syndicate.
On Tuesday, Commerce Minister Tipu Munshi blamed a section of businessmen for manipulating the market prices of rawhide.
Rawhide was sold at significantly low prices over the last 11 years as merchants didn't buy it at the government-fixed rates, he told journalists at his Rangpur residence, reported Bangla daily Prothom Alo.
Sources in the sector said the syndicate made the move as tanners already had a good stock of rawhide. Also, prices of leather goods were going down in the international market.
Talking to The Daily Star, Delwar said the crisis over rawhide appeared as tanners did not clear their dues to merchants before Eid.
"Had the tanners disbursed the full amount, merchants could have bought rawhide from small traders," he said.
He said tanners cleared some Tk 35 crore of dues of nearly Tk 400 crore before Eid.
This Eid, over 1 crore animals were sacrificed across the country. Of them, some 45 lakhs were cows, bulls and buffaloes, said rawhide traders.
Md Shaheen Ahmed, chairman of Bangladesh Tanners' Association (BTA), however, opposed Delwar's statement on clearing dues.
According to him, tanners were not buying hide from small traders after the tannery hub was shifted to Savar from Hazaribagh. He also blamed slack government monitoring and a fall in demand for leather products for the recent crisis.
He said the demand for non-leather products was going up due to changing fashion trends and increasing awareness about animal rights.
Ahsan H Mansur, executive director of Policy Research Institute, talked in favour of rawhide export for ensuring good prices and breaking the syndicate.
"If export of rawhide is allowed, interests of the farmers and other poor people will be protected," Mansur said.
Meanwhile, many small traders could not sell rawhide to merchants yesterday due to fund crunch.
Already having invested hefty sums, they see bleak days ahead.