1 in 3 citizens suffers liver diseases
Survey in Bangladesh finds 1 crore with chronic hepatitis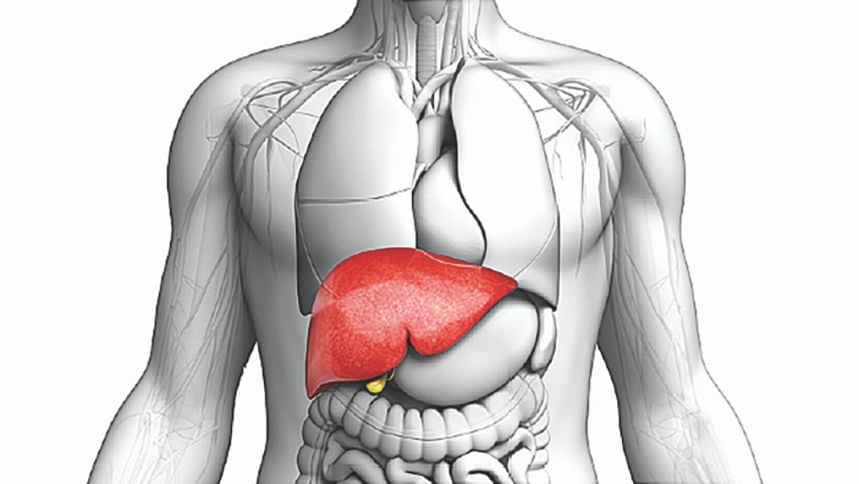 One in every three citizens in the country is suffering from some sort of liver diseases, according to a survey conducted by the Hepatology Society.
The scientific survey revealed that about one crore citizens are suffering from chronic hepatitis and more than four crore people are suffering from fatty liver diseases across the country.  
The survey led by Professor Mobin Khan was unveiled at the 5th International Hepaotlogy Conference 2018 arranged at a city hotel yesterday.
Organised by the Hepatology Society, the conference was a gala get-together and a platform for exchange of views among renowned liver specialists from home and abroad.
"The nature and extent of liver diseases have been experiencing a dramatic change in the country due to the revolution in socio-economic condition of the people" the survey read. 
Liver experts said the port city Chattogram had suffered a severe outbreak of hepatitis E in April and July this year while some other cities are also in danger.
Pointing that the total number of hepatologists in the country is less than a hundred, the experts stressed on establishing a separate super-specialised liver institute and producing many more hepatologists to tackle such epidemics of liver diseases.
Speaking at the conference, Professor Abdul Wahab, a renowned liver transplant surgeon, shared his experience of establishing a transplant centre in a developing country like Egypt, and put forth his technical advice on how to start a transplant centre at Dhaka.
The event was chaired by eminent hepatologist Professor Mobin Khan while former BSMMU VC Professor Nazrul Islam, Prof Abu Sayeed, Dr Md Shahinul Alam, Dr Md Golam Mustafa, Dr Md Golam Azam and Dr M Motahar Hossain spoke among others during the event.
The foreign participants include Prof Kumar Visvanathan from Australia, Prof Raluca Pais from France, Prof Mohamed Abdel Wahab from Egypt, Prof Seng Gee Lim from Singapore, Prof Hironao Okubo from Japan, Prof D Nageshwar Reddy from India, and Prof Emmanuel Tsochatzis, Prof Anil Dhawan, Prof Anita Banerjee and Prof Anita Verma from the UK.