'Model to militant'
Operative of JMB's Sarwar-Tamim group arrested yesterday, Rab claims; family says he went missing on May 4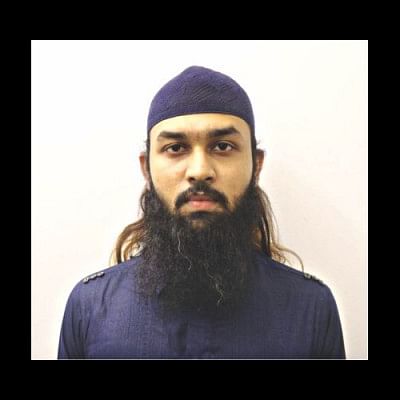 Once a young model, Imam Mehedi Hasan turned into a militant leader about two years ago, claimed Rab.
Mehedi, a BBA graduate from Darul Ihsan University, was arrested by the Rapid Action Battalion in the capital's Banasree area early yesterday.
However, his family members said the 29-year-old had been missing since May 4 when he along with his brother-in-law Sayem Billah, who completed SSC this year, went to Arambagh to collect business cards.
According to Rab, the arrestee was involved in regrouping the "Sarwar-Tamim group" of militant outfit Jama'atul Mujahideen Bangladesh (JMB).  
He was placed on four-day remand through a Dhaka court yesterday in a case filed with Banani Police Station under the Anti-Terrorism Act.
Talking to The Daily Star, Mehedi's elder brother Waliur Alam said they filed a general diary with Khilgaon Police Station on May 5 after the two had gone missing. Sayem is still traceless.
Lt Col Tuhin Mohammad Masud, commanding officer of Rab-3, claimed Mehedi is a commander of the "Brigade Ad-Dar-e-Kutni" of the Sarwar-Tamim group.
The arrestee used to recruit members, collect fund and motivate others to leave home for militant activities, he said at a press briefing at the Rab media centre in Karwan Bazar.
Mehedi was known as Abu Jibril inside the militant outfit.
The Rab said the JMB set up two operational brigades -- Badr Squad Brigade and Brigade Ad-Dar-e-Kutni. The Badr Squad Brigade carried out several attacks, including the Holey Artisan café attack in July last year, while the Brigade Ad-Dar-e-Kutni acted as a backup or reserved squad.
Mehedi was trying to rebuild the JMB as the Badr Squad Brigade was losing its strength due to anti-militancy drives by law enforcers, the Rab official told journalists.
Seeking anonymity, an official of the Counter Terrorism and Transnational Crime (CTTC) unit of Dhaka Metropolitan Police said he heard Mehedi's name during investigations into militancy cases.
However, two other officials said the CTTC had no record of any JMB militant by the name of Imam Mehedi Hasan.
The Rab-3 CO said Mehedi is an "IT expert". He used some applications to maintain contact with other militants at home and abroad.
He said the Rab collected some information after examining Mehedi's laptops. "We suspect Mehedi mainly contacted some militant sympathisers from abroad for funding militant activities."
The Rab on August 31 arrested three other JMB operatives from Tangail. During interrogation, they told law enforcers that they were invited to join the brigade by Mehedi, he said.
According to Rab, Mehedi admitted that he had been involved with the JMB's Sarwar-Tamim group since 2015. He had been in contact with many top militants, including chief coordinator of the Gulshan café attack Tamim Chowdhury and one of the attackers Nibras Islam.
"Mehedi is quite capable of motivating other people. He had motivated some new members in Dhaka, Tangail and Rajshahi; evaluated their allegiance to the militant outfit and swore [baiyat] them in. Later, he uploaded videos of swearing in new members online to inspire others," Tuhin claimed.
Several militants, who were motivated by Mehedi, were killed during anti-militancy drives by law enforcers, he added.
Yesterday, the Rab claimed to have seized two laptops, a mobile phone, a passport and some books with extremist views from Mehedi's possession.
According to the evidence seized from the arrestee, the Ad-Dar-e-Kutni is capable of carrying out subversive activities at any place, the Rab CO said.
MISSING FOR MONTHS?
Mehedi's elder brother Waliur said four plainclothes men on May 6 went to his brother's office in Mohakhali DOHS and their Mohakhali home. Identifying themselves as Rab men, they seized two laptops, one each from the office and home, and a non-functional CPU.
He saw two parked microbuses in front of the house when the men entered their home.
The family contacted police and the Rab about Mehedi and Sayem going missing, but the law enforcers could not trace them.
Hailing from Patuakhali's Baufal upazila, Mehedi completed SSC and HSC in Barisal. He then moved to Dhaka and got admitted to Darul Ihsan University.
Son of a former assistant sub-inspector of police, Mehehi is the youngest of six siblings. His passion for modelling was first noticed by his family in 2011, but the family didn't like it.
Two years later, he quit modeling and started a business.
"He became frustrated after incurring losses and started visiting a local mosque regularly. Since then, he didn't shave," Waliur told The Daily Star.
Mehedi got married in 2015 and his wife is expecting a baby next month.
Waliur was shocked at the news of his brother's arrest. "My family will be ashamed for Mehedi if he is really involved in militancy."