Militants' den busted in city
Claim detectives; 'powerful explosives seized'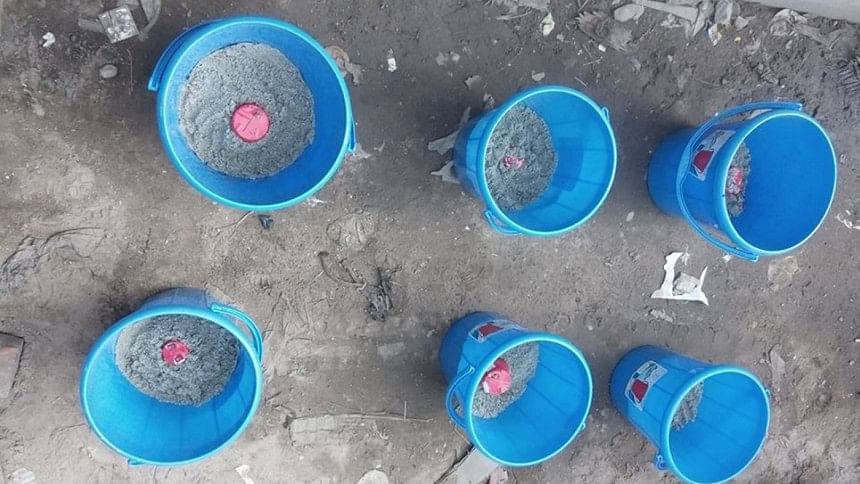 Detectives claimed to have busted an "Ansarullah Bangla Team (ABT) den" in the capital's Mohammadpur early yesterday, hours after a detective was stabbed during a raid on a "militant hideout" in Badda.
"Powerful" explosives and bomb-making materials were recovered from a top-floor flat of a five-storey building in Nobodoy Housing area of Mohammadpur, said Monirul Islam, deputy inspector general of Dhaka Metropolitan Police (DMP).
"Some of the bombs were so powerful that those could easily blow up an entire building."
Monirul, who became the chief of the newly formed Counter-Terrorism and Transnational Crime unit of the DMP, told reporters that they had recovered five types of explosives from the flat in Mohammadpur.
There were improvised explosive devices and liquid bombs among the explosives, said Additional Deputy Commissioner Sanwar Hossain who heads the DMP's bomb disposal unit.
On Friday night, two ABT suspects were arrested during a drive at another building in Uttar Badda area, said Monirul.
The arrestees are Kamal alias Shaheen, 26, and Shah Alam alias Salauddin, 28, said sources in the Detective Branch (DB) of police.
Bullets, magazines and six sharp weapons were found there, said DIG Monirul.
On the information gleaned from the duo, the law enforcers carried out an overnight raid in Nobodoy Housing area and recovered the bombs.
However, no one was arrested there.
Detectives described the building as an arsenal of the banned militant outfit.
"The group busted at Badda had been using the Mohammadpur house
as their arsenal," said Monirul.
A bomb disposal unit of the DMP defused some of the recovered bombs at a nearby playground yesterday afternoon.
Police also seized "a large quantity" of illegal VoIP equipment from a flat adjacent to the one used for storing explosives, claimed the DIG.
"We are probing whether the militants had any connection with the VoIP business."
He claimed that the detectives raided at least two other places in the city but did not disclose the locations.
The two suspected ABT members, arrested during Badda raid, were being interrogated, he said.
Locals at Nobodoy Housing area said three people, introducing themselves as students, had rented the flat barely one and a half months ago.
BADDA 'DEN' MADE OFF-LIMITS TO JOURNOS
Yesterday, this correspondent visited Badda and saw a police team deployed in front of the building for "security reasons".
The cops did not allow him inside the building or talk to any of the building's inhabitants, citing "instructions from senior police officials".
Locals alleged that police had picked up the building owner, Gazi Mohammad Hanif, for questioning.
Bhuiyan, a local, said Hanif and he were saying their Esha prayers together at a nearby mosque on Friday night when they heard some gunshots.
"We rushed outside together and later I heard that Hanif had been picked up by the police," he told The Daily Star.
Meanwhile, DMP Deputy Commissioner (Media) Maruf Hossain Sorder said DB Inspector Baharuddin Faruqui, who was reportedly stabbed by a militant during the Badda raid, is now out of danger.