Mayhem at B'baria
Madrasa students go berserk after death of a fellow in clash over trivial matter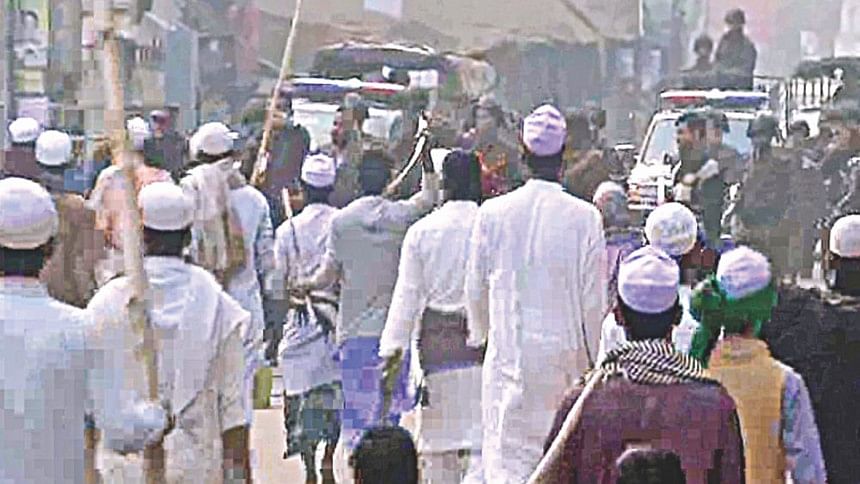 Enraged madrasa students went berserk in Brahmanbaria town yesterday over the death of a fellow student.
Armed with bamboo sticks and iron rods, they vandalised Brahmanbaria Railway Station, removed fishplates of railway tracks, ransacked an Awami League office and set fire to a police van, said witnesses.
The violence caused disruptions to railway links between the capital and Sylhet and Chittagong for several hours.
The agitators also carried out vandalism at Sur Samrat Ustad Alauddin Sangitagon and Dhirendanath Datta Bhasha Chattar.
Four platoons of Border Guard Bangladesh were deployed in the town in the morning to keep law and order under control, said BGB sources.
A student of Jamiah Islamia Yunusia Madrasa, 20-year-old Masudur Rahman was brought dead to Brahmanbaria Sadar Hospital around 3:00am yesterday. There were bruises on his body, said hospital sources.
He was hurt in a tripartite clash between madrasa students, traders and Chhatra League activists in Zila Parishad Market area. The clash ensued around 6:30pm on Monday when some students went there to buy a cell phone. At least 30 people were injured in the clash, said police.
Law enforcers fired around 100 rubber bullets and teargas shells to quell the fighting.
Panic gripped residents of the town following the wild protests. Most of the roads were empty and markets were closed.
Meanwhile, police yesterday withdrew Tapash Ranjan Bose, assistant superintendent (Brahmanbaria Sadar) of police, and Akul Chandra Biswas, officer-in-charge of Brahmanbaria Police Station, according to sources at police headquarters.
Meanwhile, senior teacher of Jamiah Islamia Yunusia Madrasa Maulana Mubaraq Ullah yesterday afternoon announced a daylong hartal in the district for today, demanding immediate arrest of the killers. However, he withdrew the strike later.
Talking to The Daily Star, Jamiat-e-Ulema-e-Islam Joint Secretary General Fazlul Karim Kasemi said they withdrew the hartal after receiving assurances from the district administration and police that action would be taken against those responsible for the student's death.
STUDENTS RUN RIOT
Several hundred madrasa students took to the streets yesterday morning, protesting the death of Masudur.
They gathered at Mourail Rail Gate, Zila Parishad Market, Kalibari intersection, TA Road, Gorapatti intersection, Fakirapool, Mather Ghora, Kachari Pukur Par and Kumarshil areas, said witnesses.
Some agitators removed fishplates of railway tracks in Mourail Rail Gate area. They also put logs on the tracks and set those on fire.
A group of students vandalised the railway station around 8:30am. They also damaged a signal board, said Stationmaster Muhibur Rahman.
Traffic on roads in Mather Ghora area almost came to a halt in the morning after some protesters demonstrated there by setting fire to tyres.
In the afternoon, agitating students torched a police van on TA Road. Cops retaliated by firing rubber bullets and teargas shells at the troublemakers. A photojournalist was hurt in the incident.
ULTIMATUM
Leaders of Befaqul Madarisil Arabia Bangladesh, a Qawmi madrasa-based organisation, issued a 24-hour ultimatum to the government to arrest those involved in carrying out the attack on madrasa students and killing one of them.
In a press release, they threatened that the government would face the consequences if it did not meet their demand.
In another statement, Chairman of Bangladesh Jamiatul Ulama Maulana Frid Uddin Masuod demanded speedy trial of the killers of the madrasa student through a judicial probe.