Mesmerising melodies enthral crowd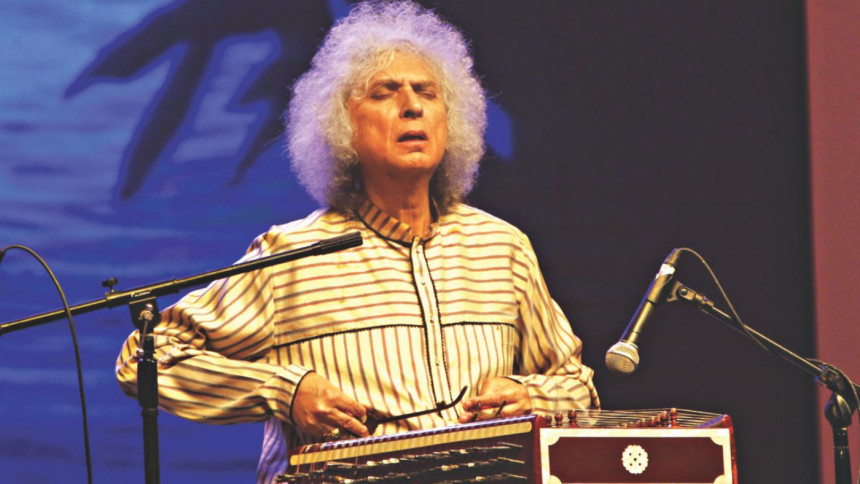 A magnetic performance on the santoor by living legend Pt Shiv Kumar Sharma stole the show on the second day of the Bengal Classical Music Festival at the Abahani ground yesterday.
Earlier in the evening, the day's programme began with the Aditi Mangaldas Dance Company, who delivered an exhilarating Kathak recital. Led by noted Kathak exponent Aditi Mangaldas, this was the first dance company performing in the festival's six-year history. Through swift, graceful movements, Mangaldas, and six of her disciples, started the evening with a piece called Utsav which included a traditional Surya Vandana.
The second part consisted of Aditi Mangaldas performing a solo nritya, or an expressive style of Kathak. Set to the Sufi qawwali "Chashme Mast-e Ajabe" by Amir Khusrau, the solo piece was filled with expressive and evocative hand and eye movements. In the third part, her disciples performed a tarana, a dance performance set to Indian classical music.
Next, performing with a group recital of the tabla, were students of Bengal Parampara Sangeetalay. The young, talented group presented various rhythmic styling on their instruments as their guru, Pt Suresh Talwalkar, directed the performance.
One of the festival's biggest names, santoor legend Pt Shiv Kumar Sharma, came next. The maestro took the audience on a musical journey with a sweet Raga – Jhinjhoti. Supported on the tabla by the masterful Pt Yogesh Samsi, Pt Sharma created magic on the santoor with his compositions on rupak and teentaal, closing with a calm, mellifluous dhun on Raga Pahadi.
Accomplished dhrupad (vocal) maestro Pt Ulhas Kashalkar performed Raga Jogkauns, in vilambit ektaal and madhya laya teentaal. Until filing of this report, yet to perform on the night were eminent sitarist Ustad Shahid Parvez Khan, promising Bangladeshi artiste Avijit Kundu (dhrupad vocals) followed by a flute-sarod jugalbandi by Pt Ronu Majumdar and Pt Debojyoti Bose.
The second night saw a bigger turnout than the first one and despite dipping temperatures as the night wore on, many were seen aptly listening to the performances, walking through the conceptual architectural display by Bengal Institute or checking out an exhibition on the life and works of major figures in the history of Bangla and classical music.