Leave no-man's land
Myanmar border guards ask Rohingyas living along Bandarban border; govt to relocate 1 lakh Rohingyas to Bhasan Char in 2 months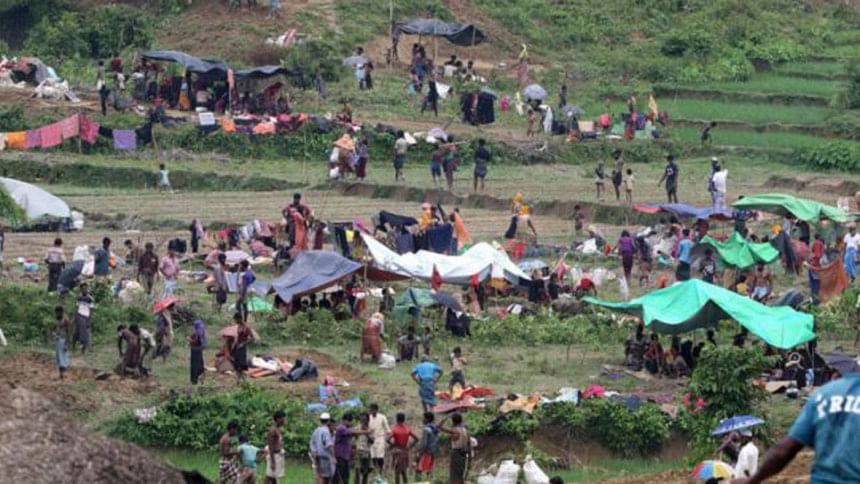 Myanmar Border Guard Police (BGP) yesterday asked Rohingyas living on no man's land along the Tombru border in Bandarban to leave the area.
Rohingyas living there said the BGP used loudspeakers attached to trees to make repeated announcements that they should shift to somewhere else.
Meanwhile, Disaster Management and Relief Secretary Mohammad Shah Kamal yesterday said one lakh Rohingyas would be relocated to Bhasan Char in Noakhali's Hatiya upazila from Cox's Bazar within two months, reports UNB.
Some 700,000 Rohingyas, mostly women and children, have fled military persecution in Myanmar's Rakhine State and took shelter in Cox's Bazar since August 25 last year.
According to an unofficial estimate, around 5,800 Rohingyas have been living on a thin strip of land between the two countries since fleeing the persecution.
Dil Mohammad, a Rohingya community leader living the on no man's land, said the BGP was making the announcement, but it did not tell where the Rohingyas should go.
"We want to return home [in Myanmar] now, but not to elsewhere," he said.
Md Arif Hossain, another Rohingya community leader, said the BGP was announcing since 8:00am that residing on no man's land was a violation of law.
Maj Iqbal Ahmed, deputy commander of Border Guard Bangladesh 34-Battalion in Cox's Bazar, confirmed the incident had taken place.
Jahir Ahmad, headmaster of Ghumdum Government Primary School near Tombru, said he also heard the announcement from the BGP.
"The BGP was terming the Rohingyas living in no man's land Bangalees," said the schoolteacher.
RELOCATION OF ROHINGYAS
Speaking at a programme at Balukhali camp in Ukhia, Disaster Management and Relief Secretary Shah Kamal said preparations have been completed to relocate one lakh Rohingyas to Noakhali's Hatiya upazila before August.
On November 14 last year, the Executive Committee of the National Economic Council (Ecnec) had approved a Tk 2,312.15 crore project for providing temporary shelter to Rohingyas at Bhasan Char.
The Ecnec approved the project titled Ashrayan-3 for construction of necessary infrastructure for the displaced Myanmar citizens, and other infrastructure in the island.
According to Chittagong divisional commissioner's office, the relocation may start before the upcoming rainy season.
A report of the disaster management and relief ministry said 40 percent work of building 120 shelters and 1,440 houses have been completed till March.
The ground floor of the shelters would be four feet higher from the sea level, said sources.
Besides, a three-metre high and 37-metre wide embankment is being built in the island to protect around 21-km area.
Our Cox's Bazar correspondent contributed to this report.