Kuakata Beach: WDB work stuck in red tape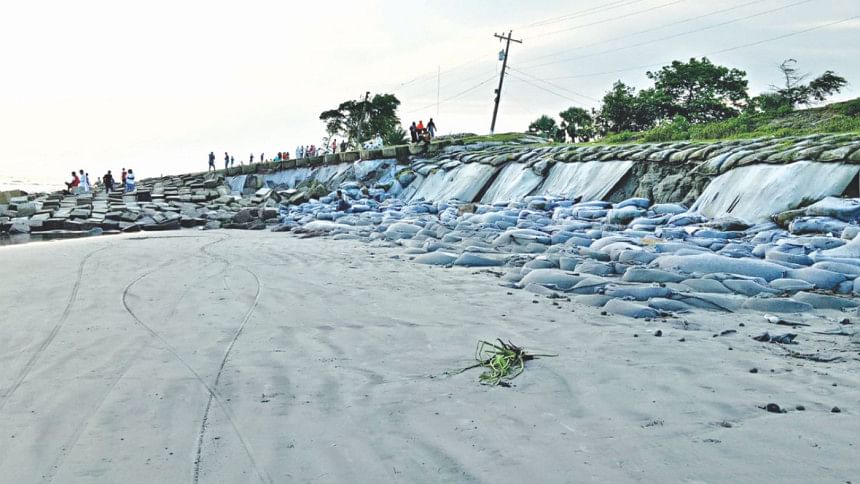 A project to save the Kuakata beach from erosion taken up by Water Development Board faces uncertainty as the planning ministry has sent back the proposal for a fresh feasibility study.
Abul Khayer, executive engineer of the WDB in Kalapara, said after approving the project design, WDB sent it to the Planning Commission in January this year for final approval, but the commission recently returned it.
The beach is now eroding due to tidal surge. Around 10 feet of the coconut garden area of the beach was washed away by tidal surge two weeks ago, said local Shahjahan Akon, adding that a dyke was badly needed to save the beach.
The beach is an eye-catching tourist spot, but it is losing its natural beauty due to erosion. If erosion can be stopped, many investors would go there and the tourist spot would be a very pleasant place, said Kuakata Municipality Mayor Abdul Bareq Mollah.
Abdul Motaleb Sharif, secretary of Kuakata Hotel-Motel Owners' Association, said the government should also undertake sustainable development projects to improve the tourist spot as well as save the beach from seasonal erosion.
Khayer said they had earlier completed a feasibility study and come up with a design for Kuakata beach protection project of around Tk 212 crore, following the Kerala model of India. Under the project titled "Kuakata Sea Beach Protection and Development", "Green sea wall" and "geotube" were to be set up on the beach and in the sea.
The "geotube" is a sand-filled plastic tube that was supposed to be set up around 15 to 20 metres under the sea to protect the shore from tidal surges. "Green sea wall" is a special type of dyke built with earth-filled sacks on which grass can grow.
Under the project, 5km "green sea wall" was to be constructed and of the wall, 1.5km was supposed to be in the west from Kuakata zero point and 3.50km in the east, Khayer said earlier.
The wall was supposed to be 21 metres wide and 2.5 metres high on average and green grass would be grown on the wall which would look very attractive, he said.