Kitchen market stable ahead of Eid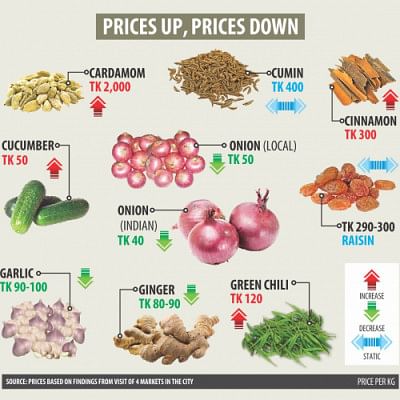 The prices of essentials at the capital's major markets were steady compared to the previous week, much to the relief of city dwellers gearing up for Eid.
The more pleasant news is that the high prices of onions, which left many teary eyed, have started to drop. 
However, to make food more savouring, people may have to cough up a bit extra as the prices of cardamom and cinnamon have shot up by Tk 100-150 and Tk 70-80 per kg.
But that could be made up for with onions, garlic and ginger, three essential ingredients of Bangalee cuisines, as their prices have dropped by Tk 10-20 per kg at capital's Kaptan Bazar, Karwan Bazar, New Market and Mohammadpur Krishi Market. 
"Last week I sold onions for Tk 60 a kg. This week I bought it from wholesale market at Tk 45 and will be selling at Tk 50-55 a kg," said Md Ershad, a staff of Amania Store at the capital's Kaptan Bazar.
Jakir Hossain, shopkeeper of shop-53 at Karwan Bazar Wholesale Market, was found selling potatoes for Tk 20 a kg. "The price was similar last week," he said. 
Manager Anwar Hossain of Prantika Traders at Karwan Bazar said the prices of other spices, like cumin, prune, mace, nutmeg, cashew nuts, peanuts and raisin, were steady.
"It's good for us that the price is steady. We [retailers] make marginal profits when the price shoots up because people buy less," he said.
Like the previous years, the prices of cucumbers and green chillies were going up by Tk 5-20 per kg.
Md Rubel, a shop keeper at Kaptan Bazar, said he was selling cucumbers for Tk 50 a kg, which was Tk 40 in the last few weeks.
"I sold green chillies for Tk 100 a kg last week. Now I am selling it for Tk 120," he said.
Fearing crowded markets right before Eid, Nazia Aktar of Moghbazar went to Karwan Bazar to buy spices.
"It's good for people like us who have limited income. I hope the prices would remain the same until Eid," she said urging the government to monitor the market strictly.
Apart from high demand ahead of Eid, prices of commodities, especially spices, have increased due to the flooding, bad condition of roads and traffic jams which are responsible for increasing transport cost, said Jewel Uddin, a spices trader of Mohammadpur Krishi Market.
"The flood hit both Bangladesh and India and damaged production of spices and hampered its transportation," he said.
Sohrab Hossain, a vegetable seller in New Market area, said, "Some essential commodities' demand is higher ahead of Eid, that's why the prices increase."
Another vegetable seller Jaynal Abedin said, "Prices are not that high when the devastating floods at different parts of the country are considered."