Banshkhali power plant: Khas land people wary of eviction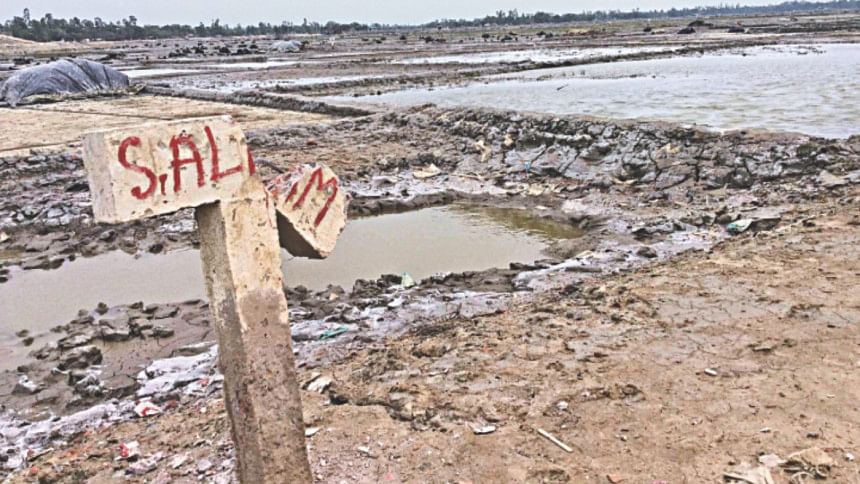 Fear of losing livelihood and shelter on khas land has turned hundreds of landless families in coastal Gondamara union of Banshkhali upazila against the proposed coal-fired power plant of S Alam Group. 
Apart from purchasing about 655 acres of privately owned land for the coal plant, the group has demarcated several hundred acres of khas (state-owned) land in Gondamara. 
"So far we have completed registration of about 655 acres of land and the process for another 200 acres is ongoing. Besides, there is khas land in the area which we didn't need to buy from anybody. Yet we compensated people following written agreements," Subrata Bhowmik, executive director of S Alam Group, told The Daily Star on Monday.
He, however, didn't go into details about the compensation or the agreements. 
A document of Banshkhali land office in Chittagong shows the group wants as much as 5,000 acres of land in five mouzas of Gondamara union.
After the group sought permission for the land purchase, the land office last year conducted a survey and gave information to the group about total land resources in Gondamara.
Two land officials reported to the then assistant commissioner (land) that the 5,000 acres in the five mouzas -- Gondamara, East Boroghona, West Boroghona, Char Boroghona and Alokdia -- include 1,731 acres of khas land.
Hundreds of landless families have been living on khas land in the areas since the pre-Independence era. On a large portion of the land, they have been farming salt and fish. 
The number of such families would be more than 3,000, according to local public representatives. 
Moulvi Ferdous, member of No 1 Pashchim Boroghona ward, said around 400 landless families of his area live on khas land along the Wapda embankment near the sea shore.
Apart from these landless people, over 30 thousand people of the union are directly involved in salt and fish farming on khas land.
"Though S Alam Group says it has only bought some 650 acres, you can see pillars set up by them on a large portion of the land," said Abdul Malek, general secretary of Gondamara Union Bachao Andolon, a platform of the anti-coal plant movement.
Talking to this newspaper on Monday, he said there has been a sense of uncertainty among locals, especially those living on Khas land, as they have no clear idea about how much land S Alam Group would buy.
Upazila Nirbahi Officer (UNO) M Shamsuzzaman said they don't need to know how much land a person or a private company purchases privately.
Assistant Commissioner (Land) Habibul Hasan said he just joined the office on Monday and he is still in the dark about this issue.
Half of the union doesn't have power supply, yet most of the locals are against the project because they are in fear of losing habitats and livelihoods, said Liakat Ali, a former union parishad chairman of Gondamara. 
"They are really scared," said Liakat, also convenor of the Committee to Protect Habitat and Graveyard that initially led the movement. 
"The government should build the power plant in a new char [shoal] where no people live," he said, urging the prime minister to take necessary step in this regard.
According to him, about 50 thousand people live in Gondamara union and the number of houses would be around 10 thousand.