JP is just unable
Controversial MP Salim faces no action yet from his party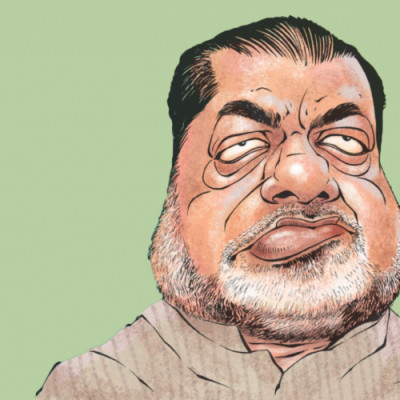 Despite drawing widespread condemnation for publicly humiliating a schoolteacher, lawmaker Salim Osman is still getting Jatiya Party by his side because of his money and influence in Narayanganj, party insiders say.
The party as well as its chief HM Ershad has been financially benefited from Salim, a business leader and lawmaker from Narayanganj-5, they say.  
The lawmaker has not even been served with a show cause notice from the JP in the wake of widespread criticism for forcing the headmaster of Piyar Sattar Latif High School to do squats holding ears in public on the fabricated allegation of demeaning Islam.
"Although Salim Osman is not a big shot in the party, no Jatiya Party leaders, not even Ershad, came up with any formal statement in public on the issue because he is one of the big sources of the party funds," a senior journalist in Narayanganj, who works for a national daily, told this newspaper.
The lawmaker doesn't hold any post in the party. 
Becoming just a member of its Narayanganj unit, he entered politics after the death of his brother and JP lawmaker Nasim Osman in 2014. He got the party nomination to contest the by-election in Nasim's Narayanganj-5 (Bandar and Sadar) constituency. 
A local JP leader said the party will remain unchallenged in the area as long as Salim is with it. "We cannot afford to lose the seat in the next general elections by expelling him."
According to local leaders, it is Salim Osman who virtually controls Narayanganj JP. "The party will think twice before doing anything about him," said one of them.
A senior leader close to Ershad said, "Though embarrassed by Salim's activities, the party will not take action against him as it needs Osman family to maintain strong presence in Narayanganj."
Pointing to the Narayanganj seven-murder in 2014, a local politician said the ruling Awami League at that time didn't say anything against Shamim Osman, an AL lawmaker and brother of Salim, despite much criticism for his relations with the main accused, Nur Hossain.
Likewise, the JP won't do anything against Salim Osman. The party has to depend on the Osman family to have a base in Narayanganj, he added. 
A leader, who had a position in now-defunct JP central committee, said that people would forget the Narayanganj school incident after another issue comes up. "And then, everything will be as before."
Contacted, JP Secretary General ABM Ruhul Amin Hawlader on Thursday night said they were waiting for the police report on the public humiliation of headmaster Shyamal Kanti Bhakta. The High Court on May 18 had asked the Naryanganj SP to submit it in three days.
Asked whether JP will ask Salim to refrain from joining the budget session of parliament as suggested by Health Minister Mohammad Nasim, Hawlader replied in the negative.
Nasim on Sunday said, "If the lawmaker has a bit of shame left in him, he will not join the next parliament session."
Hawlader added the allegation against Salim Osman has not been proven yet. "We cannot bar him from attending parliament session."
JP co-chair GM Quader said Salim recently met Ershad and submitted a written statement explaining his position regarding the Narayanganj incident.
Quader added he doesn't know the content of Salim's statement. The party chief will soon form the JP presidium committee, now defunct following the party's council in May 14, and will hold a meeting to discuss issue.
Asked about Ershad's stance, Quader said he has no idea.
The JP chairman could not be reached over the phone for his comments. According to some of his close aides, he is very much in favour of the lawmaker. "Salim Osman has Ershad's blessings," said one of them.