. Union Parishad Chairman Posts
Independents win twice as many as BNP
Independent candidates have won more than double the chairman posts grabbed by BNP-nominated candidates in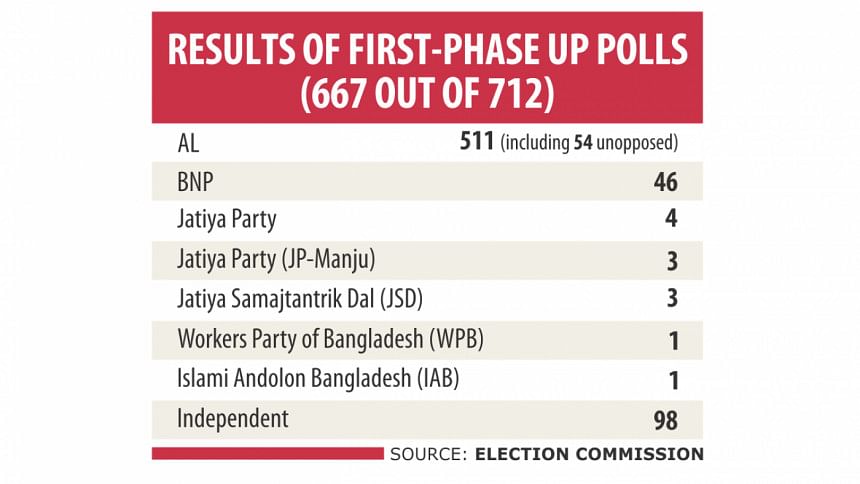 Independent candidates have won more than double the chairman posts grabbed by BNP-nominated candidates in elections to 667 union parishads in the first phase.
Results of another 45 UP polls are not yet available at the Election Commission.
Ninety-eight independent candidates have so far secured victory in the race while BNP-backed candidates have won in 46 union parishads (UP). 
Most of these independent candidates were members of the ruling Awami League before they joined the race. Failing to get the party's nomination, these rebel candidates contested the seats independently.
More than one and a half dozen political parties, out of 40 registered with the EC, participated in the first ever partisan UP polls, according to EC officials.
Of some 3,000 chairman aspirants, who participated in the polls, 1,800 had been nominated by political parties. The rest were independent candidates.
Meanwhile, the AL won a landslide victory in the polls, as 457 candidates with its backing won as many chairman seats.
Earlier, 54 AL-backed candidates were elected unopposed. 
Candidates of the main opposition Jatiya Party have won elections to only four UPs though it fielded candidates in 127 UPs.
 Of the other small parties, Jatiya Party (JP-Manju)-nominated candidates won in three UPs, Workers Party of Bangladesh in one UP, Jatiya Samajtantrik Dal in three UPs and Islami Andolon Bangladesh in one UP.
Candidates of the Communist Party of Bangladesh, Bangladesh National Awami Party, Bikalpa Dhara Bangladesh, Zaker Party, Bangladesh Jatiya Party, Bangladesh Tarikat Federation, Jamiat-e-Ulamaye Islam Bangladesh, Bangladesh National Awami Party (Bangladesh-NAP), Revolutionary Workers Party of Bangladesh, Khelafat Majlish and Bangladesh Nationalist Front failed to win a single chairman seat in the polls.
Money and muscle power play a key role in any election in the present scenario of Bangladesh's electoral culture, Election Working Group Director Abdul Alim told The Daily Star.
As small parties are weaker in terms of money and muscle power, they cannot defeat big political parties.
Elections to some 643 UPs will be held on March 31 in the second phase, 680 UPs on April 23 in the third phase and 2,200 UPs in three other phases until June.