Lalmonirhat's Rivers
Illegal sand lifting poses erosion threat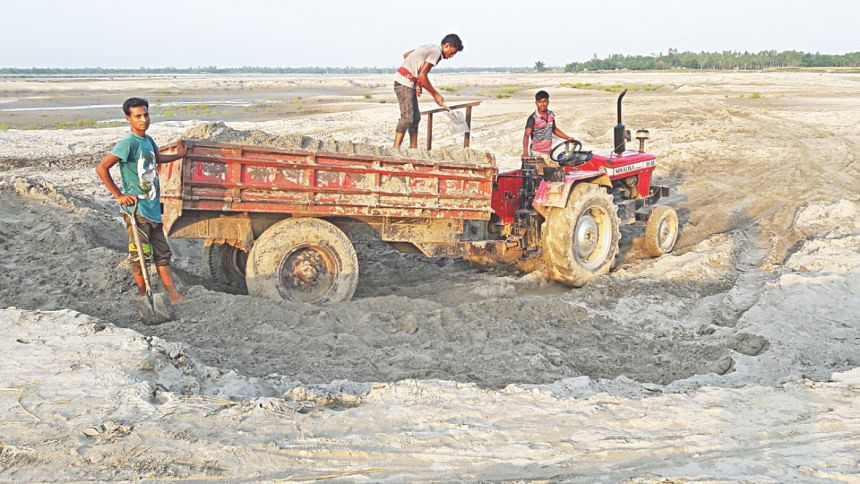 Up to 17 times a day tractor driver Nabir Hossain from Kulaaghat village in Lalmonirhat sadar upazila carts a trailer-load of sand away from the Darla riverbed. "Each trailer load sells for up to Tk. 1,400 on the mainland," he says. Like Hossain many locals earn their keep as labourers engaged in the illegal sand trade, a business that dooms both the Darla and Teesta rivers to increased erosion, especially during the rainy season.
"We get about Tk. 400 per day for shifting sand," says tractor labourer Moslem Uddin of the same village. "Each tractor has about 5 labourers including the driver." Asked where the rest of the profits from the sand trading end up, Moslem says that most of it lines the pockets of local musclemen and tractor owners.
"The illegal mining is creating holes in the riverbed," says another local Sohel Rana. "These holes obstruct the natural water flow during rainy season, causing the river to realign its banks and threaten our embankments, croplands and homes."
Along the length of the Teesta River the situation is the same. "Even the Lalmonirhat to Burimari highway is at high risk of being eroded because of the activities of the illegal sand traders," says Sabur Ali of Paruliya village in Hatibandha upazila.
"There's no planning to the sand mining," complains Delowar Hossain from Kalmati village in Lalmonirhat sadar upazila. "If sand was mined in a structured way it might not be as harmful to the river's natural flow."
Yet according to Delowar, even being aware of the problems locals do not dare to protest against the illegal mining due to the involvement of musclemen supported by both the AL and BNP political parties.
Curiously, Water Development Board (WDB) officials similarly keep silent. For reasons unknown they do not take any measures to bring the brisk and illegal sand business, carried out entirely in the open, to a hault.
In Hatibandha upazila's Paruliya village, Akkas Ali rents his tractor to the sand traders for up to Tk. 1,500 per day. "A local man hires the tractor from morning until evening," he says.
Alleged sand lifter Mansur Ali who is also the AL ward president in Paruliya says he earns up to Tk 600 per day from trading river sand. "It's not illegal to take sand from the river," he claims.
According to WDB officials at least one hundred tractors are daily engaged in sand mining operations from riverbeds in 20 areas across the district. Within the last few months thousands of holes in the riverbeds have been excavated, sources estimate.
The sub-divisional engineer of the WDB in Lalmonirhat, Md Al-Mamun says the WDB authority has already informed the local administration of the problem and he hopes the administration will take legal action to stop the unsanctioned sand mining activity.