Ijtema ends with prayer for peace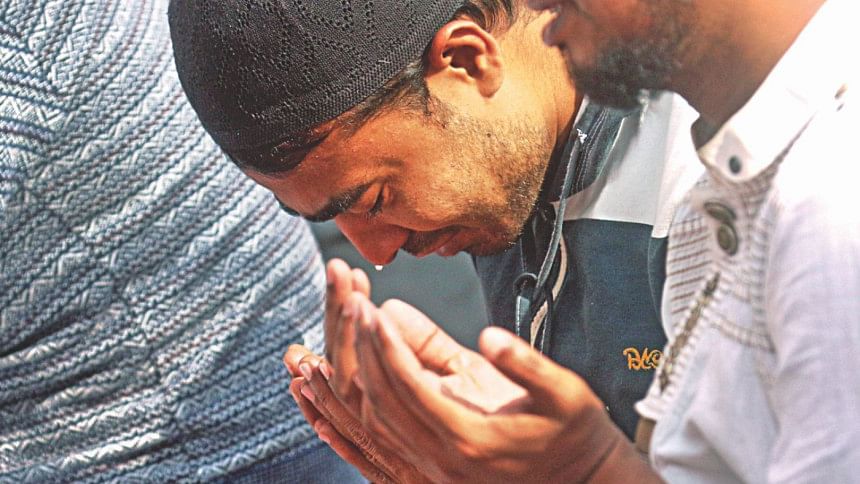 The second phase of the Biswa Ijtema, second largest congregation of Muslims after the holy Hajj, concluded yesterday on the Turag with Akheri Munajat seeking peace on earth and prosperity for the Muslim ummah.
Islamic scholar Mowlana Jubayer, Imam of Kakrail Mosque in the capital, conducted the Akheri Munajat as the bank of Turag at Tongi and its adjoining areas reverberated with sounds of "amin amin" from devotees.
This year the Akheri Munajats of the first and second phase of the Ijtema were conducted in Bangla, the first time since 1980.
Hundreds of thousands of devotees of all ages spilled over on roads and adjoining areas around the Ijtema venue since early morning to join in the final prayers. Pin-drop silence prevailed as prayers were offered using loud speakers. Many devotees broke down in tears during the munajat.
In his 29-minute munajat from 10:19am to 10:50am, Moulana Jubayer sought divine intervention in protecting Islam and establishment of its teachings in the hearts of all Muslims. He prayed for honest earnings for the Muslim ummah and recovery of those suffering from diseases.  Moulana Jubayer also prayed for the purification of Muslim's souls.
Thousands of people from all walks of life joined the munajat from rooftops and terraces of nearby houses, from roads and open fields. Many of them called their acquaintances present at the venue on mobile phones to hear the prayers and many attended the munajat by watching it on electronic media.
Vehicular movement towards the venue was stopped early in the morning. Many devotees walked for five to 10km to reach the area. Others stopped on the adjoining Dhaka-Mymensingh, Tongi- Kaliganj and Abdullahpur-Ashulia highways and joined the munajat from there.
Before the final prayers, a hedayati sermon was delivered.
The first phase was held from January 12-14. Over 4,000 foreign devotees from around 80 different countries took part in that Akheri munajat.
A seven-layer security system was set up for the Ijtema this year and over 7,000 security personnel and plainclothes policemen were deployed, said Police Superintendent of Gazipur Mohammad Harun Ar Rashid.
Taking advantage of the set up, different kinds of businesses generated around the Ijtema venue with people selling food, old papers and mats for sitting, water for ablution, water pots, mobile phone charging facilities and even "rental spots" for people to sit on and attend the Akheri Munajat.
Organised by Tabligh Jamaat, the first Ijtema was held in 1946 at Kakrail mosque near Ramna Park in the capital. In 1966, the venue was moved to Tongi due to the increased number of devotees taking part.