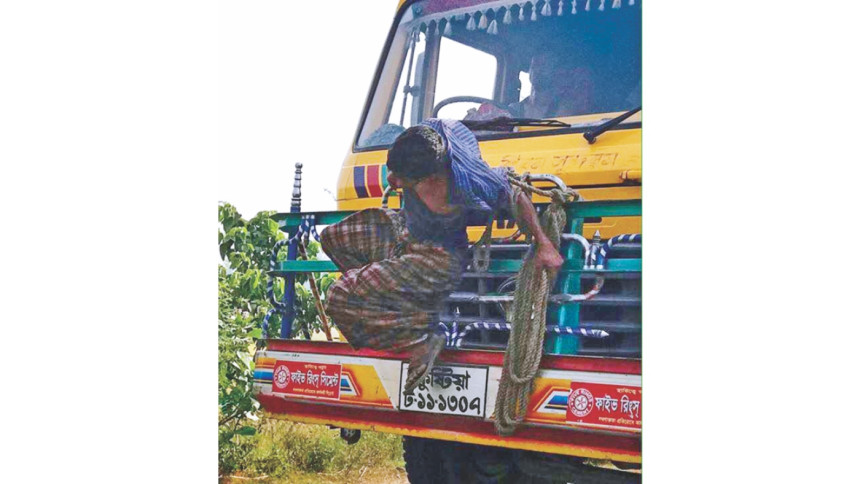 An unidentified youth was seen tied with heavy ropes to the front bumper of a speedy truck on the Natore-Bogra highway at Sherkol in Shingra upazila of Natore yesterday.
He was screaming as loudly as he could while the truck was heading towards Natore town around 8:00am, according to a journalist of Bogra, who shot photos of his situation.
Appearing to be from a poor family, he was wearing a blue shirt, lungi and sandals. His identity could not be known yet.
Md Nazmul Huda Nasim, Bogra bureau chief of Daily Jugantor, was travelling to Rajshahi at that time by a private car along with some others to attend a diploma examination at Rajshahi University.
Nasim said his car and the truck were travelling in the same direction. He noticed the youth on the bumper when his car overtook the truck.
"It was like a scene from a movie and the scream of the youth was unforgettable," he told The Daily Star.
As Nasim started to take photographs with his mobile phone camera slowing down the car, the truck driver pulled over and released the youth.
The journalist said he was on a hurry and could not gather details.
From locals, he could only learn that the youth was caught by some people allegedly after a theft. After beating him up, they tied him to the bumper and asked the truck driver to drive on.
The registration plate of the truck read Kushtia-Ta-11-1307.