Brought down by a teen freedom fighter's blood
It was the evening of Eid-ul-Fitr in 1971. Hasina Khatun bade farewell to her cousin Jasim Uddin, a 15-year-old freedom fighter who was about to go on a mission.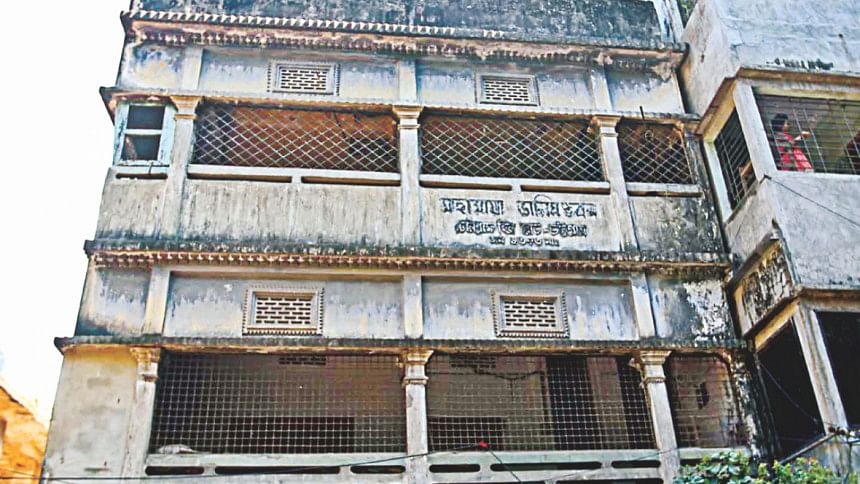 It was the evening of Eid-ul-Fitr in 1971.
Hasina Khatun bade farewell to her cousin Jasim Uddin, a 15-year-old freedom fighter who was about to go on a mission.
She did not get to know his fate until the country achieved independence months later in December, but his parting words -- "Apa [sister], please pray for us so that we can be successful" -- always rang in her ears as something inspiring.
Jasim was cruelly and most cowardly murdered at nefarious Mahamaya Dalim Hotel under the behest of Mir Quasem Ali, the chief of the notorious Al-Badr force in Chittagong.
She came to know about it from Shafiul and Saifuddin, who were also held captive in the hotel.
The day after Eid, Jasim was abducted by Al-Badr members from an unknown location in Chittagong. They took him to the hotel, which was turned into the main Al-Badr camp for torture, and inflicted brutal torture on him and other freedom fighters and freedom loving people.
Jasim was tortured to death there and his body was dumped in the Karnaphuli river. His body was never found.
When Hasina, Jasim's family members and his other relatives were demanding justice, they unfortunately had to see the dramatic rise of Quasem in the country's political and business arenas.
But justice finally caught up with the Jamaat leader in November, 2014, when a special tribunal sentenced him to death for Jasim's killing.
But they had to wait for nearly two years to see the man behind the killing walking the gallows.
Quasem had challenged the verdict with the Supreme Court which upheld the tribunal verdict in March this year. Quasem filed a petition seeking review of the judgment which was also dismissed and Quasem was hanged last night.
Youngest of 10 children of school teacher Syed Ahmed, Jasim was a higher secondary school examinee at the Chittagong College when he joined the Liberation War. He used to visit Hasina at Bepari Para in Chittagong regularly.
The young freedom fighter asked his cousin to cook scented rice on Eid day (Eid-ul-Fitr) and she complied. Jasim had the rice and left urging her to wish him luck so that they could be successful in freeing the nation from the clutches of the Pakistan army and their local collaborators.
"Jasim, a brave young freedom fighter was murdered in unlawful captivity at the Al-Badr camp where he was brought on capture. He was non-combatant at the time of his forcible capture," observed the International Crimes Tribunal-2 in its verdict.
Lawyer Shafiul Alam, who was among the captives at Dalim Hotel, in his book "Sei Se Somoy Anonde Bedonay" wrote that on November 28, 1971, three to four men flung open the door of a room carrying a boy on their shoulders.
They threw him on the floor.
"As the door was closed, I removed his blindfold, untied him, and took him in my lap. When we lifted his face to the sunlight coming through the ventilator, we were shocked.
"It was teenage freedom fighter Jasim! His head almost slipped off my lap. We realised that Jasim was no more," said Shafiul in his book published in 2006.
 The book was used as evidence in the case.
Prosecution witness Sanaullah Chowdhury, who was abducted on November 27, 1971 and was, held at the Dalim Hotel for 12 days, said a boy, who had endured severe torture, was brought to the room on November 28, 1971.
"Pointing to that boy, someone told the Al-Badr men 'he is not dead yet, throw him in so that the detainees understand the consequence of not telling the truth'. Then they [the Al-Badr men] left the boy in the room," he said.
"Advocate Shafiul Alam told me that he [who gave the orders] was Mir Quasem Ali, commander of Badr [Al-Badr] force," he said.
The special tribunal in its judgment said, "Killing Jasim, a youth freedom fighter in captivity at the AB [Al-Badr] camp was the ending phase of the organised and system cruelties that, as revealed, were practiced as routine activities at the torture and detention camp directing the detained civilians brought there on capture."
"The pained relatives could not have trace even of their dear ones. What a brutality! What a grisly felony attacking the humanity!" it said and handed down death penalty to Quasem for the crimes.
The Supreme Court in its verdict said: "We find no mitigating ground to commute the sentence of death in respect of the charge. The tribunal rightly held that accused Mir Quasem Ali has incurred criminal liability which may legitimately be taken into account as an aggravating factor for the purpose of determination in the degree of culpability and awarding sentence."