Her war wasn't over in 1971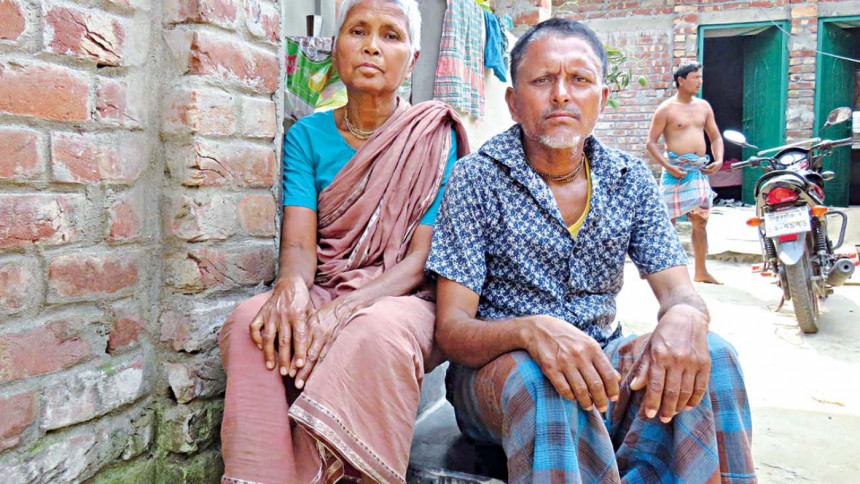 She does not talk that much nowadays. She has hardly been in talking terms for long 46 years. It is not the way Tepri Rani wished to live, but it was imposed upon her when she was 16.
It was May 1971. Tepri was just married and her life was supposed to bloom like that of any other average women of the country. But it turned into hell on a May day when the Pakistani occupation army picked her up from her home in Bolidwar village of Thakurgaon's Ranisankail upazila.
She has been silently crying since then for being violated in the Pakistan army camp for six months, for being refused by her husband after the country's independence in December 1971 and for being rejected by her own society for 40 odd years.
Using sheer willpower, she fought social stigmas and raised her son, whom people of her locality used to call a "Panjabi's son". 
But her unfathomable struggle and sacrifice for the nation remained un-recognised until she was conferred the title Birangana in 2017. The gov-ernment awards the honour to women who were subjected to rape and violence during the Liberation War.
The 64-year-old war heroine has been getting allowances from March last year as a freedom fighter. The Thakurgaon deputy commissioner's office has also built a two-room brick house for her.
The belated recognition and the small measures of comfort after all those long years served her family well. But the war crimes committed against Tepri still haunts her. 
"They [Pakistani occupation army] used to torture me if I did not act as per their will," said Tepri sitting on the stairs of her newly built house. She has been suffering from hearing impairment due to torture in the army camp during the Liberation War.
She was not talking that much and her response was short and precise when this reporter visited her home recently. 
The war heroine recalled that another phase of her struggle began once her husband denied accepting her after the war.
"There was no respect for me in the society after returning from the Paki-stani camp," she said bitterly.
On how she lived her life in those extremely unbearable days, Tepri said, "After the death of my parents, I used to collect vegetables to feed my family. Later, I somehow managed a job at a local rice mill. I was paid Tk 5 per day in those days."
Tepri now mostly confines herself to a small room. Her son Sudhir said his mother has gained some respect from the local community after the government's recognition.
OVERCOMING THE ODDS
Tepri was the third of four offspring of Mudiram Barman and Duto Rani Barman.   
She got married to Matang Roy, a local youth, in early 1971. She was liv-ing with her parents when the Liberation War began in March that year, said her younger brother Ramesh, then aged 13.
After the beginning of the war, their parents were desperately looking for a safe place. The family took shelter at a neighbour's house, but could not escape the eyes of the Pakistan army and their collaborators, Ramesh said recently while narrating the frightful events. 
"It was the month of May. We were staying at a neighbour's house. Some army men picked up Tepri holding us hostage. They took her to their camp in Sialdangi village.
"They tortured my sister for three days and then let her go. But a few days later they again took her to their camp. There she was subjected to all forms of abuse and violence for six months," Ramesh told this paper.
After the war was over, Tepri's husband Matang refused to accept her as his wife.
In March 1972, she gave birth to a son. But the villagers stigmatised the baby as well.
Her parents tried to marry her off again but found none willing to tie the knot. So Tepri started working at a rice mill.
For the next 10 years, she worked as a day labourer and nurtured her child.
Her son Sudhir could not go to school due to financial constraints. He started supporting his mother when he turned 10.
Now a proud father of two daughters, Sudhir earns his livelihood pulling a rikshaw van. Of her two daughters, Purnima Roy is married while Jana-ta Roy is studying.
"I am proud of my mother. She saved her family, she saved me," Sudhir told this correspondent.
As a freedom fighter, Tepri started getting a monthly allowance of Tk 10,000 from March last year.
"The present government has recognised her sacrifices, but she is yet to receive a certificate that would solidify her identity as a freedom fighter," her son Sudhir said, urging the government to make a move in this re-gard.