Jatiya Press Club opens special corner on Liberation War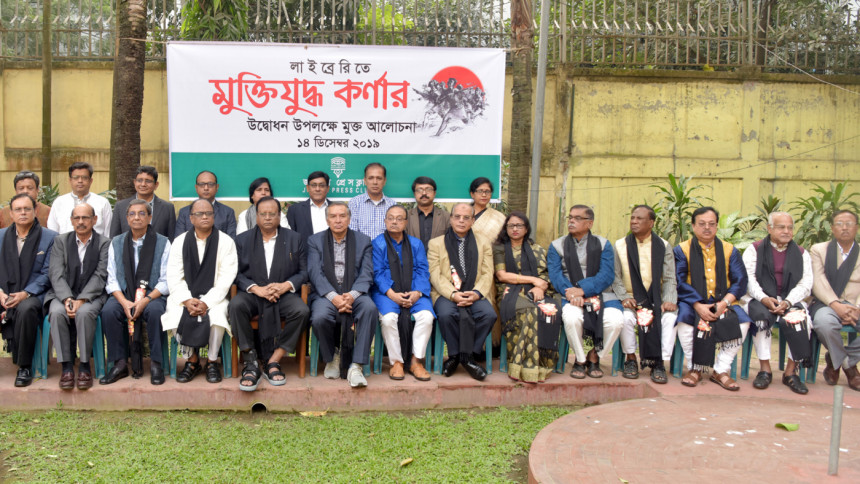 The Jatiya Press Club today opened a special corner on 1971 Liberation War in presence of war veterans, editors of different national dailies and senior journalists.
The corner contained shelves having some 100 books on 1971 published at home and abroad while the Jatiya Press Club authorities said more books on the Liberation War will be procured to enrich the corner.
Liberation War researcher and freedom fighter Major (retd) Shamsul Arefin were present at the programme as the chief guest while it was presided over by Press Club President Saiful Alam.
Senior journalists and editors including Muhammad Shafiqur Rahman, MP, Iqbal Sobhan Chowdhury, Hasan Shahriar, Reazuddin Ahmed, Motiur Rahman, Mahfuz Anam, Abul Kalam Azad, Harun Habib, Monjurul Ahsan Bulbul, Khandakar Moniruzzaman, Shawpan Shaha, among others, were present on the occasion.
Jatiya Press Club General Secretary Farida Yesmin delivered the welcome speech while its library subcommittee convener Shahnaz Begum conducted the function that begun with popular liberation war songs – "Shob kota janala khule dawna" and "Muktioro mondiro shopano tole" at the garden of the club.
Arefin welcomed the initiatives and laid emphasis on making more documentation over different events and facts of the Great Liberation War.