Held hostage by dams
Transport, trade cut due to dams on Ichhamati River in Manikganj; vested interests to blame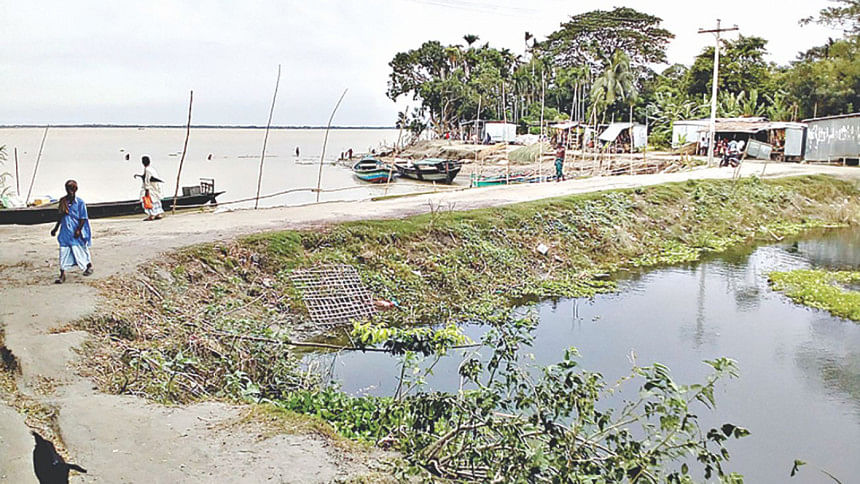 More often than not a free flowing river has as fast companions transport and trade.  Where a watercourse is undisturbed, fish stocks thrive. Such was the condition of the 36- kilometre Ichhamati River in Manikganj, until last year's summer when two temporary dams were built at Bahadurpur Bazar in Harirampur upazila.
Ironically, the dams were to serve a good purpose: to facilitate dredging work that would enhance navigability. But when it came time to remove them influential locals who had taken the opportunity to farm fish and had further raised the dam walls, refused to let that happen. With the obstruction in place, local commerce and fishers continue to suffer.
"I used to make a living fishing in the river," says one of many local fishers, Rafiq Molla, 65, from Gopinathpur Kapalipara. "After the dams were constructed water flow ceased. Now there are no fish."
Several boatmen including Hayat Ali Mollah, from Ramkrishnapur village, report similar hardship. Providing river transport was their usual profession. The dams cut previously popular water transport routes and the income of the boatmen is significantly reduced.
Jhikka Bazar is one of the largest markets in Manikganj district. There too, the negative consequences of the dams are felt. "People from five unions in the remote shoal areas of Harirampur upazila used to be our customers," explains trader Golam Sorwar Khan Lodi. "Now river transport routes are broken and they are unable to reach the market easily."
The market's managing committee says many traders are facing losses due to the dams.
The dams have also created water logging problems for several nearby villages, with mosquitoes and water hyacinth thriving in the stagnant water.
"Before last year's monsoon we started dredging," explains the executive engineer for the Bangladesh Water Development Board in Manikganj, Hasan Mahmud. "A three-kilometre stretch from Bahadurpur Bazar to Kapalipara was dredged. The dams were built to facilitate this work. When dredging was completed our contractor tried on three occasions to remove the dams. He was prevented from doing so."
A number of influential people in the Bahadurpur and Ramkrishnapur areas led by some ruling party members oppose removal of the dams. They say they are motivated by a desire to protect the areas from Padma River erosion; many locals disagree.
"Erosion hasn't been a problem in this area for many years," says Sohel Rana, an assistant teacher at Gopinathpur Bhatipara Government Primary School. "It's not a reason to cut river communication."
"There is no logic behind the claim that the dams prevent erosion," agrees Abdul Kuddus, chairman of Gopinathpur union council. "Rather, the dams prevent shoal-dwellers from reaching our market."
Many locals allege that ruling party members including Gopinathpur Union Awami League president Abul Kalam Azad Mobi and general secretary Obaidur Rahman Biltu earned large profits from fish farming in the excavated three-kilometre river stretch. Locals also report that fishers were prevented from catching fish there.
When contacted, Abul Kalam admitted that local fishers were prevented from fishing that stretch of river last year, because of their fish farming project. But no fish were being cultivated there this year, he said.
"On several occasions I have requested that the dams be demolished, in monthly development coordination meetings with the upazila council," says Kuddus, "For reasons unknown no action has been taken."
Harirampur's upazila nirbahi officer Kazi Rezoane Arefin says he has asked the Bangladesh Water Development Board's executive engineer to remove the dams in response to the union council chairman's request.