Hasina slams Khaleda, sons
Criticises the ex-PM's family for corruption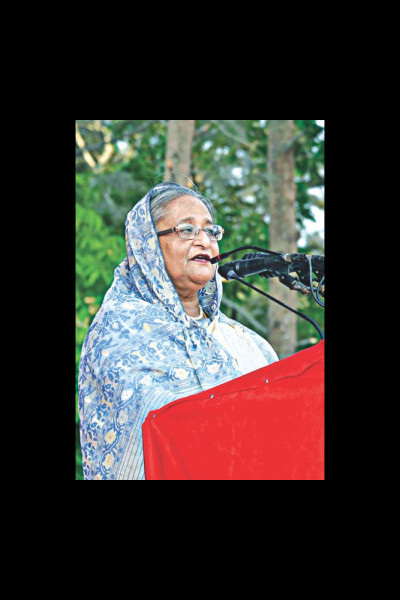 Prime Minister Sheikh Hasina yesterday came down hard on BNP chief Khaleda Zia and her two sons for "misappropriating orphans' money".
"The Holy Quran clearly states that never grab the wealth of orphans; never loot the assets of orphans; let the orphans have their rights. But they [Khaleda, Tarique Rahman and Arafat Rahman] defied all the directives. Money came for the orphans, but not a taka went to the orphanage. They embezzled all the money," she said.
The Zia Orphanage Trust graft case was not lodged by the Awami League government, but by the former caretaker government, the PM pointed out.
Hasina was addressing a public rally at Patiya Model High School ground in Chittagong.  Chittagong South AL organised the rally at the venue where Father of the Nation Bangabandhu Sheikh Mujibur Rahman had delivered speeches in 1969, 1970 and 1973 while Jawaharlal Nehru in 1943.
The premier said the top brass of the then caretaker government was comprised of Khaleda Zia's favourites. "Moeen Uddin, Iajuddin and Fakhruddin filed the case and she has been punished in that case."
The PM alleged that BNP did not obey the court, its verdict, laws and rules.
She said Khaleda, Tarique, Arafat and Saifur Rahman, a former finance minister, had whitened black money when the BNP was in power.
Hasina said the "money siphoned off by Tarique and Arafat" was seized in the USA and Singapore, and the government brought it back home.
About the quota system in government jobs, she said quota for freedom fighters, their children and grandchildren would be there.
The premier made the announcement at a time when a group of students and jobseekers have been agitating seeking reform of the quota system.
"We must have a special system in place for freedom fighters as we have achieved our independence because of their sacrifice."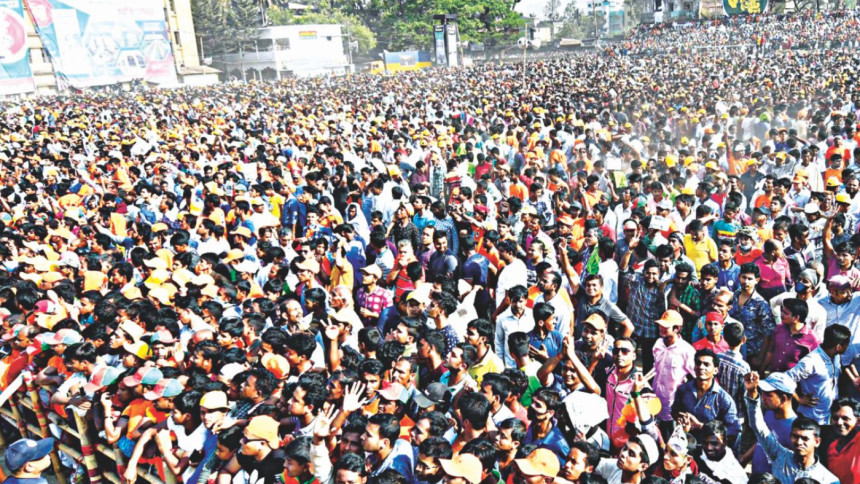 She said no one should forget that the country's people got long-cherished independence due to the sacrifice of freedom fighters. "We have to give due honour to them. We have arranged the quota system so that their children and grandchildren can get jobs."
The premier said if anyone is not found to fill a certain quota, then the system will be relaxed to fill in vacant posts with other brilliant students.
"Had the freedom fighters not sacrificed for independence, there would not have been any job for the people of this land."
Briefly describing various development projects taken by her government, Hasina urged all to cast their votes for AL in the next national election.
AL General Secretary Obaidul Kader, Housing and Public Works Minister Mosharraf Hossain, AL Publicity Secretary Hasan Mahmud, State Minister for Land Saifuzzaman Chowdhury and Chittagong city Mayor AJM Nasir Uddin addressed the programme, among others, with Chittagong South AL President Moslem Uddin Ahmed in the chair.
Earlier, the PM inaugurated and laid the foundation stones of 41 development projects.