Hasina lucky, 'didn't have to appear in court'
Says Khaleda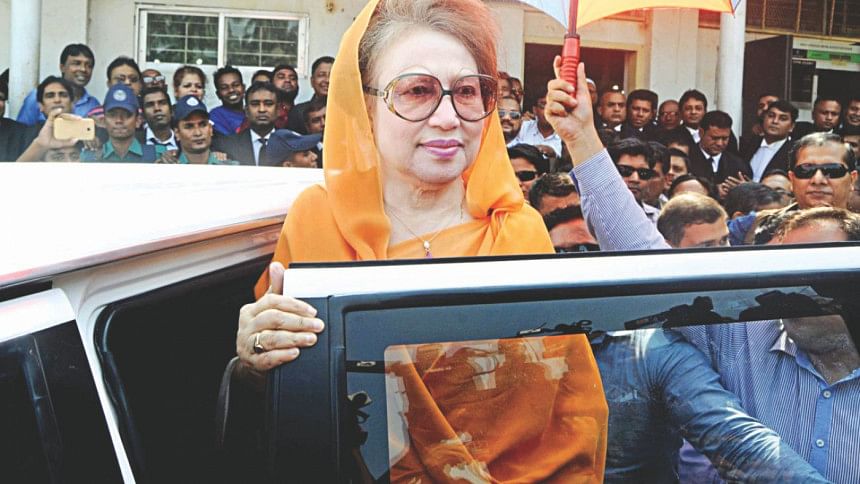 BNP Chairperson Khaleda Zia yesterday said Sheikh Hasina had been lucky that she, unlike her (Khaleda), never had to appear before a court.
"Honourable court, you know that various types of cases on charges including corruption, abuse of power, irregularities and extortion were filed against Awami League President Sheikh Hasina on different occasions... But unlike me, she never had to appear before court," Khaleda said.
But between 2001 and 2006, when the BNP was in power, Hasina appeared before courts on multiple occasions at hearings of graft cases filed against her.
Yesterday, Khaleda read out part of a long and emotional statement in self-defence at the hearing of Zia Orphanage Trust corruption case at a special court in Dhaka.
The 72-year-old former premier said she has been appearing before the court in person "at this old age" despite being very busy.
"I am a citizen who respects law, court and the judiciary. I... appear before the court even at this old age. But the court sometimes issues arrest warrants for me if I remain absent on one or two occasions."
In the statement, she narrated her dedication to the country and democracy, and also focused on her struggle as a politician.
She alleged that her civil rights were repeatedly taken away and "ugly propaganda and falsehood" were spread against her all the time.
"No matter how insignificant a person I am, the extent of the ruling quarter's behaviour towards me -- the causes, background and context behind it -- is not insignificant. It cannot be seen separately from the poor state the nation is in."
She also termed the current government "illegal", saying that Bangladesh does not have an elected government and parliament in the real sense.
"Everything is being run unilaterally in a one-party system. Democracy, for which people have sacrificed a lot, is exiled today."
Khaleda said most of the members of parliament were elected unopposed, adding that the rest were "elected without votes". Not even five percent of the voters had cast their votes in the last general election. "The farcical parliament and the government formed through it can never be legal."
She also said there is no effective opposition. Awami League had been defeated in most of the city corporation elections. But the government had suspended elected city mayors on different pretexts after filing false cases.
Khaleda then told the court that many cases were filed and arrest warrants were issued for her, and how she was evicted from her home where she lived for decades.
In an emotion-choked voice, the former premier said that while in confinement, she got the news of her younger son's death. Besides, a case was filed against her and her party leaders on charges that they had torched vehicles and killed people with explosives.
The BNP chief also narrated how she was confined along with party leaders to her Gulshan office. "Is it civil and humane?" she questioned.
"Repeated attempts were made to kill me; the world community saw it. Armed and terror attacks were carried out on my motorcade, which left many of my party leaders injured. But none of the attackers were arrested and no trial of those attackers had taken place."
Citing her sufferings and sacrifices during the Liberation War in 1971, she said it was her husband Ziaur Rahman who declared the independence of Bangladesh.
"I, along with my two children, was confined in Dhaka during the Liberation War in 1971 and bombs were thrown but we survived by the grace of Almighty Allah. Later, I became the prime minister of Bangladesh for three terms."
At 11:56am, Khaleda appeared before the court set up in the capital's Bakshibazar area and placed her statement.
At one stage, prosecution lawyer Mosharraf Hossain Kajol termed the statement ''political and not related to the case".
After about an hour, Khaleda said she was not feeling well and that she would like to proceed with her argument on another day. The court fixed November 2 for the next hearing.
Judge Md Akhtaruzzaman of the Special Judge's Court-5 of Dhaka recorded her statement.