Half-day hartal tomorrow
Women's rights bodies extend support to the strike protesting govt failure to nab killers
Progressive Students' Alliance and Anti-Imperialist Students' Union will observe a half-day countrywide hartal tomorrow protesting the government's failure to arrest the killers of Sohagi Jahan Tonu.
The students will also bring out a torch procession in the evening today in favour of the shutdown. The announcement of the procession came from a joint press conference of the two alliances of 11 student organisations at Modhur Canteen of Dhaka University yesterday.
Expressing solidarity with the shutdown, six feminist organisations -- Bangladesh Nari Mukti Kendra, Nari Sanghati, Biplobi Nari Forum, Sromojibi Nari Moitri, Hill Women's Federation and Biplobi Nari Mukti -- yesterday brought out a procession and held a rally in front of the Jatiya Press Club in the capital, said a press release.
Speakers at the rally said it was shameful for the whole nation that no criminal was arrested or brought to book yet although a month has passed since the murder of Tonu, the press release added.
They urged all to support and join in to make the hartal a success.
They also urged students of all the educational institutions across the country to boycott their classes tomorrow.
At the press conference, Faisal Mahmud, convener of Anti-Imperialist Students' Union, said the torch procession would be a symbol of fight and protest against repression and abuse on women everywhere in the country.
"There is a culture of impunity prevailing. Killers, rapists and wrongdoers are getting away. This must be stopped. Our movement is against all these. We will picket during the strike hours and take to key streets."
Victoria College student Tonu was found murdered inside Comilla Cantonment on March 20. Even though a month has passed, there has been no significant progress in identifying the killers.
The murder of Tonu triggered widespread outrage all over the country. Comments and opinions condemning the killing flooded the social media platforms. Several protest programmes and demonstrations were held as well.
On April 7, the two major alliances of left-leaning student organisations called the half-day countrywide hartal for tomorrow if the killers were not arrested by April 24.
The demonstrators also attempted to besiege the home ministry on that day but were barred by police from doing so.
They have been campaigning in Dhaka and elsewhere in the country to make the hartal a success.
According to information provided at the press conference, the two alliances, 13 political parties and other social organisations will be "on the field to make the hartal successful".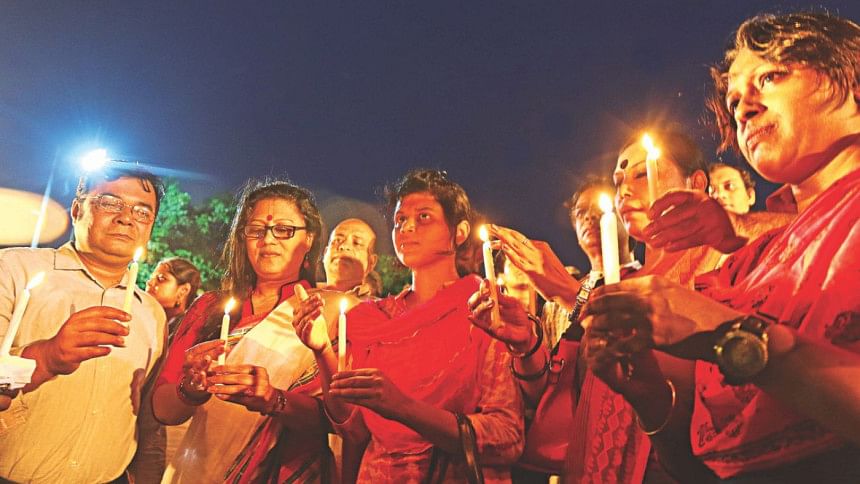 They also urged the transport leaders to refrain from bringing out vehicles on the road in the city from 6:00am to 12:00pm, and asked all to participate spontaneously in the "hartal for justice".
Meanwhile, Sammilita Sangskritik Jote yesterday held a protest rally and lit candles on the last day of their five-day-long programme at the central Shaheed Minar in the city, seeking justice for Tonu.