Quake-vulnerable Buildings
Govt's demolition order ignored
Rajuk, city corporations sit on it; experts frustrated at failure to enforce the building code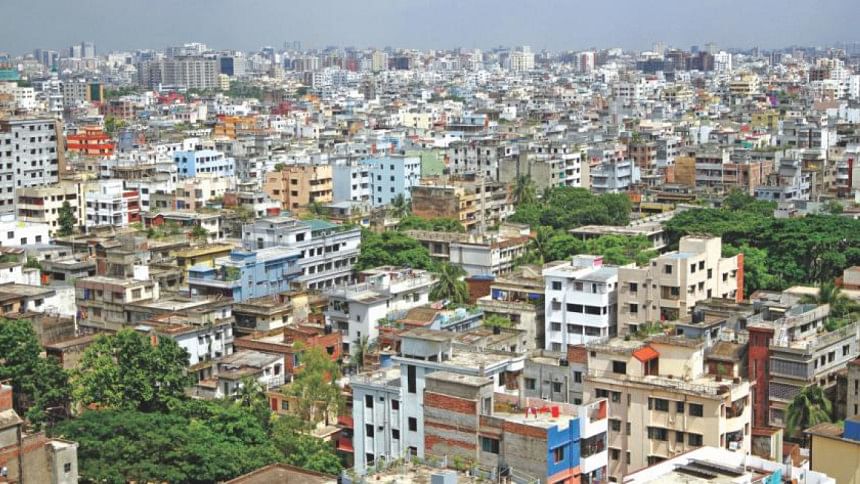 The Rajdhani Unnayan Kartripakkha (Rajuk) and the two Dhaka city corporations have yet to demolish the 321 unsafe buildings the government wanted to see knocked down by May 27.
"They [Rajuk and the city corporations] have been dragging their feet on the government's demolition order," said Disaster Management and Relief Secretary Md Shah Kamal at a workshop on earthquake preparedness and awareness building.
Organised by the disaster management ministry, the workshop was held at a city hotel.
In January this year, the secretary had said Dhaka city has over 72,000 buildings that are vulnerable to earthquakes.
Rajuk acting chairman Abdur Rahman told The Daily Star yesterday that demolition of such buildings does not fall under Rajuk's jurisdiction. "It's not our job. We have informed the ministry that it's the task of the city corporations."
The Daily Star could not reach officials concerned of the city corporations for comments.
Earlier on April 27, the government directed Rajuk and the city corporations to demolish the 321 buildings at a meeting of the National Earthquake Preparedness and Awareness Committee, chaired by Disaster Management and Relief Minister Mofazzal Hossain Chowdhury Maya.
Speaking at the workshop, Prof Jamilur Reza Choudhury and Prof Nazrul Islam, two renowned urban planners and disaster management experts, expressed frustration over the situation, as the authorities not only failed to execute the government's directives, but also failed to enforce the Bangladesh National Building Code.
Earthquake-tolerant buildings can be built if the existing building code is enforced properly, observed Prof Jamilur Reza, vice-chancellor of University of Asia-Pacific. The main objective of implementing the building code is to lower the loss of life and damage to property in the event a disaster strikes, he noted.
Prof Nazrul, honorary chairman of Centre for Urban Studies, said that before building public awareness, the policymakers should make themselves properly aware of the situation and implement the tasks on hand for earthquake preparedness.
Prof Mehedi Ahmed Ansary of civil engineering department of Bangladesh University of Engineering and Technology (Buet) said it is urgent to ensure the assessment of soil quality and enforcement of the building code as part of preparedness for earthquake.
Mofazzal Hossain Chowdhury Maya said the government has already purchased tents worth Tk 100 crore as part of its earthquake preparedness. It is also procuring Tk 69 crore worth of equipment for its disaster management programme.
Dhaka North City Corporation Mayor Annisul Huq, special guest at the workshop, said a disaster awareness campaign for schools and colleges in Dhaka north is being planned. 
Prof ASM Maksud Kamal, chairman of disaster science and management department at Dhaka University, Fire Service Director General Brig Gen Ali Ahmad Khan also spoke among others at the programme.