Rajuk files kept by building owner
Found during demolition drive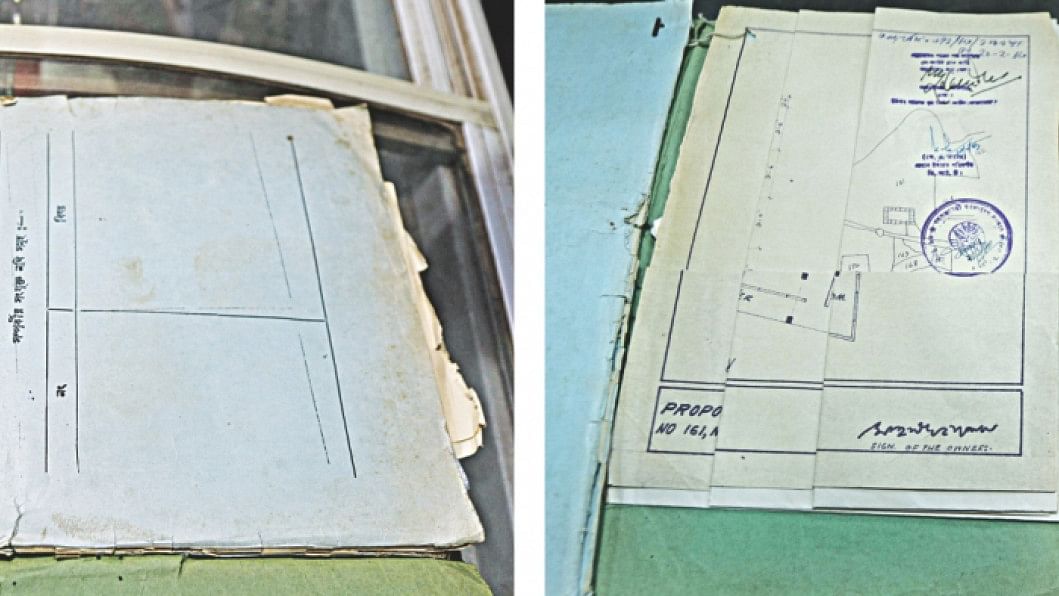 The entire Rajuk official records of a building approval was found in the possession of a building owner during a drive to clear illegal occupation of car park on Green Road in the capital yesterday. 
The residential-slash-commercial building on plots-227 and -228 had approval for a five-storey structure with shops on the ground floor and car park inside the residential part of the building.
The owner, however, built an additional floor beyond the approved plan and produced a forged plan, said Nasir Uddin, executive magistrate, who conducted the mobile court drive.
When challenged, the building owner Anjoli Mostafa, at one stage, produced Rajuk's original official file with documents and office copy of the original plan, which were supposed to be in Rajuk's record room, he said.
Nasir said the owner failed to give a satisfactory answer as to how she got hold of the office file.
Definitely, they got it from Rajuk, he said, adding that they would report the incident to higher authorities for further decision.
The mobile court penalised the building owner with Tk 3 lakh for the illegal floor and forging the document, said Nasir.
When this correspond dent asked building owner Anjoli how come she had the Rajuk's official records, she said, "We don't know, we just do not understand how it all happened, we are confused."
Rajuk Authorised Officer AZ Shafiul Hannan said, "They [the building owner] mistakenly produced the Rajuk's office document in their possession."
This is just one random incident of countless original building files going missing from the Rajuk's record room.   
The court also fined two more building owners Tk 2 lakh each for using their car parks for other purposes.
Another Rajuk mobile court in Gulshan fined four building owners Tk 12 lakh for deviating from the Rajuk approved building plan and using car parks for other purposes.
A building owner there was fined Tk 1 lakh for having a restaurant in the building's basement. The court gave the owner a week's time to either revise their plan and get it approved or remove the restaurant, said Iftekhar Ahmed Chowdhury, executive magistrate leading the mobile court.
A Rajuk taskforce launched the eviction drive simultaneously in Gulshan, Dhanmondi, and Uttara on January 18 to recover car park spaces and remove illegal access ramps built occupying footpaths and streets.
The Uttara team could not carry out the drive yesterday, as the relevant authorised officer had to make a court appearance.