Govt to revive Grameen Bank activities
Says finance minister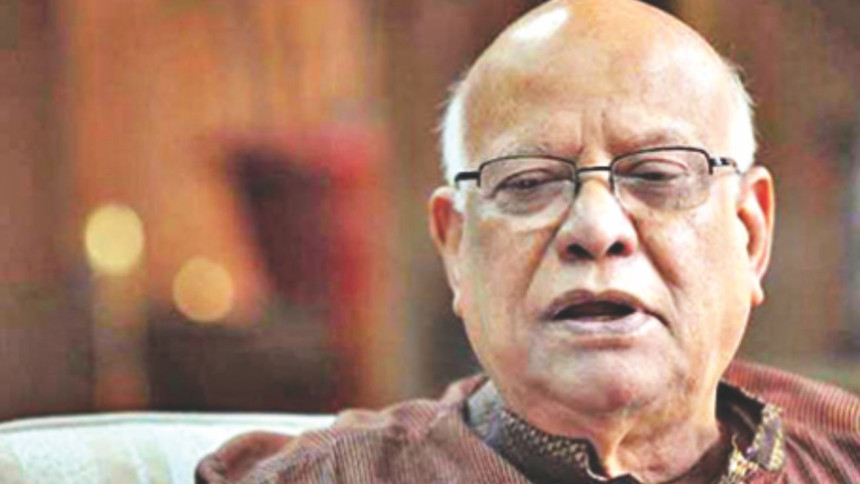 Finance Minister AMA Muhith has said the government plans to strengthen Grameen Bank further so that the Nobel Prize winning microcredit lender becomes more relevant in changing times.
"I think we should revive it in a new style," he told reporters at his secretariat office yesterday.
Muhith said when Grameen Bank was founded in 1983, it had two aims: to provide loans to the poorest and to make the habit of regular repayments.
"Both aims have already been achieved. There are many microcredit institutions like Grameen Bank in the country now."
"Grameen Bank is the pioneer. It should be relevant. We want to make it relevant."
Replying to a question regarding the cases on Grameen Bank pending with the High Court, Muhith said, "We have done nothing in this regard for long. Now we have decided that it cannot be let go this way."
The minister said Grameen Bank has to be given a proper shape.
He said the existing provision for weekly loan repayments was unnecessary. "It was necessary during its inception to make people habituated to paying back loans."
Muhith said this is not true only for Grameen Bank as one can see the improvement by looking at the overall performance of the banking system.
"When I became a minister in 1982, the default loan was above 40 percent. Now it has come down to 9 or 10 percent. It should be cut further but this [rate] is reasonable."
Muhith said he had already engaged some people to suggest how Grameen Bank could be strengthened further.
Shamsul Bari, a former United Nations human rights expert, is one of them.
The finance minister said Bari is a close friend of Prof Muhammad Yunus, and has known Grameen Bank since its inception.
In 2012, Prof Bari was appointed as the chairman of a search committee of Grameen Bank to find a full-time managing director for the microcredit pioneer. The process has stalled because of a writ petition in the High Court.
Talking to The Daily Star yesterday, Bari said he met the finance minister at his office a month ago when the latter raised the issue of Grameen Bank.
"He talked about Grameen Bank because I knew both Prof Yunus and the bank for a long time. The finance minister urged me to think about how Grameen Bank's borrowers can be scaled up to entrepreneurs from microcredit borrowers."
"The government is thinking this way. I think this is good thinking."
Bari, now the chairman of Research Initiatives, Bangladesh (RIB), said he had told the finance minister that he would provide suggestions whenever he comes up with them.
"I have talked about the issue with a number of people who know Grameen Bank very well. I told them to give their inputs directly to the finance minister."
Grameen Bank has been led by acting MDs since Prof Yunus stepped down in 2011 following his removal from the organisation.