Four get World Food Prize
Dr Bouis, who helped Bangladeshi scientists breed world's first zinc-enriched rice, among winners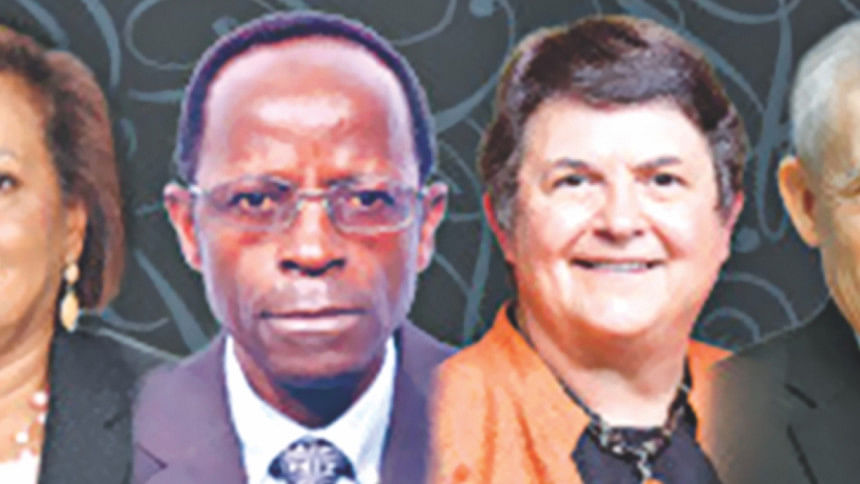 Founder of an international organisation that helped Bangladeshi scientists breed the world's first zinc-enriched rice has been announced this year's World Food Prize recipient along with three other pioneers of biofortified crops.
Names of Howarth Bouis, founder of HarvestPlus, and three scientists of the International Potato Centre (CIP) -- Maria Andrade, Robert Mwanga and Jan Low -- were announced as the 2016 World Food Prize Laureates during a ceremony at the US State Department in Washington DC yesterday.
Releases issued by the World Food Prize authorities and HarvestPlus Bangladesh said the four winners would receive the award at a ceremony to be held at the Iowa State Capitol building in Des Moines, Iowa, USA, on October 13 this year.
The World Food Prize, created in 1986 by Nobel Peace Prize recipient Norman Borlaug, is the most prominent global award for individuals whose breakthrough achievements alleviate hunger and promote global food security. Last year's recipient was Sir Fazle Hasan Abed. Nobel Peace Prize Laureate Muhammad Yunus also won the World Food Prize in 1994.
This year's $250,000 prize will be divided equally among the four recipients. The prize rewards their work in countering world hunger and malnutrition through biofortification, the process of breeding critical vitamins and micronutrients into staple crops.
Over the last 25 years, Howarth Bouis, popularly known in scientific fraternity as Howdy, pioneered the implementation of a multi-institutional approach to biofortificatoin as a global plant breeding strategy.
Bouis recognised that what mattered was not just how many calories people get, but the nutritional value contained in their food. Today, more than 2 billion people -- one in three -- do not get enough essential vitamins and minerals. Undernutrition contributes to almost half of deaths in children under 5. More than one in three children under 5 is stunted in most parts of Africa and South Asia.
He pioneered promotion of biofortification as a process to breed critical vitamins and micronutrients directly into staple crops to improve their nutritional quality.
As a result of his leadership, crops such as rice, beans, wheat and pearl millet have been biologically fortified with iron and zinc and those along with Vitamin A-enriched cassava, maize and orange-fleshed sweet potato (OFSP) are being tested or released in over 40 countries.
Maria Andrade, Robert Mwanga and Jan Low of the CIP, which has had sweet potato in its research mandate since 1988, are being honoured for their work developing the single most successful example of biofortification -- OFSP.
Thanks to the combined efforts of these four laureates, over 10 million people are now positively impacted by biofortified crops, with a potential of several hundred million more in the coming decades.
Under the support of HarvestPlus, Bangladesh has released since 2013 five zinc biofortified rice varieties -- four inbred varieties by the Bangladesh Rice Research Institute (BRRI) and one hybrid variety by the Bangabandhu Sheikh Mujibur Rahman Agricultural University.
Of the 64 districts in Bangladesh, HarvestPlus in 2015 covered 58 districts, reaching 50,000 farm households in 350 upazilas, and in 2016, it expanded its operation in 64 districts covering around 5,00,000 farm households.
Currently, HarvestPlus is working with six government organisations, 25 NGOs, and two seed multiplier associations (300 companies).
Countries where crops have been released include: Bangladesh (zinc rice); the Democratic Republic of Congo (iron beans and Vitamin A cassava); India (iron pearl millet, zinc rice and zinc wheat); Nigeria (Vitamin A cassava and maize); Rwanda (iron beans); Uganda (Vitamin A OFSP and iron beans); Mozambique (Vitamin A OFSP); Zambia (Vitamin A maize), and Pakistan (zinc wheat).
HarvestPlus is part of a Research Program on Agriculture for Nutrition and Health run by the Consultative Group for International Agricultural Research (CGIAR). CGIAR is a global agriculture research partnership for a food secure future.