Flood situation worsens in Sylhet
At least 100 educational institutions shut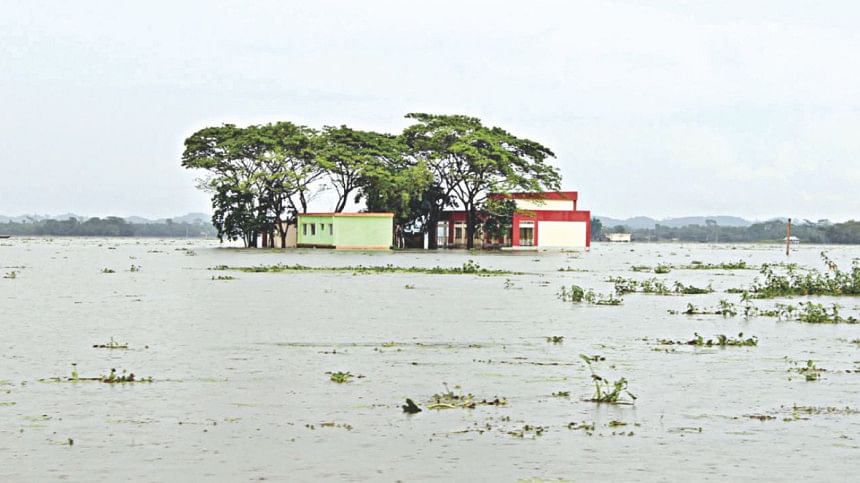 Heavy rain, flash flood and excessive waterflow from the upstream rivers have worsened the flood situation in many upazilas of the division.
The worst hit upazilas are Beanibazar, Golapganj and Osmaninagar in Sylhet, Kulaura, Barlekha, Juri, Rajnagar and Sadar in Moulvibazar, some upazilas of Habiganj and all upazilas of Sunamganj.
People have been suffering badly in Sylhet and Moulvibazar as the water is showing no sign of receding.
Children are also being severely affected by the floods as education institutions remained closed and waterborne diseases like diarrhoea and skin problems are spreading in an epidemic form.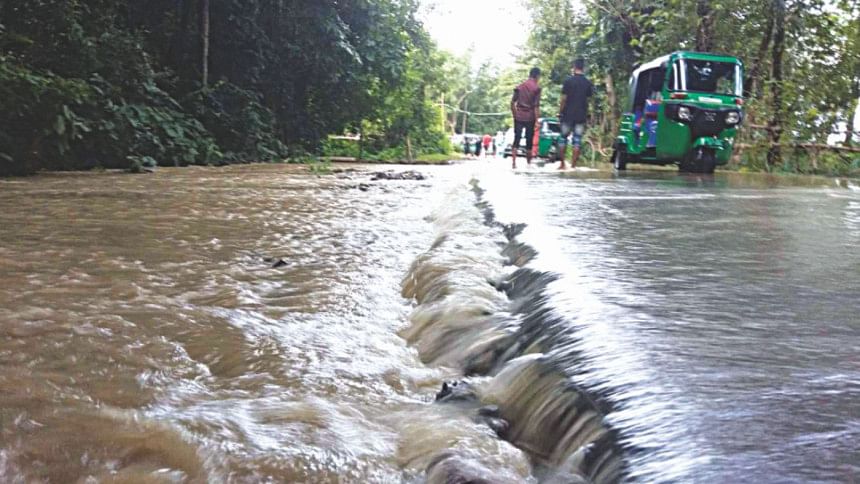 GOLAPGANJ
A deluge of rain two days before Eid followed by overflow in the upstream Surma, Kushiara and Matijuri rivers resulted in a serious flood situation in the upazila.
Twenty villages in Sharifganj, Budhbaribazar, Bhadeswar and Bagha have already gone under water as four haors, 22 bogs and all the rivers and canals are overflowing.
The authorities have been forced to shut most of the education institutions in Mirganj because of floods.
Md Altaf Hossain, upazila nirbahi officer, said they were monitoring the situation and had asked the higher authorities for relief for the affected people.
BEANIBAZAR
The municipality and most of the roads have been inundated and road links with three other upazilas of Sylhet have been partially snapped.
Around 80 percent population of Dubag, Shewla, Kurarbazar, Mathiura, Tilpara, Lauta, Muria and Beanibazar municipality are affected by the flood as the Kushiara was flowing over the danger mark.
Upazila Nirbahi Officer M Asaduzzaman said the administration had already allocated 14 tonnes of relief for the affected people.
Almost all eight unions have been marooned as the Kushiara was overflowing and the dam protecting the areas has developed breaches.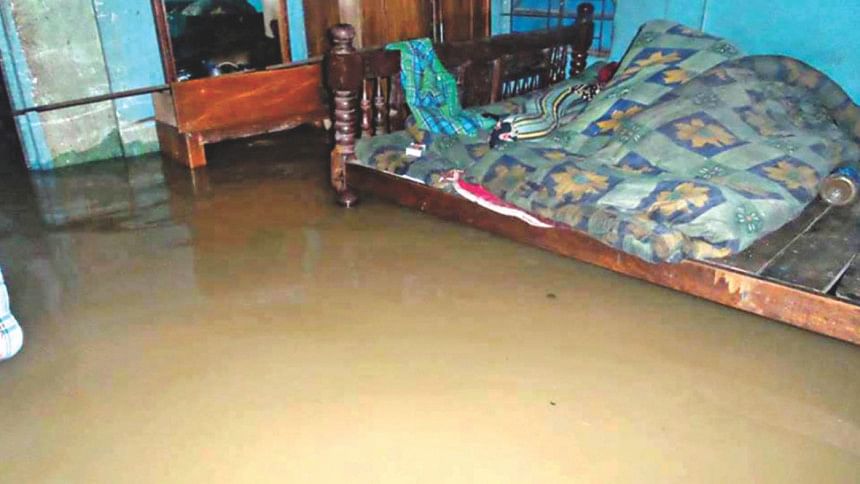 Umarpur, Sadipur, Paschim Poilanpur, Burunga, Goalabazar, Tazpur, Doyamir and Usmanpur unions have been badly hit by the flood.
Waterborne diseases have spread in the areas and children are mostly affected with many getting admitted to different hospitals and clinics.
Dr Shafayat Hossain at Burunga Govt Health Sub-centre said children and some elderly people were being treated at the health centre for waterborne diseases.
UNO Md Moniruzzaman said they had already opened a control room to monitor the situation 24 hours a day.
BARLEKHA
Ten unions are the worst hit as all rivers and canals are overflowing and water level in the Hakaluki haor is rising every day.
Around 90,000 people of 60 villages have been affected, with many of them already moving to shelter houses.
Talimpur Union Parishad Chairman Bidyut Kanti Das said all villages under his jurisdiction had been submerged, but no government initiative was seen to help the affected people.
UNO SM Abdullah Al Mamun said 115 families had taken shelter at three shelter houses. They had got allocation of 39 tonnes of rice and Tk 95,000 for the affected people, he added.
JURI
Most of the villages have been submerged, but floodwater has not yet reached the municipality areas.
Gulshanara Mili, upazila parishad chairman, said the situation was very alarming and they had never witnessed such a flood before.
UNO Mintu Chowdhury said the flood was spreading to more areas every day. Around 60,000 people of 35 villages been marooned and many took shelter at the shelter centres, he added.
He said the administration had already distributed 50 tonnes of rice among the affected villagers.
KULAURA
Around 80 villages in five unions have been badly affected and floodwater is now reaching the municipality areas, blocking road communications with other upazilas.
UNO Golam Rabbi said water level of Hakaluki haor was rising every day and 80,000 people from all 13 unions have been marooned.
Indra Shankar Chakrabharty, executive engineer of Water Development Board of Moulvibazar, said the Kushiara was flowing 29 centimetres above danger level.
In Moulvibazar, academic activities in more than 100 education institutions in three upazilas have remained suspended thanks to sudden flood since last week, reports our correspondent.
Md Masudur Rahman, upazila education officer of Kulaura, said 35 schools in the upazila were still under water as of yesterday.
District Primary Education Officer Md Abdul Alim said 27 primary schools in Juri and 46 primary schools in Barlekha had been closed due to flood.