Chief returning officer regrets 'untoward incidents'
Asks aggrieved students to file case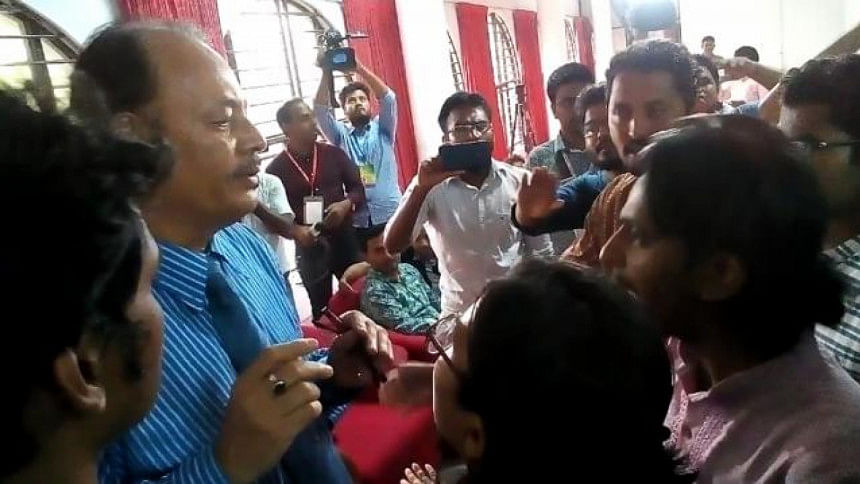 Chief Returning Officer of Dhaka University Central Students' Union (Ducsu) SM Mahfuzur Rahman expressed regret over any untoward incidents during yesterday's election.
He suggested to the aggrieved students to file cases over "attacks on candidates" or "vote rigging".
"You [students] have the right to file case and you can do it," he said.
Mahfuzur came up with the remark after meeting representatives of the student bodies which boycotted yesterday's Ducsu election at his office around 4:30pm yesterday.
They had demanded the result announcement be suspended.
"I personally express regret for these incidents which you [students] have identified as untoward incidents," he said.
On the demand for suspending poll results, the chief returning officer asked them to file written complaints first, which the students did.
They alleged in the letters that non-residential students were prevented from casting votes, candidates came under attack, ballot boxes were stuffed and artificial queue of voters was created.
After receiving the complaints, Mahfuzur said they would take necessary measures following discussions with authorities concerned.
Earlier, at around 1:00pm, different student bodies, including Pragatishil Chhatra Oikya, Bangladesh Sadharan Chhatra Adhikar Sangrakkhan Parishad, Chhhatra Federation, independent alliances panels Swadhikar Swtantra Parishad and Swatnara Jote at a joint press conference rejected the Ducsu election terming it a "farce and forged election".