A welcome sight at Madhur Canteen
BCL, JCD share table at the historic canteen first time in 9 years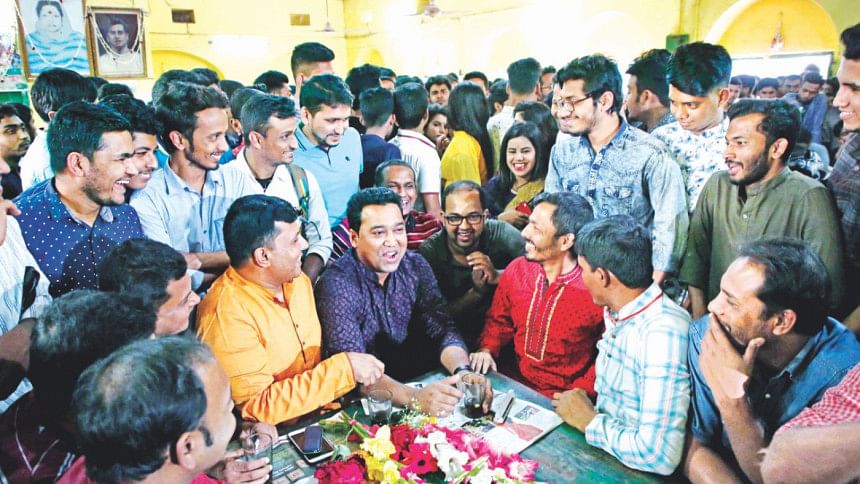 Leaders of the Jatiyatabadi Chhatra Dal (JCD) went to Madhur Canteen yesterday for the first time in nine years , after which they shared the same table with Chhatra League leaders, ahead of the upcoming Dhaka University Central Students' Union (Ducsu) polls.
Around 10:40am, a group of JCD activists, led by its DU unit president Al Mehedi Talukder and General Secretary Bashar Siddique, entered the canteen on the university campus and stayed for more than two hours.
President and General Secretary of the organisation's central unit Razib Ahsan Akramul Hasan later joined them.
Soon after hearing the news, BCL men of different halls of the university started gathering at the canteen premises and chanted slogans continuously.
On behalf of the pro-Awami League student organisation BCL, its DU unit General Secretary Saddam Hussain welcomed the leaders of JCD, the pro-BNP student organisation.
The JCD leaders also exchanged greetings with Chhatra Union Central President Liton Nandi, Vice-President Tuhin Kanti Das, and Samajtantrik Chhatra Front's university unit President and General Secretary Salman Siddique and Pragati Bormon Toma, who were there at that time.
Earlier on February 7, JCD leaders brought out a procession on the campus after almost nine years, after submitting a memorandum to the vice-chancellor.
The previous procession of the JCD on the DU campus was brought out on January 18, 2010, which was attacked and foiled by BCL leaders, including the then general secretary Siddique Nazmul Alam.
The JCD leaders also tried to bring out a procession the following year, marking the one-year anniversary of the attack but could not as police barred them to do so.
During their visit at the Madhur Canteen yesterday, the Chhatra Dal leaders were surrounded by several hundred BCL activists, who also chanted slogans, including "Campus is not a place for non-students [Ochhatrader Astana, Campus Hobe Na]", "Why do you roam the campus at the age of 45 [Boyosh Jader 45, Campus Ey keno Ghuris?]", addressing the JCD men.
Some JCD men also tried to counter the slogans, but their leaders objected and instructed them to have their tea silently.
The JCD leaders then held a press conference there, in which Razib Ahsan reiterated their seven-point demands, including deferring the Ducsu polls by three months to create a congenial atmosphere and setting up polling centres outside the dormitories.
JCD central general secretary Akramul Hasan said that a positive and democratic political atmosphere had been initiated centering the Ducsu polls and yesterday was the beginning of that.
The previous Ducsu and hall union elections were held in 1990, while the last Ducsu body was dissolved in 1998.
Earlier on February 11, Chief Returning Officer Professor Mahfuzur Rahman announced the polls schedule. The polls will be held on March 11.