UNWANTED HELP
Ruling party men in the name of assistance breach privacy in booths, even cast ballots on behalf of voters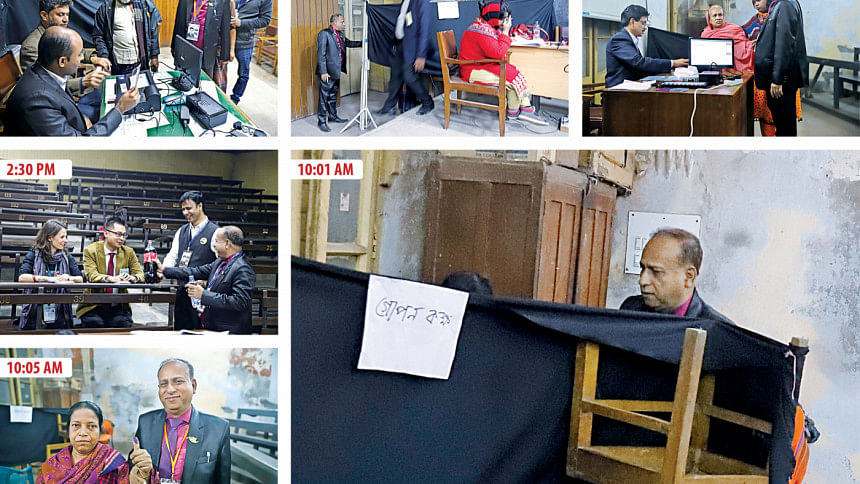 Whether voters needed help or not, polling agents of the ruling party insisted on being by their sides at all times -- even inside the sacred area of the polling booth where nobody save the EVM machine is supposed to be a witness.
Help came in many ways. Sometimes the help was verbal, sometimes the help was so generous; the voters did not even have to cast their own votes.
The help was almost always unwelcome.
At Khan Hasan Adarsha High School in Kathalbagan, our correspondent watched voter Nargis Sultana enter the curtained-off area where the EVM machine was located, only to be followed by three others.
There was a scuffle, which could be understood through the thin fabric of the curtains, and Sultana started yelling, "How dare you give my vote? I want to give my vote! Let me vote!"
An agent in a black coat named Md Russel told her to get out of the booth. As she was pushed out of the booth, an extremely angry Sultana stormed out of the centre. "How could they do that? They took my fingerprints to unlock my vote, but pressed the buttons before I could!" she said.
When this correspondent went back to ask Md Russel and another agent, Lucky Begum, who were in the booth with her, what the scuffle was about, they told the correspondent to leave the room. "We were just helping her, that's all. We are sorry, it was a mistake," she said.
At New Junior Ideal School in Kathalbagan, a boat agent sprang up every time a voter slipped through the black curtains, and said, "Let me teach you how to use an EVM!"
This happened every time even though the polling officer and assistant presiding officer carefully instructed every voter how to use an EVM using a visual poster before sending them inside the booth.
When asked whether it is possible for the assistant presiding officer to help people inside the booth instead of the agents, the officer replied, "No, that is not possible because nobody is allowed inside the booth. But as you can see, they keep going in."
A similar scene was observed at Jamia Islamia Baitul Falah by our correspondent, who saw the boat agents targeting elderly voters.
At YWCA school, the presiding officer Nojibur Rahman caught a boat agent inside a booth with voters, shoved aside the curtains, and extracted the agent. All this happened in front of this correspondent, but when asked why an agent was with a voter, he said, "They are probably relatives."
Another voter who cast her vote at Kid's International School in Adabor ranted about how the agents pressed the buttons for her.
"They [AL polling officers] cast my vote after telling me they would show me how to do it," she alleged.
After choosing the first candidate, the EVM machine suddenly stopped working, she said.
Following that, AL polling officers unplugged the EVM machine. "They then hijacked the next two votes on the pretext of fixing the machine," she alleged.
When she asked them to cancel the vote they refused and asked her to leave, she claimed.
In another instance, a journalist of this newspaper accidentally pressed on a wrong icon and asked the polling officer if she could do it over. "An agent came in, and pressed the buttons for boat on the EVMs for the two councillors and said there, your mistake has been fixed," said the journalist.
Even a voter who said he votes for Awami League consistently was vexed at the intrusion of privacy.
"I had pressed on the button for the mayor, but had not hit confirm yet, when I noticed that an agent was inside and looking over my shoulder," said the male voter who cast his ballot at YWCA school.
"I told him to leave, but he would not, until I pressed confirm."
Our correspondent interviewed a voter of Ideal School and College who said, "When I was about to vote in the booth, a local leader came out of nowhere in my chamber to see what I vote for. I requested him to go outside but he wanted to see what button I pressed on the EVM.
"He then shouted saying that no one can vote at the booth without showing him what symbol they are choosing to vote."
The correspondent also found voters with similar allegations at Kalachandpur Government School and College.
Meanwhile, readers of The Daily Star sent in similar experiences of receiving unwanted help.
This is what a voter, requesting anonymity, said about voting in Teacher's Training College:
"Midway through voting, a man with a 'Boat' symbol ID peeked into my voting booth. I asked what he was doing there and he said, 'No, I'm making sure that you are voting right'".
At this point, the voter asked him to leave, but the man had noticed that he had not voted for 'boat'.
"He looked at me sternly and said, 'Oh, so you voted for that symbol? Get out of here.' He then exited the curtained area. I followed him out and saw him pointing at me and screaming at others present, 'Didn't you see this [profanity] cast her vote for that symbol? Who let her in? Make sure this symbol gets no vote in this station'.
"I asked why he was screaming profanities but he refused to engage with me, and instead coerced the officers to give my four-digit number and then walked inside the curtained area. When I questioned this and asked everyone there why he went in there with my number, they just told me to leave."
The voter tried finding the presiding officer, but failed, and alleged that the guards too did nothing.