Death of Maldivian Student: Parents don't think it is suicide
Cops wait for autopsy report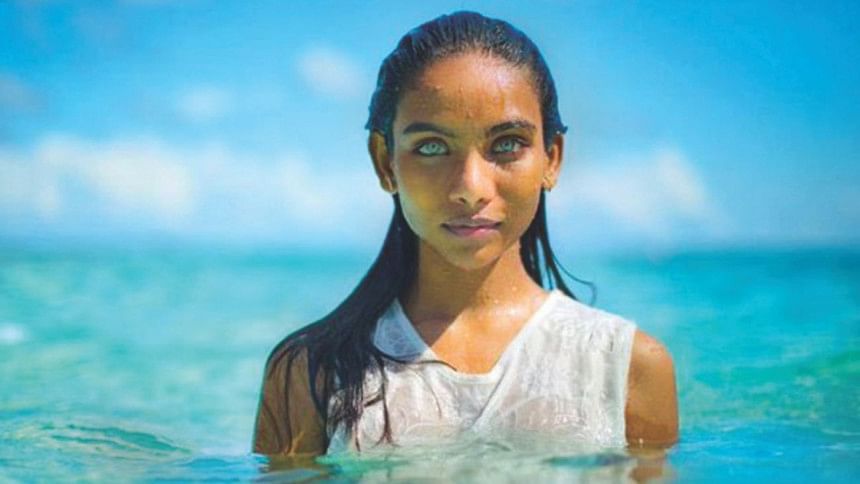 Parents of Raudha Athif, a Maldivian student and model who was found dead at a medical college dormitory in Rajshahi on Wednesday, suspect their daughter was murdered.
"It's not suicide. I have seen the body and it did not seem to be a suicide case. There are some suspicions," Raudha's father Mohamed Athif, who is a physician, told The Daily Star yesterday afternoon.
Earlier in the day, doctors performed an autopsy on the body of the 21-year-old girl at the Rajshahi Medical College (RMC) morgue.
"We examined the body thoroughly and collected samples for some laboratory tests," Prof Mansur Rahman, one of the doctors, told this correspondent.
He declined to comment about the autopsy. "We will analyse the test reports before coming to any conclusion."
Anwar Habib, principal of RMC, had formed a three-member medical board headed by Prof Mansur for performing the post-mortem.
The body was at the mortuary till 11:30pm last night. Raudha's parents could not decide whether to take it to the Maldives or bury it in Rajshahi, said a police official, seeking anonymity.
Raudha, a second-year student of Islami Bank Medical College, was found dead in her room at the women's hostel of the college in Nawdapara area of Rajshahi city. Her body was hanging from the ceiling fan with a scarf tied to the neck.
Following primary investigation, police said it appeared to be a suicide case. They, however, said they would not come to any conclusion until they get the autopsy report.
The law enforcers collected the mobile phone and other belongings of Raudha for investigation.
Talking to The Daily Star, her parents, who flew in from the Maldives, said they saw their daughter's body at the RMC morgue yesterday morning. This correspondent had a brief conversation with them near the Rajshahi Metropolitan Police (RMP) headquarters in the afternoon.
Without giving any reason for the suspicion that Raudha was murdered, her father Mohamed Athif said, "She was not a person who would commit suicide. Suicides are committed by those who suffer from depression... She was a very happy person. She was neither depressed nor frustrated."
Raudha was working hard for her second year final exam and she wanted to become a doctor. Her mother Aminath Muharrimath last talked to her around 11:00pm on Tuesday, hours before she was found dead.
During their conversation, Raudha told her mother that everything was alright, he said.
 "There is no reason why she would take her life. She had no issues with anyone," said Muharrimath.
After this correspondent asked Mohamed Athif why his daughter chose to study in the medical college in Rajshahi, he said they would talk to the journalists later.
Several high officials of the RMP were present there. After Raudha's parents left the place, one of them, wishing not to be named, said, "It doesn't look like a murder as claimed by the parents"
The circumstantial evidence at the scene also suggested that it was a case of suicide, he said.
Contacted, Amir Zafar, a deputy commissioner of the RMP, said it was quite normal that Raudha's parents were making such a claim. 
"They are her parents. It's normal that they would think something like that. But, we are waiting for the autopsy report."
Muharrimath flew in to Rajshahi on Thursday afternoon along with Maldivian Ambassador Aishath Shann Shakir while Mohamed Athif reached the city early yesterday.
Shakir visited the RMC mortuary along with Raudha's parents yesterday morning.
With her aqua blue eyes, Raudha became an internet sensation in her country in 2014.
After experimenting with her pictures on social media sites two years ago, Raudha hit gold with her "Maldivian Girl With Aqua Blue Eyes" shoot. Shot by Maldivian photographer Sotti for a project, the stunning image of her emerging from a gorgeous blue sea went viral, eventually helping her land on the cover of Vogue India in October last year.
Following her death, former president of the Maldives Maumoon Abdul Gayoom tweeted, "Deeply shocked by the sudden death of young Maldivian female student in Bangladesh".
Some of her friends wrote on Facebook that they were praying for her departed soul.
On Thursday, the authorities of Islami Bank Medical College mourned Raudha's death at a meeting. They termed the incident "suicide" committed out of "a wrong decision made from depression".
Many of the students and staff of the college are supporters of Jamaat-e-Islami and Islami Chhatra Shibir, according to police and locals.
There are 500 students, including 45 foreigners, at the college. Of the foreign students, 15 are female students. The foreign students include four Maldivians.  
QUESTION RAISED OVER AUTOPSY TEAM
The medical board that conducted the autopsy on Raudha's body included a doctor who works at the private medical college where the girl used to study.
Talking to this correspondent, a physician at the RMC said the inclusion of the doctor in the board might raise questions as the parents of the girl were claiming that she was murdered.
The board led by Prof Mansur Rahman of Barind Medical College includes former teacher of RMC Prof Emdadur Rahman, who is currently working at the Islami Bank Medical College, and Enamul Haque, a lecturer at the RMC.
Contacted, RMC Principal Anwar Habib, who formed the board, said," Apart from the three doctors, there are no other forensic experts in the city. We chose them only to know the cause of the death of the girl."
"There is no scope for anyone to do anything wrong," he added.