Couriers of misfortune
Rohingya women and kids in Teknaf being used in drug trade as mules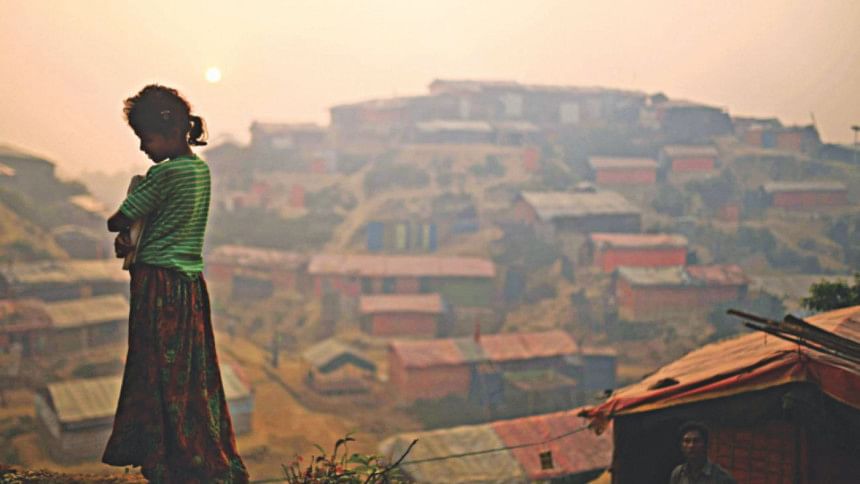 On July 6, a nine-year-old boy was stopped at Damdamia check post in Cox's Bazar by the BGB, upon receiving information that Rohingya women and children were being used as drug mules.
They searched the child but found nothing initially. It seemed to be another false alarm. That is until they took off his shoes and found an extra sole. Stowed away beneath it were 2,000 pieces of yaba, the crazy medicine. 
The child told the BGB men he was given these new shoes and asked to wear them to Cox's Bazar, until he met another person there. He claimed he did not know what was inside the shoe, but was promised Tk 2,000 for the journey.
The above scenario is a snapshot of a growing drug business in Cox's Bazar, involving, often unwittingly, the services of women and children in exchange for money.
The drug trade offers a way for refugees -- who are not allowed to work legally in Bangladesh -- to earn money which they can spend on other desires apart from those provided to them in the form of relief.
To meeting simple demands such as for fish and meat to desires such as lipstick and chocolate, the Rohingyas are turning to running ways as a way to make a quick buck. 
Apart from using children, law enforcers said drug traders were taking advantage of a shortage of female law enforcers, which allowed women drug couriers to move freely without being checked.
Hamida Begum (not her real name), lives in a crowded camp in Balukhali. "I carried yaba twice for cash," she whispers while chewing betel nut.
Hamida, a tall woman with black hair, is wearing a white hijab. Her husband was killed in front of her in Myanmar by the army there in August last year.
The 30-year-old, along with her two sons, crossed the border and took shelter in the camp.
"I do not have any income source. I have already sold my jewelleries'. We cannot go out of the camp. Dodging the law enforcers, I went to Cox's Bazar twice carrying 500 pieces of yaba."
Hamida said she was paid Tk 2,000 for each trip, a small fortune for her.
Recounting one of the trips, Hamida said she put on a burqa and then took a small package wrapped in polythene from Balukhali camp. She walked a distance and then hailed a CNG auto rickshaw.  Seeing a police check post, she got off the CNG and walked for a while before hailing another auto rickshaw. After a place called Reju Khal, someone stopped her and took the drug.
Hamida, though, claims she had stopped being a drug mule. "If I am sent to jail, who would take care of my kids? I made mistake but no more," she says, her voice tinged with fear.
Law enforcers say there are around 55 yaba factories in Buthidaung, Maungdaw, and Rathedaung townships in Myanmar.
They added they have filed 75 cases over drug peddling since August 25 and arrested 114 accused in those cases. According to police, the Rohingyas usually carry small amounts of Yaba like 500 to 2,000 pieces.
MAPPING THE MENACE
Bangladesh and Myanmar share a 270km border, much of it along the Naf River. Every day, some three lakh vessels of different kinds, from small wooden boat to trawlers, ply this waterway, often unregulated. This makes it the ideal route for trafficking yaba. 
Explaining the business, BGB Battalion Commander Lt Col Asaduzzaman Chowdhury told The Daily Star, "Basically the locals are agents and the Rohingyas are the carriers. [Some of the] locals invest to bring yaba from Myanmar and the Rohingyas are used as carriers. They carry yaba during the night and then it is repacked in Rohingya homes. Then those are sent to different parts of the country," Chowdhury said.
"You will be surprised to hear that now the stomachs and rectums of Rohingyas are being hired to carry yaba," Asaduzzaman said.
"Smugglers also hide the pills inside watermelons, jackfruits, tyres, petrol containers, inside mobile phones and even in holy books," Afrujul Haque Tutul, assistant superintendent of Cox's Bazar Police, told The Daily Star.
He said local brokers had been taking advantage of the Rohingyas' poverty and allured them to the drug trade with promises of money.
While police officials and locals claim the presence of Rohingyas has intensified the yaba problem, the Rohingyas say they are compelled to peddle the drugs, having no other means of earning money.
Didarul Alam Rashed, executive director of Nongor, a non-profit organisation working for Rohingyas, said more than a thousand Rohingyas are involved in the taba trade.
"Most of them are carriers. Although the job is risky, Rohingyas are getting lured to it using cash as an incentive."
For big consignment, they use the sea route from Saint Martin- Sabrang-Moheskhali-Kutubdia-Anwara-Kornuli-Sundarban.
He said there are around 926 BGB men deployed in Cox's Bazar district. "It is really tough to check all movements with this small manpower. But we are trying."
There are 13 police check posts on the road from Teknaf to Cox's Bazar while BGB has seven.