Charge sheets this week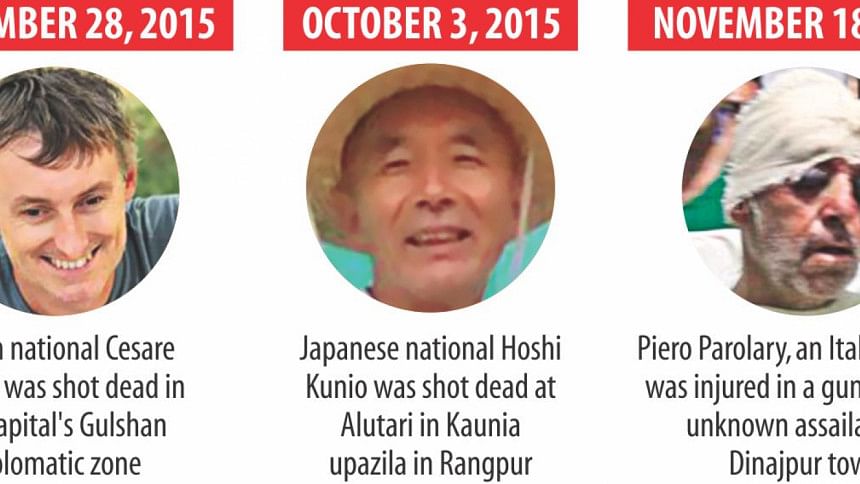 Police are set to submit within a week charge sheets in last year's murders of two foreigners -- Italian national Cesare Tavella and Japanese citizen Kunio Hoshi -- and the shooting on an Italian missionary Piero Parolary.
Tavella, an aid worker, was killed in the capital's Gulshan Diplomatic Zone on September 28. Barely a week after, Kunio Hoshi, a farmer, was shot to death at Alutari village of Kaunia upazila in Rangpur on October 3.
Then on November 18, physician Piero Parolary was shot in the neck while on his way to Dinajpur Medical College Hospital, where he worked. He survived the attack.
Middle East-based Islamic State claimed responsibility for the attacks, according to US-based SITE Intelligence Group, which monitors jihadist activities worldwide.
The attacks raised concern about the security of foreign nationals, prompting many countries to issue travel alert about the visit of their citizens to Bangladesh and withdrew some of their staff members.
The government played down the concerns, and termed it all a conspiracy. The authorities maintain IS has no presence in the country and that opposition parties BNP and Jamaat and homegrown militants are to blame for the attacks. 
Investigators said BNP leader MA Quayum planned the murder of Tavella as part of a conspiracy to create anarchy, put pressure on the government and send a message to foreigners that they were not safe in Bangladesh.
Quayum's brother MA Matin hired three killers to kill a "white man" (foreigner) and Tavella became their prey, they added. 
The Detective Branch of Dhaka Metropolitan Police have almost finalised the charge sheet against seven people, including Quayum, BNP's Dhaka City joint convener and former ward commissioner, his brother Matin and five others for Tavella's killing. 
"We have finalised the charge sheet against seven people and have a plan to submit it to a court on Sunday or Monday," said Deputy Commissioner (north) of DB Shaikh Nazmul Alam, who is supervising the investigation.
DB sources said the other people to be named in the charge sheet were Tamjid Ahmed Rubel, Russell Chowdhury and Minhajul Arefin, who is also known as Bhagne Russell. They directly took part in the killing.
Two other accused are Sohel (also known as Bhangari Sohel), who supplied firearms, and Shakhawat Hossain Sharif, who provided the motorcycle used in the killing, detectives said. 
Quayum and Sohel are on the run while the rest five are behind bars.
Police have yet to recover the firearms, but said they were going to press charges anyway.
Rubel, Russell Chowdhury, Minhajul and Shakhawat have made confessional statements before a Dhaka court.
Investigators said although Matin admitted his involvement during interrogation by police, he refused to give any confessional statement before a court.
Family members earlier claimed the five arrestees were innocents and that they were forced to give statements under torture. 
Meanwhile, police have almost completed the investigations into Kunio Hoshi's murder and the shooting of Piero Parolary.
"We are ready to submit the charge sheet within this month," Abdur Razzak, superintendent of Rangpur police, told The Daily Star yesterday.
Kunio Hoshi, 66, was shot dead in broad daylight on his way to his farm. He was buried in Rangpur 10 days later.
Abdul Kader Zilani, who is investigating the case, said they arrested nine people in this connection.
Three of them are involved with banned militant outfit Jama'atul Mujahideen Bangladesh (JMB). Of them, Masud Rana, a regional commander of JMB, was arrested last year and he "confessed" to his involvement in the killing, he said.
Based on information gleaned from him, primary school teacher Khaibor Hossain was arrested in December from Pirgachha in Rangpur. He is an associate of Masud Rana. Another JMB member Ishaque Ali was arrested from Pirgacha.
The police officer, however, would not say who are going to be named in the charge sheet.
Asked about the investigation into the gun attack on Piero Parolary, Dinajpur SP Ruhul Amin said they were going to submit the charge sheet in a week, as they have gathered enough evidence.
He said they were looking for another suspect.
After being shot, Parolary, 66, was brought to the Combined Military Hospital in Dhaka by a helicopter for treatment. Around 10 days later he left Bangladesh after partial recovery. He did not come back.
Bazlur Rashid, a sub-inspector of DB in Dinajpur, earlier told this paper that they arrested six people in the case, and three of them were JMB men.
Of them, Shariful Islam was arrested on December 10 during a gun attack on Isckon temple in Kaharol upazila of Dinajpur.
Shariful made confessional statement before the court, said Rashid, also the investigating officer of the case.