Priest killed in similar fashion
Bike-riding assailants hack the Hindu cleric to death in Jhenidah; SITE Intelligence says IS claims responsibility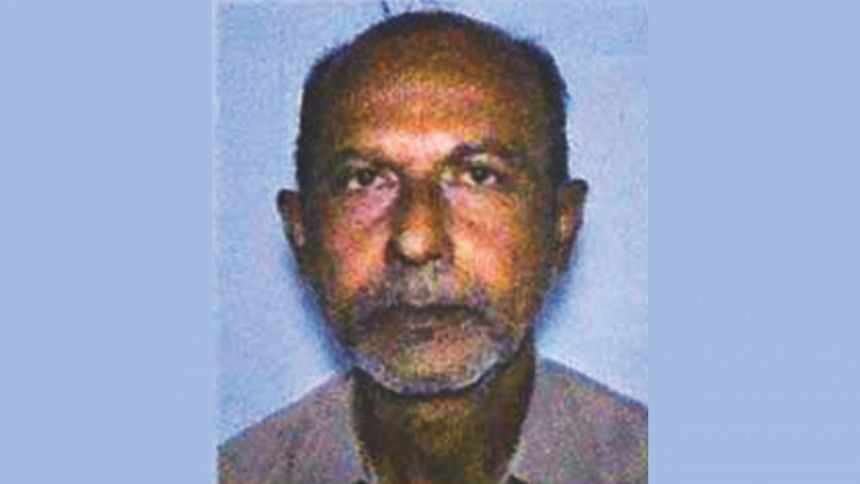 Nobody had an answer as Shefali wailed, "Why would anyone kill my husband whose only job was to perform puja?"
Ananda Gopal Ganguly had been performing services at different temples in his village and adjacent areas for decades, she said.
His father Satya Gopal Ganguly was also a priest.
A resident of Karatipara village under Jhenidah Sadar upazila, seventy-year-old Ananda was brutally murdered while going to a temple in Naldanga union, said family members.
Around 9:00am, three attackers on a motorbike intercepted Ananda, who was on a bicycle, in Sonakhali area near Mahishakundu Smashan (cremation ground), about two kilometres off his home, said police based on witness accounts.
Gopinath Kanjilal, Jhenidah superintendent of police, said the priest was stabbed in the neck and his throat was slit. He died on the spot.
The incident had similarity with other suspected militant attacks of recent times, the official said.
The murder of the Hindu priest came only two days into the gruesome killings of a police official's wife in Chittagong and a Christian grocer in Natore.
Hours after the killing yesterday, global terror outfit Islamic State (IS) claimed responsibility for it, says a post on SITE Intelligence Group, which monitors terror activities globally.
Referring to Amaq News Agency, the so-called media wing of IS, SITE post says, "IS fighters in Bangladesh killed a Hindu priest in Jhenidah, in the west of the country."
The Daily Star could not verify the claim independently.
Police sources said that after an autopsy at Jhenidah Sadar Hospital morgue, the body was handed over to family members in the afternoon.
Ananda, a father of five, had no enmity with anyone, locals say.
His elder son Arun Ganguly runs a grocery in their village, his younger son Sindhu Ganguly is a teacher at a local school while his three daughters have been married off.
It's a peace-loving family, locals add.
Jahar Ali, an inhabitant of adjacent Tailkup village, who knew the priest, said he could not believe a person like Ananda could be killed for any reason.
"He was a common man as I am. If he could be killed then where is the security of my life?"
Amalendu Biswas, president of Jhenidah's Kaliganj upazila unit of Bangladesh Hindu-Bouddha-Christian Oikya Parishad, said local Hindus have got into panic after the incident.
He urged the authorities to take urgent measures to stop such a string of killings.
In a statement, Bangladesh Mahila Parishad condemned the killing of the priest and demanded immediate arrest of the culprits.
Earlier, unidentified assailants hacked dead two homeopaths, Abdur Razzak and Jamiruddin Khaza, in Jhenidah in January and March.
Suspected militants also murdered homeopath and Baul music lover Sanaur Rahman in Kushtia in May and Hindu priest Jogeswar Dasadhikari in Panchagarh in February.
Islamic State (IS) reportedly claimed credit for all the four attacks.
The police headquarters recently provided a list of cases filed over militant attacks.
The list cites 37 cases filed since the killing of blogger Ahmed Rajib Haider in 2013 to the murder of Tangail Hindu tailor Nikhil Joarder in April this year and says charge-sheets were produced in only six cases. 
Since May 1 till yesterday, seven suspected militant attacks reportedly took place in the country.
Despite the grim picture, Information Minister Hasanul Haq Inu yesterday said the situation was under control.
He told BBC Bangla Service that assailants could carry out attacks on only "soft targets" because "we are being able to control".
"At least in one respect, the government is successful as they [the assailants] could not attack big government establishments and highways. Their strength has waned," he said, adding they are attacking "soft targets" only to make their existence known.
[Our Jhenidah correspondent contributed to this report]