Buet students warmly welcome admission-seekers
Amid protests by Buet students over the gruesome murder of one of their peers Abrar Fahad, the general students of the country's premier engineering university yesterday warmly welcomed admission-seekers for the academic session 2019-2020.
Although there was uncertainty over the admission tests ever since the protests began, the students relaxed their demonstration on Saturday to ensure the entrance exam went smoothly.
They handed out pens, pencils, water bottles and biscuits to candidates and their parents as part of the effort by current students to help admission-seekers and their parents.
The Daily Star correspondent yesterday went to the campus and found hundreds of students assisting the admission-seekers and their guardians.
"Many students come from outside Dhaka and the guardians have to stay outside the exam halls till the tests end. During this time, they need water. That's why we arranged this for them as a gesture of goodwill," said a student.
Some of the current students also helped candidates who had forgotten to bring their calculators, by giving those to them. 
Md Shamsul Hossain, a student of Buet, said they collected more than 100 calculators from different students and kept those in different makeshift booths. 
This year all the students spontaneously volunteered in it and worked there to support the examinees.
They also distributed newspapers among the parents to help them pass the time.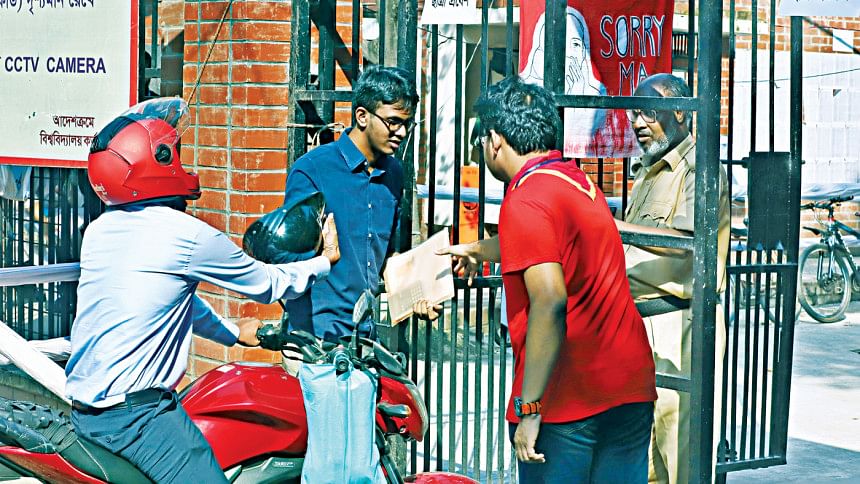 Rashik Ahnaf, a student of the industrial and production engineering department of the 15th batch, said all the students created a fund to help the examinees and there were also volunteers to provide any sort of support the candidates might need.
"We have decided to provide water and biscuit for all the students because they may face problem inside the campus and will get a negative impression about the campus. So, we are trying our best to reduce the sufferings of the students and guardians as much as possible," he told The Daily Star yesterday.
Apart from this, they also helped the candidates find their exam halls and kept their belongings, as many items were not allowed inside the venue.
Around 12,000 admission seekers sat for the three-hour long exam, while around the same number of guardians thronged the exam venue.
Different groups like Chittagong Students' Union (CSU), Greater Khulna Association of BUET Students (GKABS) and some other organisations shared their phone numbers to provide assistance to the guardians of those particular areas.
Shahinoor Miah, a government employee, came to the campus along with his younger son who sat for the test.
"This is a very good initiative. Students of Buet are not only meritorious but also gentle and polite," he said.
Last year, Bangladesh Chattra League received Buet admission seekers in a similar manner after collecting funds from general students for it.