Railway not responsible for casualties
Minister says about accidents at unauthorised level crossings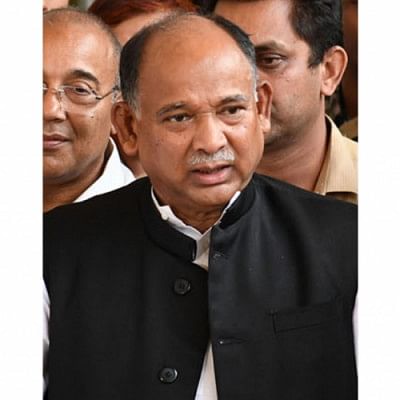 The railway will not take any responsibility for casualties at unauthorised level crossings, Railways Minister Nurul Islam Sujan said yesterday.  
"Why would the railway take the responsibility if someone falls victim to an accident by obstructing rail communications?" asked Sujan, referring to unauthorised level crossings as obstacles to rail communications.
 At a press conference in the capital's Rail Bhaban, he said they would serve notices to government organisations that built level crossings without the railway's approval. The notices would ask them to ensure security of users of the crossings. 
The minister made the comments at a time when Bangladesh Railway drew huge criticism for a number of unprotected and unauthorised rail crossings across the country, where people had been killed and injured in accidents.  At least 11 people, including a newlywed couple, lost their lives when a Dhaka-bound train rammed their microbus at an "authorised" but "unmanned" level crossing in Sirajganj's Ullapara last week.
About 2,000 level crossings out of 3,200 across the country are unauthorised, the minister said.
However, the BR's latest data prepared in August last year shows there are 1,085 unauthorised level crossings, mostly built by different government organisations without approval.
Besides, only 466 gates of the 1,412 authorised level crossings have gatekeepers, it said. 
Rail-related fatalities are on the rise as over 80 percent level crossings, authorised and unauthorised, are unprotected.
According to Buet's Accident Research Institute (ARI), 122 people were killed and 296 others wounded in 103 rail-related incidents as of July 15 this year. 
Some 244 people lost their lives and 228 others were injured in 235 rail-related fatalities last year, it said.
Most of the incidents happened when trains ran over people or hit vehicles at unprotected level crossings and on rail lines, said an ARI teacher.
When an appeal for setting up a level crossing is approved, the railway authorities can build a gate and appoint gatemen, Sujan said. 
If the LGED and the Roads and Highways Department construct level crossings without the railway's approval, then the authorities concerned have to ensure safety of users of the crossings, the minister added. 
As per the relevant laws, the railway is only responsible for ensuring security of rail passengers and rail communications, he said. 
Asked why the railway did not take any action against the authorities that built unauthorised level crossings, the minister said they filed cases but withdrew those later as those were also government organisations. 
"We will send notice to everyone [who built unauthorised level crossings] to take steps to ensure security as those [unauthorised level crossings] put rail communications at risk," he said.
The minister said they would improve the necessary law and security measures as the number of trains was increasing.  
Atiqur Rahman, project officer of Work for a Better Bangladesh Trust, an NGO, said the railway could not avoid its responsibility for fatalities at unauthorised level crossings.
"It is not possible to set up an unauthorised level crossing in a day. The railway is entrusted with preventing building of such illegal structures. As the railway failed to prevent these, it has to take the responsibility," said Atiqur, who has experience of over eight years in the rail sector.
He said instead of avoiding responsibility, the authorities should assess the necessity of those unauthorised level crossings, regulate them, and appoint necessary manpower.
He also stressed the need for creating awareness about safety at level crossings.
Meanwhile, the minister said the accident in Moulvibazar's Kulaura on June 23 could have been avoided "if we were more cautious".
Sujan said they received reports of two probe committees and suspended two officials for their negligence in maintaining the lines.
Besides, notices have been served asking them why they should not face disciplinary action, the minister said, adding that several officials of railways' east zone, including its chief engineer, were also transferred.
A divisional executive engineer has been transferred in connection with the derailment of an oil-carrying train in Rajshahi's Charghat this month.