PM slams those opposing gas price hike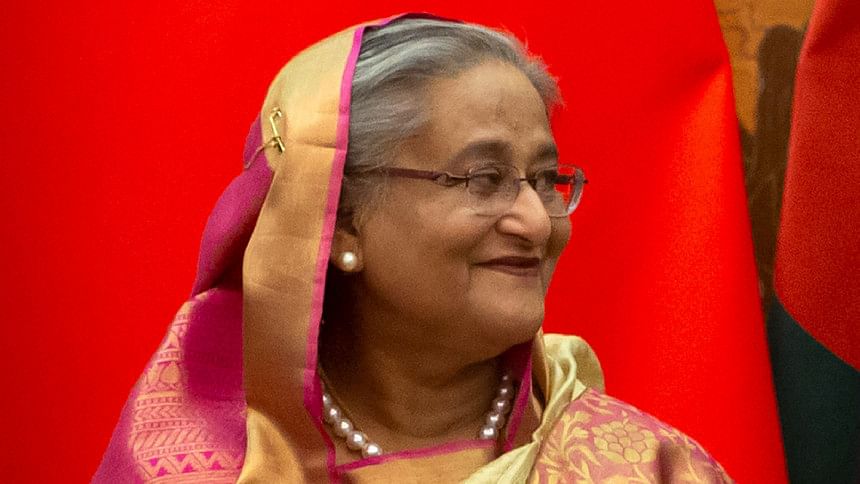 Prime Minister Sheikh Hasina yesterday said those who are criticising the gas price hike have failed to understand the reality and didn't see the development works carried out by the government.
Hasina said the import cost of each cubic feet of LNG was Tk 61.12, but it was being sold at Tk 9.80 by providing a sizeable subsidy of Tk 51.80.
"We need to provide a subsidy of Tk 19,310 crore. If we add tax and VAT, the figure would be Tk 30,000 crore."
The Petrobangla and other companies had proposed hiking the price by 102 percent. Bangladesh Energy Regulatory Commission (BERC) felt that it was necessary to increase the price by 75 percent. The hike, however, was by only 32.80 percent keeping in mind the burden on the people, the PM said.
The leader of the House said gas was important for industrialisation and development of the country. "We don't have enough gas. We are exploring gas fields."
She said criticism over the gas price hike was unfortunate. "People who are criticising don't see development. They don't understand the reality."
As Bangladesh does not have sufficient gas, it needs to import LNG at a high price, she added.
Refuting the claim of Deputy Opposition Leader Raushan Ershad that gas prices were cut in India, the PM said the price was comparatively still less in Bangladesh than in India.
"It is said that the gas prices were cut [in India]. The price of household gas in India is Rs 30 [around Tk 37] per cubic feet, whereas it is only Tk 12.60 in Bangladesh."
The gas price for industrial purpose is only Tk 10.70/cf in Bangladesh against Tk 40-42/cf in India, the CNG price is Tk 43/cf in Bangladesh against Tk 44/cf in India, and the gas price for commercial use is Tk 23/cf against Tk 58-65/cf in India, Hasina said.
She also said Bangladesh needed to provide subsidy in electricity generation. She urged all to be cautious about using gas and electricity.
In her winding up speech at the budget session of parliament, the PM also proposed amending the laws related to the trial of rapists by incorporating provisions of tougher punishments.
She urged the media to publish and show the faces of rapists repeatedly so that they feel ashamed.
In response to Raushan Ershad's demand for ensuring death penalty for rapists and culprits of violence against women and children, Hasina said: "Incidents of some social crimes have increased".
"We cannot accept these types of unsocial activities. We will take action against these," she added.
She also urged males to come forward and protest violence against women and children.
Hasina again argued against raising the age limit for entering public service to 35 years from the existing 30.
She said a student could complete their post-graduation at the age of 23 and the success rate of the BCS exam candidates aged 23-25 was higher than that of examinees aged 25-27 and much higher than that of those aged above 29.
She said the government was providing enough subsidy for higher education.
A Dhaka University student needs to pay tuition fee of Tk 15 and seat fare of Tk 30 and bus fare of Tk 90 Tk per month. She also provided information of tuition, seat and bus fare of Buet, Rajshahi and Jahangirnagar and other universities which were similar.
"No other country provides such subsidy in higher education" Hasina said.
"We are doing it to improve quality of education. We want to ensure proper academic atmosphere at universities," she added.
Earlier, Raushan also urged the government to announce and implement Ninth Wage Board for journalists and newspaper employees.
She demanded withdrawal of all expired medicine from market, stoppage of violence against women and children. "Children are not even safe at school and madrassa" she said.
The session started on June 11 and budget was placed on June 13.
After a general discussion for 55.36 hours the House passed the budget on June 30.