Bangladesh-India-Nepal Bus Service: Trial run begins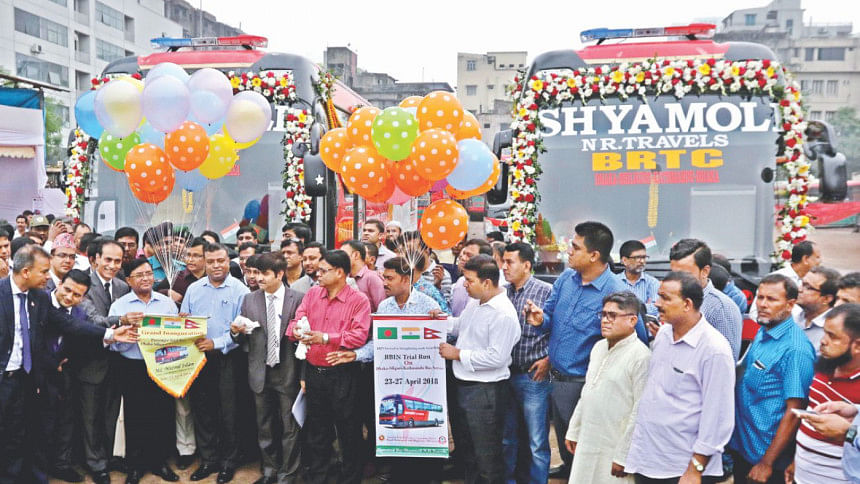 The trial run of a Bangladesh-India-Nepal bus service began yesterday in what is seen as a major development in cross border transport service among the three nations.
Two buses carrying around 45 delegates from the three countries and Asian Development Bank left the BRTC International Depot at Motijheel in Dhaka around 9:30am.
The delegation led by Bangladesh Road Transport Corporation (BRTC) Chairman Farid Ahmed Bhuiyan will reach Katmandu on April 26 through India.
The route will be Dhaka-Rangpur-Banglabandha-Siliguri (India)- Kakarvitta (Nepal)- Bharatpur-Kathmandu. The route is around 1,100 kilometres long and would take around 30 hours to complete, officials said. Currently Bangladesh has a bus route with only India.
Earlier, Nazrul Islam, secretary of road transport and highway division inaugurated the trial run at a brief programme attended by the delegations from India and Nepal.
"This marks a good beginning of sub-regional connectivity," he said adding that the delegation would scrutinise in detail all aspects of the journey.
They will submit a report with necessary recommendations and based on the report a protocol will be signed before a regular bus service is started.
Asked about the date when the protocol might be signed, Nazrul said "An exact time fior this cannot be determined now as it would depend on the recommendations made by the delegations.  However, it will be soon."
Bangladesh, Bhutan, India and Nepal (BBIN) Motor Vehicle Agreement (MVA) was signed on June 15, 2015 at a meeting of the BBIN Transport Ministers in Thimphu, Bhutan. It makes way for seamless flow of passenger and cargo traffic in the region.
The agreement has been ratified by India, Nepal and Bangladesh. Unable to ratify the BBIN motor vehicles agreement, Bhutan has asked the other stakeholders to go ahead with the plan and expressed hope to join it after clearance from its parliament.
Nazrul Islam said, "We hope Bhutan will join the initiative later."
Dhan Bahadur Oli, deputy chief of mission of Nepal embassy in Dhaka said people are being connected with this easy route.
"Let us hope it will continue as it is a very important means to bring the people of these countries closer together. I wish all the success of this initiative," he said.
Gaurav Gandhi, first secretary (economic) of Indian High Commission to Dhaka said the bus journey will definitely help this BBIN initiative.
Talking to reporters, Suvenker Ghosh Rakesh, managing director of Shyamoli NR Travels, the owner company of the buses used for the trial run, said they are ready to ply buses on the Dhaka-Siliguri-Katmandu route.