Why we need more female public bus services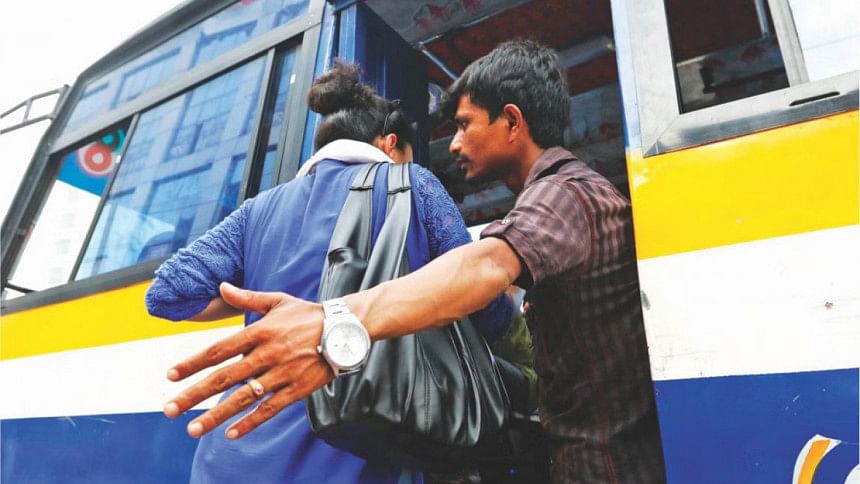 I set aside a particular sum of money each month for transportation since I'm a student who manages her money carefully. Despite being comfortable, a rickshaw is rather pricey, therefore I cannot afford to ride one every day to my university. Thus, I must use the bus to get around because it is convenient and inexpensive.
I've gotten used to Dhaka's public bus system and have become familiar with how most buses operate. Since private bus services prioritise profit over passenger comfort, and are aware that passengers are mostly compelled to board despite it already being filled to the brim, the buses are almost always completely filled. So, the passengers suffer, sweating profusely due to the combination of the heat, traffic, and over occupancy.
Standing on a bus with predominantly male passengers has been a nerve-wracking experience for me. I live in continual worry that I'll be inappropriately touched or bothered. Finding a coveted seat next to a man who will continually stare at me has also made its place in my list of worries. Not only that, it is a daunting task to board a bus without fearing for your safety in the later hours of the day. Many women must take the bus to get to work because they cannot afford to take a CNG or rickshaw.
The problems faced are thus further intensified when the passenger is a woman. The seats saved for women are often occupied by men who refuse to give up the pre-assigned seats, even when asked. Surprisingly enough, it seems most of these men are only concerned with concepts of equality when the time comes for them to give up these seats, thus, reason and logic automatically go out the window from these already crammed buses. And so women have to either, accept the conditions and keep travelling under such conditions, or they have to succumb to more inaccessible and expensive modes of transportation.
It is, however, integral for the government to address particular safety and security issues that women frequently encounter when using public transportation. Further initiatives such as introducing female-only bus services where women can travel without worrying about being harassed, assaulted, or subjected to other sorts of abuse and unsafe conditions.
When using a bus service that prioritises their safety, female passengers, especially those who may be at risk due to their age, ethnicity, or other circumstances, may feel more confident and empowered. Thus, these services could be one of the first steps desperately needed to develop an egalitarian and secure transportation system for all users.
However, such strategies often fail due to complacency and fake images of efficacy. In 2014, the government-owned Bangladesh Road Transport Corporation (BRTC) introduced a similar female-only bus service with 17 buses, including seven double-deckers, and female conductors. The service operates between the hours of 7 AM and 5 PM during rush hour and covers 13 distinct routes throughout the city. Additionally, Savar, Gazipur, and Chittagong also began to offer the service. However, commuters frequently claim that the buses don't arrive on time, while men are occasionally observed riding the special buses. While the initial intentions were admirable, the establishment of female-only public services necessitates close monitoring to ensure regulatory compliance and effective utilisation by women.
Azra Humayra is a part-time roach squasher and a full-time trash television connoisseur. Send her show recommendations at: [email protected]